Lack of demand caused loss of Bermuda to Boston air link
Updated: Oct 29, 2021 08:24 AM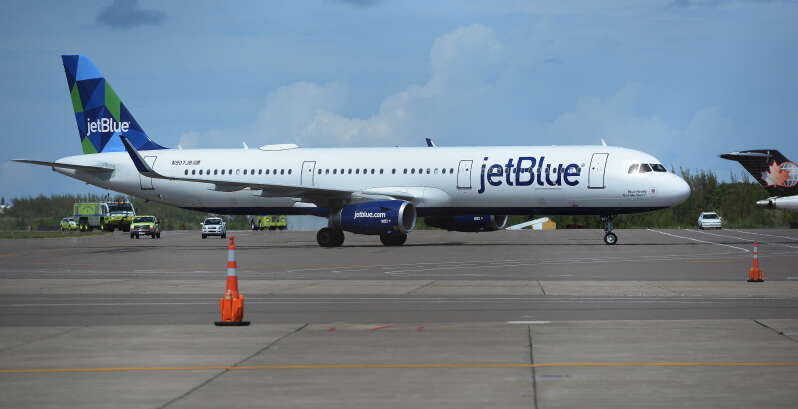 Bermuda has lost its air link to the gateway city of Boston, Massachusetts, because of lack of demand during the off season, the transport minister said this morning.
Lawrence Scott yesterday addressed the upcoming loss of JetBlue's service to Boston, which he said was expected to return in March 2022, saying he had "empathy for those who are affected by the airline's decision".
"I know that many of our residents depend on this route for business and personal reasons," Mr Scott said.
"Not having this non-stop service will inconvenience many, especially those who frequent the area for access to medical treatment and universities."
Mr Scott said minimum-revenue guarantees had played a role in airline service to the island since the early 1990s.
He added: "However, the downside is that an MRG disguises or artificially inflates the strength of the market on its own."
MRGs have been paid on the Boston route in the past, although Mr Scott said none had been in place "in recent times".
"What's happened now is the route itself has to be sustained off its organic demand, without marketing or financial support."
Mr Scott said no specific price tag had been discussed with the carrier to keep the Boston route – but said that the Government could have been on the hook for "four times the amount the route itself could generate in revenue".
"The way the industry is going now is the MRG is not based off the money needed to allow them to break even."
Mr Scott said the airline would have expected the Government to put forward a sum of money equivalent to what JetBlue could have made on "other, more profitable routes".
He added that, before the global Covid-19 pandemic, airlines had been able to weather the off season.
"However, in 2021 they are looking at every opportunity to generate as much revenue as possible.
"So instead of losing money on the Bermuda route, they look to allocate their resources to more profitable destinations."
Lovitta Foggo, the chairwoman of the Bermuda Airport Authority, said the BAA's air service development team was "looking at as many different avenues as we can to try and increase flights coming to and leaving Bermuda".
She added: "I can't commit to giving specific details. But things are looking very promising in terms of increasing flights."
Mr Scott disputed that air service over the winter between Bermuda and the US northeast was poorer compared with other years.
"This isn't the first year," he said. "This is what the air service industry in Bermuda is traditionally.
"From Bermuda Day to Labour Day we have high frequency. After Labour Day, when schools go back, airlines reduce their frequency. There's no difference this year than previous years, with the exception of Boston not being serviced directly at all.
"But the airlines have increased their connectivity through gateway cities to Boston to help offset the loss of the direct flight."
Mr Scott emphasised the Boston link would return next March.
But the loss came under fire from Cole Simons, the Leader of the Opposition, who questioned what was being done to promote the island as a destination.
He said the loss of the Boston route "deeply affects particularly those who rely on the route to seek overseas medical treatment".
Mr Simons noted no MRG had been paid recently for the route.
He added: "Perhaps that's where the coffers could have been channelled instead of the further expansion of the civil service.
"Other key air links have drastically reduced service, including Miami, which has been hit or miss as far as flights are concerned for months.
"Not only is Miami a link to the Southeast, it is a key link to the Caribbean, Central and South America."
Mr Simons questioned why airlines had cut back services when travellers appeared to be "regaining the confidence to fly again".
He said residents relied on airlift, which was crucial for hospitality, and said there had been "lack of action" on getting the Fairmont Southampton Hotel reopened.
Mr Simons said the Progressive Labour Party government had "planted a seed for a ghost island this coming winter".
"We cannot just take this on the chin. The country needs answers."
A spokeswoman for Skyport, which manages LF Wade International Airport, said the pandemic was forcing airlines to adjust flight schedules "more regularly based on varying passenger demand and aircraft availability".
Beginning next month, JetBlue is also cutting its New York JFK route from seven days a week to four.
The spokeswoman said the airline would fly in and out of Bermuda on Sundays, Mondays, Thursdays and Fridays.
She added: "Effective October 31, Jetblue's seasonal Boston service will end for this year with an anticipated return next year.
"With Delta also planning not to resume its Boston service until 2022, having temporarily suspended it due to Covid, there is currently no direct service scheduled between Bermuda and Boston for the winter season.
"Discussions are ongoing with our airline partners regarding an earlier resumption of service from Boston, which continues to be a gateway of significant importance for both residents and visitors alike."
She advised passengers to keep tabs on changes to flight timetables "as the scheduling remains fluid".