Bermudiana Beach Resort releases new images
Updated: May 24, 2023 09:56 AM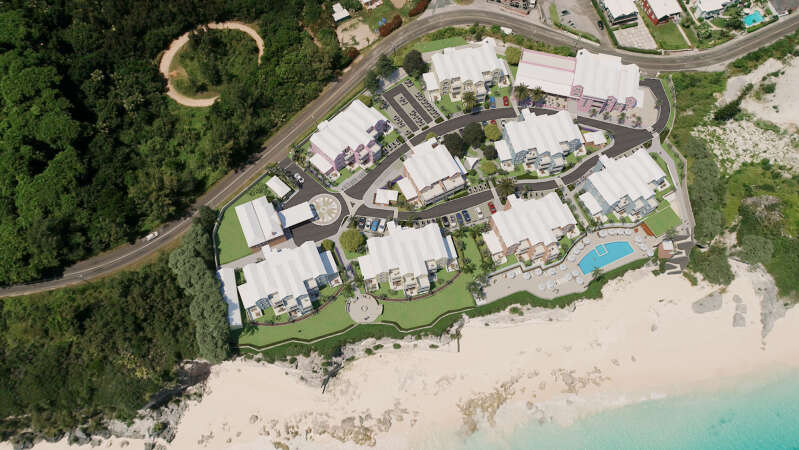 New promotional materials include renderings of the yet-to-be-completed Bermudiana Beach Resort in Warwick.
While work on the hotel property is continuing ahead of an expected July 2024 opening, marketing has started to promoted the property to those who may be interested in purchasing units at the South Shore site.
Materials recently sent out state that those who purchase a condo can stay for up to 90 days a year, describing the site as the "perfect vacation home".
"The other 275 days of the year and any other days owners don't use, can be rented out as hotel rooms or suites through their global sales and reservation system, with rental income shared between owners and the hotel management company," the materials added.
"Property owners don't need to concern themselves with all of the normal hassles of renting and maintaining a vacation home, either, as Bermudiana Beach Resort will rent it for them, and the on-site management company will repair and maintain it for them while they're away."
Four types of unit are available, ranging from Periwinkle units, which feature a single sleeping area, to the three-bedroom, three-bathroom Allamanda units, which can be divided into two units.
Prices start at $412,500 for a "fully furnished studio".
The promotional materials also highlight activities available, including "the island's many golf courses, summer food festivals and family activities, such as visiting animals and exploring the Royal Naval Dockyard".
Kate Martin, of Bermudiana Beach Resort, added in the promotional e-mail: "Our hotel condominiums open the door wide to Bermuda lovers who want to own a vacation home in Bermuda.
"Tapestry Collection by Hilton and our on-site team manage all your rentals and maintenance for you. So it's perfect for generations of hassle-free family short breaks and vacations."
David Burt, the Premier, recently led the Cabinet Committee on Economic Development on a visit to the site in Warwick.
He said: "The Bermudiana Beach Resort is poised to become a critical expansion of the product in support of Bermuda's tourism industry."
• UPDATE: this article has been amended to correct the expected opening date of the resort