Douglas predicts a bumper medal haul
Created: Jun 21, 2013 09:56 AM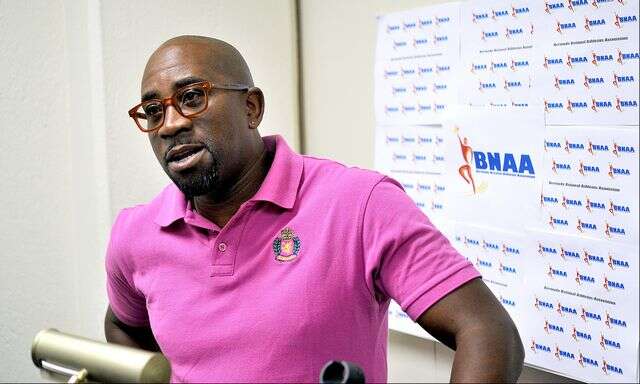 Four-time Olympian Troy Douglas fully expects Bermuda's track and field athletes to win a bumper haul of medals at the NatWest Island Games.
Bermuda National Athletics Association's head coach believes medals should be "easy to come by" for their 36-strong squad, which includes top names Ashley Estwanik, Shianne Smith and Tre Houston.
Douglas hopes the biennial multi-sport event the first to be held outside Europe can be a "great advert" for Bermuda sport and their most talented athletes.
"Medals should be easy to come by for (Bermuda) I expect a nice haul. There should be a lot of Bermudians walking around with medals around their necks," he said.
"The Island Games can be an advert for Bermuda sport. There are lots of athletes and coaches from around the world coming over and we can all learn a lot from each other.
"We can use this event as a learning experience and it should give the Island some good PR."
Although Douglas has tipped Bermuda's track and field athletes for podium glory, the former top sprinter expects the competition to be of a high standard.
"I was looking at some results from the previous Games and I was thoroughly impressed with the middle and long distance times.
"The jumps were also pretty impressive although we have some pretty good young jumpers right now."
Although elite athletes Tyrone Smith, Arantxa King and Aaron Evans will not return home for the Games, several seasoned performers have made the squad especially in the long distance events.
Estwanik will look to put her May 24 disappointment behind her when she competes in the 5,000 and 10,000 metres while Rose-Anna Hoey, who was the first female finisher in last month's Marathon Derby, will run the 5,000 metres and half-marathon.
Bermuda's next generation of track and field stars, including Kyrah Scraders (800 metres), Juma Mouchette (800 metres) and Kidane Callendar (100 metres), will also look to make their mark on the international stage.
"A lot of our kids have some extra motivation since this year's Carifta Games (in Bahamas) and it will be good to see how they get on," added Douglas.
"Track and field feels like a growing sport in Bermuda and, of course, this is a home event and the whole Island is excited about that."
Should Bermuda prove capable of hosting a successful Games, Douglas hopes more international events such as the CAC Juniors and Carifta Swimming Championships could be held on the Island.
"I'm curious to see how Bermuda handles a tournament of this magnitude," he said. "I think we have some good facilities and this will be a good test to see if we could bring events of a higher calibre back to Bermuda."
The Island Games runs from July 13 to 19.
Bermuda's track and field squad for the Island Games:
Women: Natasha Trott (100m, 200m), Shianne Smith (200m, 100m hurdles, 400m hurdles, javelin), Rachel Fox (400m), Tamika Williams (800m, 1500m), Kyrah Scraders (800m), Ashley Berry (1,500m), Ashley Estwanik (5,000m, 10,000m), Rose-Anna Hoey (5,000m, half marathon), Khianda Pearman (high jump), Kerri Furbert (long jump), Jasmine Brunson (triple jump), Akeila Richardson (triple jump), Tiara DeRosa (shot put); Victoria Fiddick (half-marathon), Deon Breary (half-marathon).
Men: Tre Houston (100m, 200m), Kidane Callendar (100m), Jaret Simmons (200m), Darico Clarke (400m), Dage Minors (800m, 1,500m), Juma Mouchette (800m), Stephen Allen (5,000m, half marathon), Jay Donawa (10,000m), Tristan Joynes (110m hurdles), Chas Smith (high jump), Jahnai Perinchief (high jump), Bruce DeGrilla (long jump), Ethan Phillip (long jump), Quinn Simons (shot put, discus), Jaquan Hatherly (shot put), Chris Harris (half marathon), Nick Strong (half marathon).