Schools take centre stage
Created: May 11, 2018 09:00 AM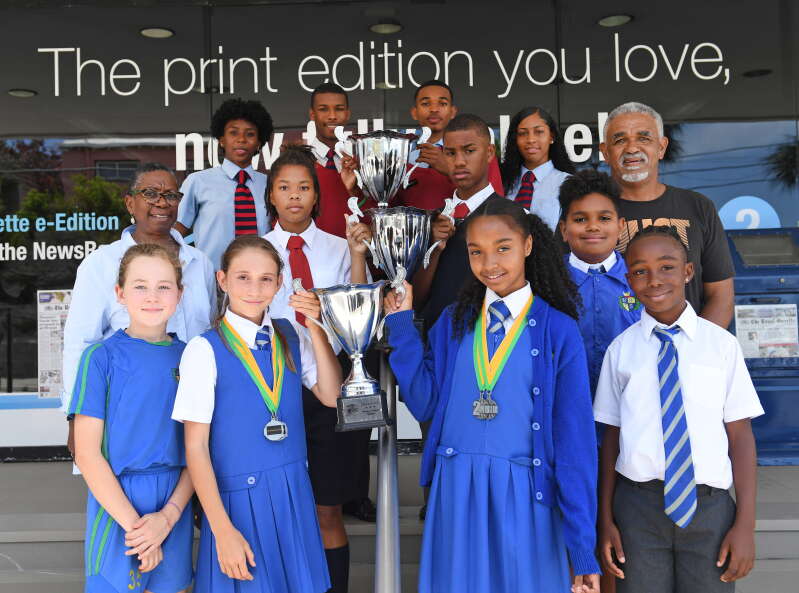 Harrington Sound Primary, TN Tatem and CedarBridge will all be the schools to beat tonight when schools relay teams are featured in the Bermuda Invitational Permit Meet at the National Sports Centre.
All three schools retained their titles at last week's Bermuda Pacers Schools Relay Classic and will look to carry that success on to the Permit Meet. Tatem, under coach Terry Maxwell, the school's science teacher, have won the last eight Middle School titles after winning both the girls and boys 4x100 metres event, with Dellwood and Sandys Secondary their closest competition.
"He is the reason behind our success," said PE teacher Naquita Robinson of Maxwell. "He works really hard with them during school hours, after school and during weekends, making sure that they are at track meets.
"All kudos go to him and the students have a level of respect for him that him can get them to do pretty much anything. It's hard work and they like to do what they do. He knows what order to put them in and what type of training they need."
TN Tatem had a combined scored of 38 points to finish 12 points ahead of Dellwood, claiming two records in the process. The 4x100 metres boys team of Keshon Paynter, Chayse Tanner, Kezie Richardson and Sancho Smith set a new record with their time of 47.36 seconds while Tanner, Richardson, Smith and Sekai Tatem raised the bar in the 4x400 metres with a record time of 3:51.89.
The Tatem girls won the 4x100 metres and came second to Dellwood in the 4x400 metres.
"The event is ten years old and to win eight of the ten is not bad," said Robinson, who is one of the coaches for the girls under-17 women's football team.
"Sancho Smith was absolutely amazing, there was also Chayce Tanner and Emily Cabral who is part of the women's under-17 team. The more we invest in our young people the better.
"For so many years we have wanted instant gratification but we understand that things take time and if we invest correctly that there are benefits in all sports."
CedarBridge edged Berkeley by just four points (36 to 32) in the senior relays as the schools continued their battles on the track, setting up an interesting battle tonight between themselves and Saltus.
In the girls 4x100 metres, the CedarBridge foursome of Brijette Basden, Telilah Wears, Ketura Bulford-Trott and Caroline Campbell had a winning time of 51.28 seconds. Their boys 'B' team of Mikal Dill, Deneo Brangman, Omar Wilson and Keishon Bean won the 4x100 metres final in 44.12 seconds.
"We met this morning and put our strategy in place for tomorrow evening," said teacher Joanne Anderson. "The students are excited and definitely ready. We have two male teama entered and three female teams.
"Most of our athletes train for different clubs around the island and some also do other sports. They are the reigning champions of the Classic and they are planning on bringing it home on Friday night and to CedarBridge on Monday morning. We're going in with the attitude of claiming victory once again.
"Deneo Brangman performed spectacularly last Friday night but they are all phenomenal runners. Deneo, Telilah and Mikal all represented us at Carifta."