BNAA sweats on exemption relief for national championships
Updated: Jul 10, 2021 08:09 AM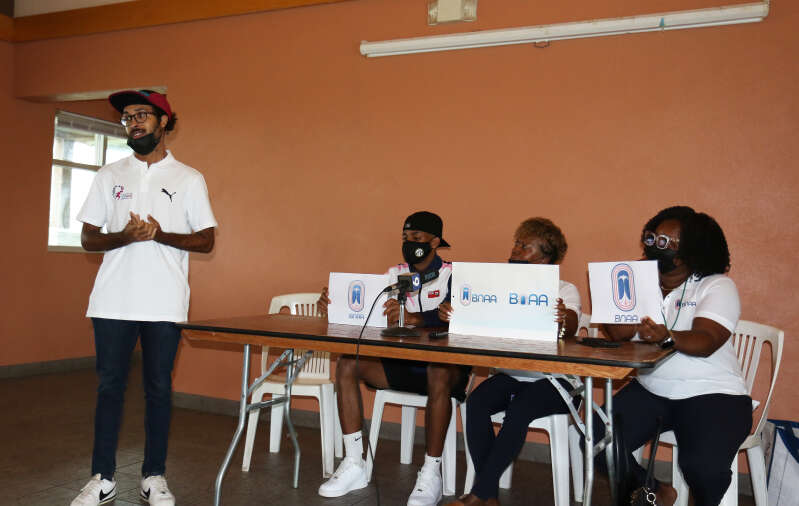 The governing body for athletics is hoping for a last-minute easing of crowd restrictions ahead of the Bermuda Track and Field Championships, which will be held tonight and tomorrow at the National Sports Centre.
The maximum number of people allowed to be in attendance for the meet before it must be declared a SafeKey event is 100. But, with 52 senior athletes having already signed up to compete on Saturday, organisers at the Bermuda National Athletics Association face an anxious wait to see if their already gazetted exemption may be upgraded — much in the same way that allowances were made for league cricket.
"We are awaiting additional information from the Ministry [of Youth Culture and Sport], so we can't confirm anything more than what we have been exempted for, but we're hoping to get further direction that would allow for more people," said Mia Black, the BNAA vice-president, at a press conference yesterday.
"We don't want to promise anything before I get official confirmation that we can have more people. But it does looks promising that we may get the permission to have more people in the stadium."
Donna Raynor, the BNAA president, added: "I've had calls all morning, people asking how can I come, because people haven't seen Jah-Nhai [Perinchief] jump, or haven't seen Tyrone [Smith], Caitlyn [Bobb] or Sanaa Re [Morris] compete. Plus we have several athletes coming in.
"We also know the size of the stadium, but if it ends up that we can have more, there is a lot that we will have to put in place. The main day is going to be Saturday, with the [baton relay] ceremony taking place and then the senior championships."
Perinchief, a high jumper-turned triple jumper, and sprinter Bobb were both at the press conference at the National Sports Centre as the BNAA promoted the weekend event. Both have qualified for the Commonwealth Games.
"The transition [from high jump to triple jump] wasn't too difficult, it's not like I'm fully new to triple jump," said the University of Tennessee senior, who won a silver medal at the NCAA Outdoor Track and Field Championships in Eugene, Oregon, last month with a personal-best leap of 17.03 metres.
"I actually qualified for Carifta in triple jump, and most of the time when I was training for high jump I would go and do triple jump, for fun I guess. The transition has been pretty easy, especially having a smart coach.
"Coach [Travis] Geopfert is one of the best coaches, he just makes stuff simple, doesn't overcomplicate. He looked at my weaknesses and my strengths and doesn't force me to train a certain way, or be like anybody.
"Brian Wellman has been a big help to me as well, just being a mentor for a guy who is learning new things about triple jump. I'm still learning stuff, which makes it an interesting event for me."
Perinchief added: "For the most part I feel like my 'hops' have really been my benefit, because triple jump is real similar to high jump, although a lot of people probably won't see it that way.
"After you run off the board, you are really supposed to jump up and up, and I'm used to jumping up. That made it a lot more simple for me; I just have to get comfortable bringing more speed."
This will be Bobb's first big event on local soil, having previously run in a Dash in the Dark event years ago. The recent high school graduate, who has qualified for the World Athletics Under-20 Championships next year in Kenya in the 400 metres, is excited to be competing in the Nationals.
She is the daughter of the former Dawnette Douglas, an Olympic sprinter at the 1992 Barcelona Games. Bobb represented Bermuda in the 2019 Carifta Games in Cayman Islands, winning a gold in the 400 metres and a bronze in the 4x100 metres relay, and was looking forward to competing in front of a big local crowd before the Games were cancelled.
"I'm really excited that my family are going to see me run live for the first time instead of on a computer screen or a telephone," said Bobb, who will compete in the 200 and 400 metres on Saturday.
Bobb, 18, graduated from high school in May and will attend University of Maryland, Baltimore County in the autumn.
"Fortunately for us, we were able to bring home some of our top elite athletes," Raynor said. "Jah-Nhai, Caitlin, Tyrone Smith will be coming in, Suresh [Black], Sanaa Re [Morris], Ryan Outerbridge and we have brought in some international athletes to compete as well.
"One of the highlights of the weekend is that we are going to get to show what the Carifta Game was going to look like; that's if the rain stops! We're looking at decorating the stadium with all our Carifta paraphernalia that we had in place for the Carifta Games.
"We will be presenting our Carifta 2020 team and our sponsors with commemorative medals. We will also be presenting our top athletes, Jah-Nhai and Tyrone, who were close to making the Olympic Games, with a plaque to show our appreciation for our athletes.
"Jah-Nhai placed second in the NCAAs and we think it is something we should be celebrating. Tyrone represented Bermuda at three Olympic Games and several World Championships."
Also unveiled yesterday were the BNAA uniforms, which were designed by Mstira Weeks, of Mystique Unique, and the BNAA logo designed by artist Domico Watson.
This evening's junior events start at 5.30pm, while competition tomorrow begins at 6pm.