Excitement building for USATF Bermuda Games
Updated: Apr 08, 2022 07:59 AM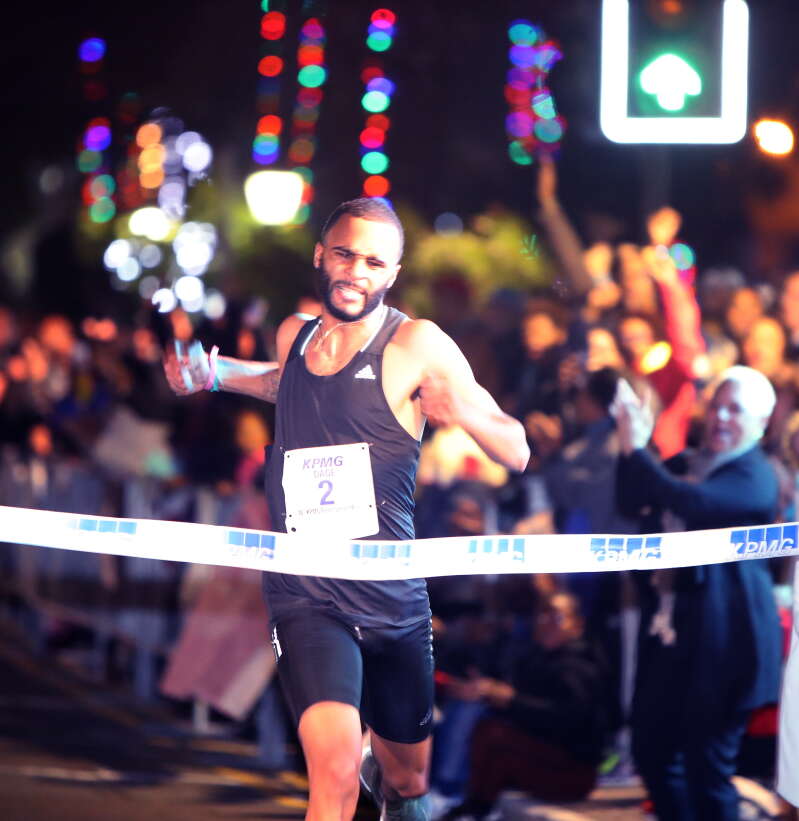 Freddie Evans, the president of the Bermuda National Athletics Association, is excited to see the newly named Flora Duffy Stadium hosting its first major meet on Saturday, the USATF Bermuda Games.
Fifteen events will be packed into a two-hour meet, which will get under way with Bermuda's triple jumper Jah-Nhai Perinchief featuring in a small field, which he will be looking to dominate in front of his home fans.
Perinchief has an outdoor personal best of 17.03 metres and will be hoping for a positive finish against Americans Chris Benard (17.48) and Nathaniel Meade (16.12), Bahamian Kaiwan Culmer (16.52) and Jordan Scott of Jamaica, who has a personal best of 17.37 metres.
Perinchief made his debut at the World Athletics Indoor Championships in Belgrade, Serbia, last month, finishing fifth in the final with a personal best leap of 16.95 metres (55ft 7¼in) which he managed on his fourth jump.
Four Bermudians will be in action at the meet with Tre Houston, who comes in with a best of 10.22 seconds, lining up in the 100 metres, and Dage Minors and Lamont Marshall, two of the island's top middle-distance runners, competing in the 1,500 metres final at 4.13pm.
"Dage is based locally, has been training consistently and has been doing well," Evans said.
"Lamont is really excited to be a part of an event of this calibre. He hasn't had that in his long and storied career, to be here in Bermuda running in front of a big crowd, so he he's excited about that.
"Jah-Nhai is world-class at the moment and to have a Bermuda crowd here to watch him bounce, he might do something spectacular. That's what we're hoping for."
The first round of the men's 100m will start at 4pm with the final set to bring down the curtains at 5.24pm.
Americans Ronnie Baker, Kenny Bednarek, Marvin Bracy and Noah Lyles should do most of the running in the 100m with 2011 World champion Yohan Blake eager to get back up to speed after a disappointing few seasons.
Marshall and Minors will be up against some world class runners in the 1,500 metres race. The nine visiting runners are coming from the United States, Canada, Germany, Qatar, Kenya, Britain and Morocco, whose athlete, Brahim Kaazouzi, should be the favourite based on his personal-best time of 3:31.62.
Marshall has a personal best of 3:46.51 and Minors 3:45.63.
Bermuda's Carifta team members, who will leave next week to head to Jamaica for the Games, will be in attendance, soaking up the big meet atmosphere.
"The excitement is starting to build," Evans said. "On Friday night we have the fastest kids race preliminaries, the idea being for age groups five, six to under 17s will have sprint races.
"The five and six-year-olds will do a 50 metre dash and the fastest eight will advance to Saturday to run in front of the crowd at 2pm.
"In the morning we'll have a free clinic called run, jump and throw for ages 6 to 12 and kids can come out and get some exposure on jumping hurdles, throwing cricket balls and running sprint races on Saturday morning from 10 to 12.00."
For both children's events registration is on www.trackie.com.
"I'm really thankful for the volunteers who are making this happen," Evans said. "We're also indebted to the Bermuda Tourism Authority, people like Hazel Clarke and Charles Jeffers and their team who are making this happen."
Evans admits there is some pressure that comes with putting on a meet of this calibre.
"On a personal note I get a little excited, optimistic, pensive as we've got a lot on the line and we've got to make this happen," he stated.
"It's unlike any track meet we've ever done because it is a television show and we have to do all these events in less than two hours. We have to do it professionally and make it happen," he said.
Natasha Morrison and Shockoria Wallace are Jamaica's two 100 metre female competitors, going up against 13 sprinters from the United States in the heats including Gabby Thomas, Teahna Daniels, Javienne Oliver, Twanisha Terry and Cambrea Sturgis, who have all gone well below 11 seconds.
For one visiting athlete, Antonique Strachan of Bahamas, it will be a stroll – or sprint – down memory lane when she lines up in the 200m as she came to Bermuda 10 years ago for the 2012 Carifta Games and won gold in the under-20 100 metres.
Strachan will come up against Puerto Rico's Jasmine Camacho-Quinn, the 100m hurdles Olympic champion, Briana Williams, the 2018 World under-20 double sprint champion and Olympics 2020 relay gold medal-winner, as well as Americans Dezerea Bryant and Jessica Beard.