Fun and true essence of sport on display at Invitational Games
Created: Dec 16, 2022 01:55 PM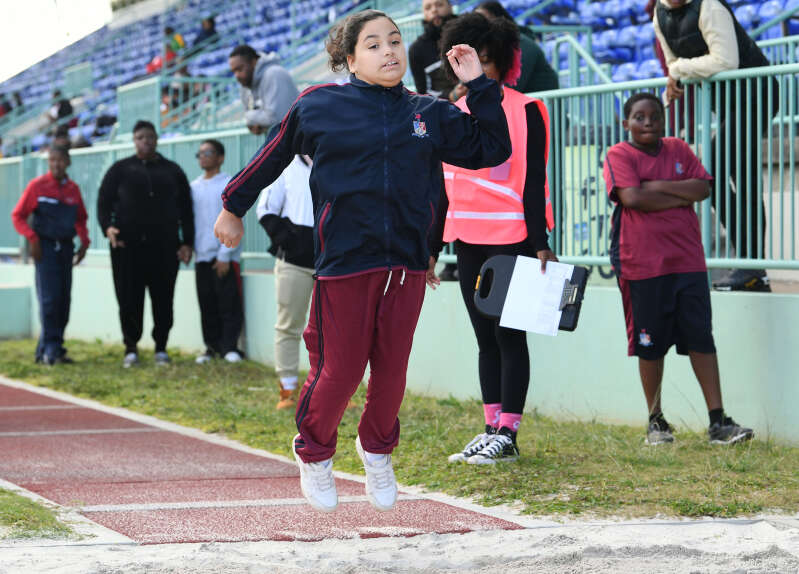 A day filled with camaraderie, inclusiveness and the opportunity to excel on the track and field took place at Dame Flora Duffy Stadium on Thursday.
The Invitational Games, organised by Special Olympics Bermuda, was originally supposed to be part of the showpiece finale of UN International Day of Persons with Disabilities festivities last week before it was forced to be rescheduled.
But despite the delay it proved an outstanding celebration of differently-abled persons and there was no lack of party-like atmosphere. Amid the laughter and dancing, an impressive field of athletes from middle-school age and above showcased their talents in a number of events such as the 25-metre dash and walk, shot put, tennis ball throw, turbo javelin and long jump.
While Sacha Richardson, Director of Special Olympics Bermuda, hailed the opportunity and experience for differently-abled persons to compete in a supportive environment, she also praised the greater significance of the event, which far exceeds pure sporting achievement.
"The atmosphere, the camaraderie; it's just so nice seeing people with disabilities be able to do the sports they love and excitement to be competing," she said.
"We haven't been focusing on who won what, it has been about the day itself and everyone being happy to be involved.
"It's gone really well. We've had up to 99 per cent of those who registered an interest show up and also a good amount who didn't register but have shown up and competed.
"It is so important to have these type of events. Not only does it give differently-abled people the opportunity to come out and have an experience like any other athlete would, but it also plays a crucial role in inclusive environment within Bermuda.
"This has absolutely been a celebration. The vibe has been fantastic and it's just been awesome to be a part of this event."
While the event itself represents more than competitiveness and sporting success, the Games were used as preparation ahead of next year's Special Olympics World Games, which will take place in Berlin, Germany from July 16 to 25.
Richardson, who remains hopeful of having a strong representation of athletes representing Bermuda on the world stage again just as at the World Games in Abu Dhabi in 2019 and at last year's USA Summer Games in Florida, admits to being encouraged by the performances on show.
"We are using some of the times towards the Special Olympics World Games in Berlin and there have been a lot of competitors who are not part of Special Olympics, so this could certainly help attract others to get involved," she added. "This is like a welcome to those people and to help open the door for them to get involved with us.
"This has been a fantastic way to introduce what we do and what we can offer people with disabilities. Part of this was to try to see if we could build the numbers of our team and I have been hugely encouraged with what I have seen.
"The sad part is we can't take everybody but from what I have seen, the competitors have been doing incredibly well and that's the amazing part of this. As well as the Special Olympics World Games in Berlin, we have a lot of events coming up in the United States and Caribbean, so there are loads of opportunities for the people here today."
As well as opportunities overseas, Richardson also revealed a desire for a greater number of events on island, with ambitions to create collaborations between the different disability organisations.
"Perhaps more importantly than overseas competitions, we are hoping to create far more opportunities here at home," she said. "We want this type of thing to be treated as any other sporting event on island. We have high hopes and it is certainly possible. We have big ambitions that we will be seeing a lot more events like this in the future.
"We know there are challenges and we can't act like we can just sweep those under the carpet, but we want to be in a position where those challenges are seen as normal and can be addressed, whether that's through government, charities or the general community.
"We are definitely aiming to have more events like this and we have had discussions that we need to do more events more often. This is certainly not the end goal for us, there are plans in place.
"We have a lot of organisations all doing so much in their own right and playing their part but one big thing I want is for all of us to collaborate more together.
"We are planning on having us all come together and consolidate our calenders because the people here will already be a part of WindReach and Special Olympics, so why not come together and work as a collective."