Artist vows to bring fire-hit Lion Bug back to life
Updated: Aug 24, 2021 08:12 AM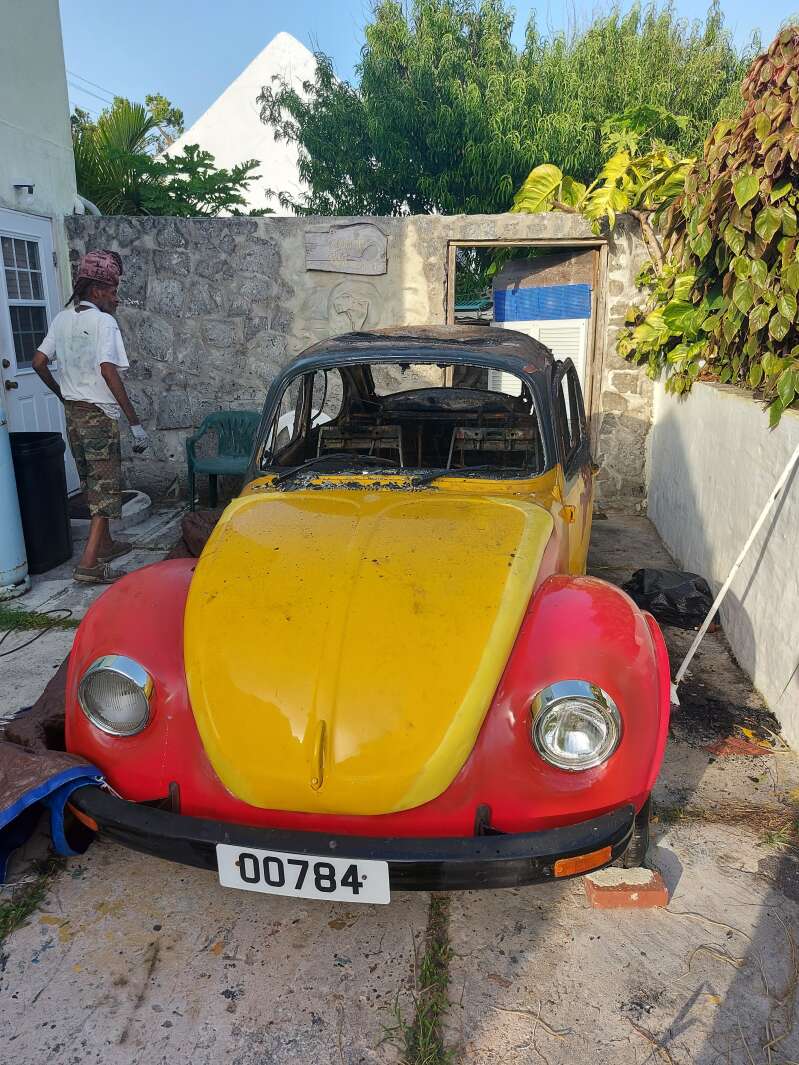 A Rastafarian artist yesterday vowed to rebuild his distinctive red, gold and green VW Beetle after it was wrecked by fire.
Perry Butterfield's "Lion Bug", a familiar sight on the roads across the island for years, was gutted in a blaze thought to have been started by a leaking fuel pump.
But Mr Butterfield, a painter for much of his life, said he was determined to restore the 45-year-old Super Beetle after it caught fire last Sunday in Ferry Reach.
He added he would bring the car back to life despite a "rough year" which saw him in hospital four times for a throat problem which meant he had difficulty speaking.
Mr Butterfield, 63, said he had undergone a tracheotomy, which limited his power of speech and meant he mainly communicated in writing.
He wrote: "Yesterday was the day the Bug catch a fire.
"I should have parked the car and come back the next day to fix it properly."
Mr Butterfield was not in the car when it caught fire, damaged the engine and destroyed the interior.
He said: "People really need to be careful.
"I am a Bug lover so you see I am putting it back together,"
Mr Butterfield bought his first Beetle when he was 18 and has never owned any other kind of car.
He said: "It gives me pleasure to work on a Bug."
But he added: "This is a very tough car to fix and I can use all the help and support I can get from the community.
"I lost my voice this year. This sickness has been very rough and I have been in hospital four times although I am getting stronger every day thanks to friends and family."
Mr Butterfield said he would welcome donations from anyone who was able help him bring the Lion Bug back to its former glory.
He added he would welcome people stopping by or making donations to Bank of Butterfield a/c 20050060842005210 to help with the restoration.