Scott to reform taxi sector including fare hike
Updated: Sep 26, 2022 10:17 AM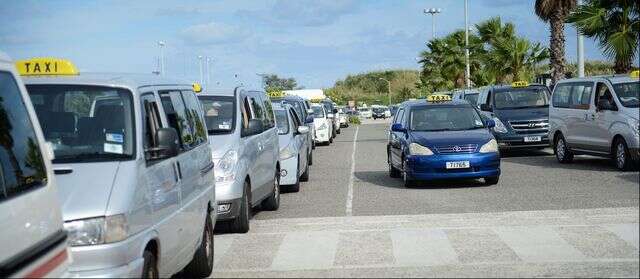 Taxi drivers threatened to break the law and deliberately overcharge customers in their effort to win a major fare hike, Lawrence Scott, the transport minister, has claimed.
The minister said that taxi operators wrote to him saying they would use the pricing tariff known as rate three — a 25 per cent surcharge which operates between midnight and 6am — during other periods of their choosing unless progress was made on their demands.
Mr Scott told The Royal Gazette: "They threatened to break the law in writing.
"They were going to overcharge people because they did not feel we were being responsive enough.
"They were basically going to manually set their rate at no less than rate three for a period of time agreed by their membership, not by the ministry."
Mr Scott said he reminded operators of what the "consequences" would be if that happened.
The Bermuda Taxi Owners and Operators Association disputed the minister's interpretation of the letter.
Ricky Tucker, the BTOA vice-president, said: "We sent them a letter saying that some of our members had threatened to set their meters to rate three and we advised them not to do that.
"Such action was not agreed by the executive. We wrote to the minister to let them know how some members felt."
The minister said that taxi fares will rise, but the cab network would be bigger and more efficient under a proposed new shake-up of the industry he would be bringing to Cabinet in the next few weeks.
Mr Scott would not be drawn on the scale of the price hike, but the BTOA has called for a 20 per cent increase.
The minister's move would see the number of active permits for public service vehicles rise from the present 812 to 1,000, with greater flexibility for owners to use more than one vehicle under their permit.
The BTOA has said it is "losing patience" with the transport ministry after four meetings with Mr Scott in the past ten months.
The minister said: "What people would see as frustration, I would see as excitement.
"I see it as excitement because, yes, we have met multiple times and each time we are doing something further. We are making more and more progress."
Pressed on whether the Government was minded to agree to the requested 20 per cent increase, Mr Scott said that fares would go up, but it would depend on cost-of-living calculations.
He said: "A cost-of-living increase will be put into legislation to be reviewed every X number of years.
"I am going to be very provocative — they have not asked for a 20 per cent increase. They have just asked for a cost-of-living increase. The first time I ever heard 20 per cent was in the media.
"I don't have something in writing.
"The ministry appreciates they have not had a pay raise since 2014.
"The ministry will work with them, with the Ministry of Labour and Economy, to figure out what the cost of living is.
"I don't know what the cost-of-living increase is — let's say 3 per cent. Three per cent equates to roughly $1.20 increase in price for a customer who is going from the airport to Warwick."
Mr Scott said he agreed with BTOA calls to bring forward the rate three fare band from midnight to start at 9pm.
The minister said he also wanted the Cabinet to approve a fuel rebate for the industry along the lines of the one operating for commercial fishermen.
Mr Scott admitted his department could do better at enforcing rules, but he wanted to modernise the system as a whole.
The minister said: "Enforcement is the key. That's the linchpin for what this concept is built on — enforcement and expansion.
"We are going to get more enforcement.
"Could the ministry do a better job at enforcement? Yes, we could.
"And what this concept does is to motivate and inspire us to do that."
Mr Scott said he could direct that the legislation be rigorously enforced from today. But he said such an action would be seen as punitive "and that would start frictions and start fires that we don't need".
He added: "However, if enforcement is done in a manner that everybody knows what is expected of them prior to when it comes to being enforced, people understand.
"And that it has to make sense. We should not be calling somebody in front of the public service licensing board because they are wearing docksiders and Bermuda shorts without Bermuda socks.
"That is ridiculous, but that's what's on the books now. Let's change that."