History on wheels: vintage autos try out island's roads
Created: May 27, 2023 07:59 AM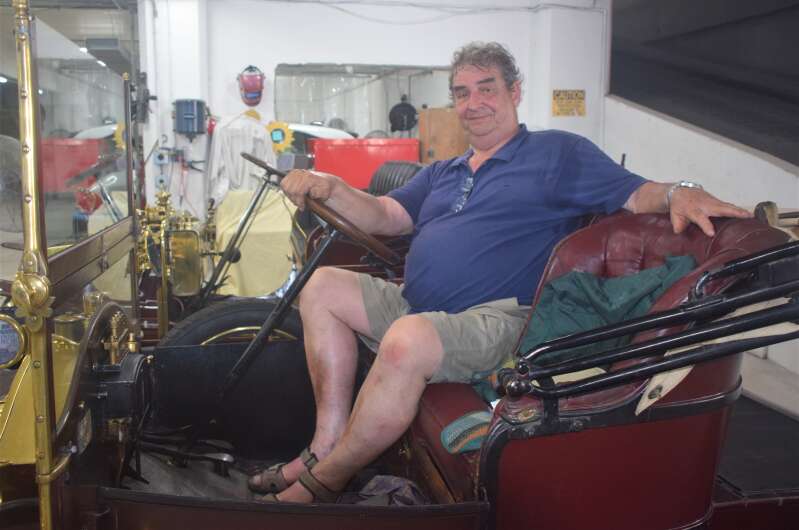 Heirloom automobiles, many older than the first cars brought to the island, have made an impressive entrance in Hamilton as they showed their mettle.
Visiting collectors who shipped their rare vehicles over from Britain in containers in time for Bermuda Day to take part in the parade were in agreement that the island's roads made for excellent driving.
Daniel Ward, the organiser of the event, summed up reactions as: "Wow, what's that?
"Some thought they were replicas, but they're all originals, restored. We thought that the people of Bermuda would love to see these things because they never have. They're thrilled from the reactions.
"Veteran cars bring smiles to people's faces."
Cars from motor antiquity can hold up traffic in other countries, he said, but in this case Bermuda's speed limits were "perfect".
"The drivers are loving it," said Mr Ward, who is from Ripon, in England. "And the road surfaces are no worse than England's."
As the 14 drivers gathered at Bermuda Motors in Hamilton with their prize cars, Liz and Terry Bramall, from Harrogate in North Yorkshire, England, parked their 1903 Panhard-Levassor at the car dealership.
Ms Bramall, who had been the navigator for a trip to the West End, said some hills had proved a challenging climb, but the pace of driving was ideal.
Added Mr Bramall: "We were on the right side of the road here, the left. One can also be distracted by the views. But it has been absolutely delightful."
He said he started collecting vintage cars at the age of 50 and now has 27 of them.
"I've started collecting what I hope are going to be future classics."
Adam Ward, from Yorkshire, also took a trip to Dockyard and back with his 1909 Renault AX.
Mr Ward said the roads were fun, and the speed limit was "about right" for a jaunt among modern cars.
Richard Sturdy, from near Masham in North Yorkshire, said he had shipped his 1902 Darrocq over from Liverpool via New Jersey "for the experience, which was great apart from the weather".
Even though the pandemic sent shipping costs soaring, Daniel Ward said he had been especially keen to organise a rally here after happening upon Bermuda two years ago, when he was forced to isolate on island because of Covid.
David Gibbons, of Bermuda Motors, also happened to be an old schoolmate.
Mr Gibbons said: "We hadn't seen each other for 40-plus years. But it's very easy to start things over again. That was the germination. Daniel is a determined person."
He added there was hope to bring more vintage car rallies.
"If people buy into it, now we've built the wheel," Mr Gibbons said. "It's just a question of putting in a new set of tyres."