Oleander limps into port after mechanical malfunction
Updated: Sep 20, 2023 10:11 AM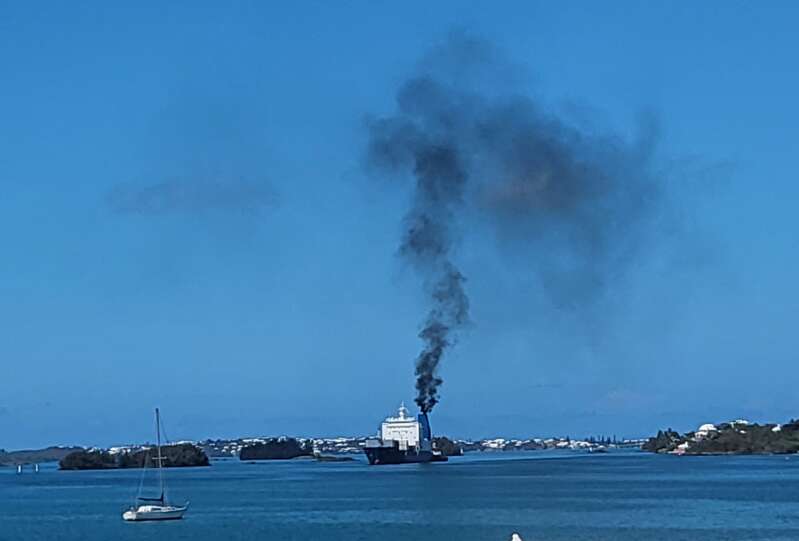 The container ship Oleander limped into Hamilton harbour a day behind schedule yesterday after suffering a mechanical fault at sea.
The vessel left New Jersey on its weekly run to Bermuda last Friday and was due to arrive here on Monday.
But the 8,300-tonne ship, which is only four years old, suffered a malfunction before reaching port and was left floundering on the open ocean.
An on-board technical team was able to identify the fault and Oleander was eventually able to make it to Bermuda yesterday afternoon, belching black smoke as she arrived.
The cargo ship's itinerary was disrupted by the presence of Hurricane Lee last week and Sunday's mechanical malfunction has resulted in further scheduling "challenges".
Typically Oleander would have set sail from Hamilton's docks on the return leg to New Jersey yesterday after unloading dozens of containers of goods destined for the island's retailers.
But maintenance work still needs to be carried out on the ship and it is unlikely that she will be able to depart before the weekend. As a result of the delay, next week's trip has had been scrapped.
Yesterday, Richard Todd, the chief operating officer of Neptune Group Management, which operates the vessel, said: "It has been an active hurricane season, which has presented significant scheduling challenges for the three vessels serving Bermuda.
"After already experiencing arrival delays due to Hurricane Lee, the crew of the MV Oleander were faced with a mechanical issue on Sunday on route to Bermuda.
"Our vessel technical team was able to diagnose the mechanical issue and dealt with it overnight on Sunday. The vessel has now safely arrived in Bermuda, where she will unload her customer cargo. We have informed our customers that we expect Oleander to return to schedule after missing one voyage, as our technical team completes the repairs.
"We would normally have left Bermuda today to arrive back in New Jersey on Thursday, but now we will leave after repairs are complete, likely Saturday, thus missing a voyage."