Hurricane Fiona carries birds far from home
Created: Sep 26, 2022 09:43 AM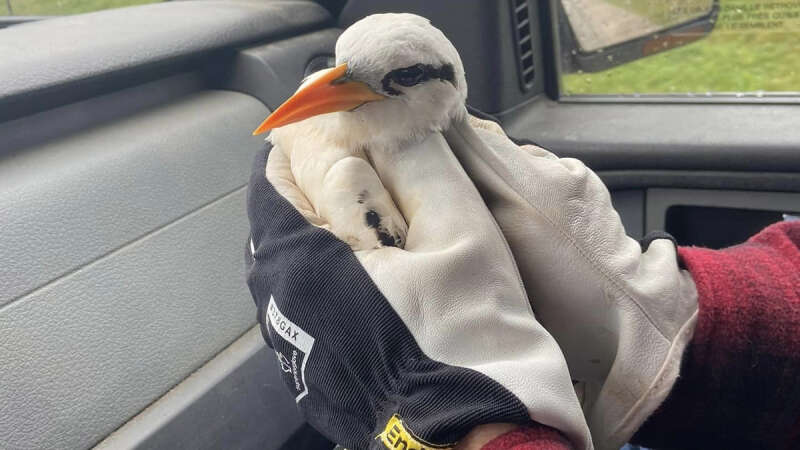 Winds from Hurricane Fiona were believed to have brought a tropical bird to Bermuda and taken some longtails from waters around the islands to Canada.
A brown noddy — more commonly found further south — was seen in Paget on Friday.
Three of Bermuda's iconic longtails were also thought to have been swept to Nova Scotia after the storm moved north.
A post on the Bermuda Audubon Society Facebook page said that residents of Hungry Bay were given the "rare treat" of seeing a brown noddy.
It explained: "This is a type of tern that is typically found in the tropical offshore waters to our south.
"It was likely carried north by Hurricane Fiona.
"Unlike most of the terns that we see here, which are white with a black cap, the brown noddy is dark brown with a white cap."
The post added: "A brown noddy was last reported in Bermuda in 2006.
"Thank you to Geoff Bell who alerted the birding community and allowed us to descend on his porch to have a look. Unfortunately, the bird had already gone.
"Some of us continued down the coast to see if it was feeding in the bays along south shore, but it was not seen again.
"Luckily, Geoff was able to get a couple of photos to confirm the sighting. We also received a report and photo from Amanda and John Paul Skinner.
"It is common for hurricanes to bring unusual birds to Bermuda."
Janice Hetzel, the society's president, said yesterday: "The most likely scenario is that as the storm came through the Caribbean it might have picked it up along the way."
Ms Hetzel said: "Nobody has seen it since that one day. It could be around and just nobody's seen it, which is possible, or it stopped, it caught its breath, got a little something to eat and then it took off."
She added that as well as in 2006, the brown noddy has been recorded in Bermuda in 1995 and 1988.
A historical sighting was said to have been made by David Wingate, a leading conservationist and ornithologist, in 1969.
He explained yesterday that the strength of hurricane winds meant birds, if they are close enough, can become "spiralled into the eye of the storm".
Dr Wingate said: "They're trapped there, so that the hurricane tends to sweep them up and carry them north until it dissipates, and then the birds can finally get out if they survive that long."
He added: "The noddy tern which turned up is a tropical seabird that breeds down in the Caribbean islands."
Dr Wingate said that the size of Hurricane Fiona, which was a Category 4 storm as it passed Bermuda, meant that other similar birds would also have been swept into its eye and carried north.
He explained: "Because they're ocean birds, they have no interest in staying on Bermuda, per se. They're just going to rest until they recover and then they're going to go back on the ocean and fly back to the Caribbean where they were brought from."
Dr Wingate said that a frigate bird, or man-o-war bird, which also tends to be found further south, was seen over St David's after the hurricane passed.
He added: "They didn't stay more than a day because they don't belong in Bermuda. They want to go home."
The Bermuda Audubon Society also shared on its Facebook page a story from the Nova Scotia Buzz website about at least three longtails swept up in the storm and found on Cape Breton Island.
It was reported that Hope For Wildlife, a rehabilitation and education organisation, will care for the birds before they can "be sent back to their home country".
Dr Wingate said: "A longtail is basically an ocean-living bird but they live in the Sargasso Sea, so their habitat is all around Bermuda."
He added: "They're strong, up to a point, at handling storm winds because they don't need land. They just stay fine over the ocean, but they can't handle anything as big as a Category 3 hurricane."
Dr Wingate said: "The ones that were found grounded would probably not have survived because they were really totally wiped out.
"But if they were still able to fly when they're up there, they would just fly back on the ocean and head south again and they would probably be fine."
Meanwhile, flamingos at the Bermuda Aquarium, Museum and Zoo huddled together as a flock in their mangrove enclosure when Hurricane Fiona brought winds and rain to the island last week.
A spokeswoman said: "The enclosure was created to provide excellent shelter for them."