Tropical Storm Franklin 'disorganised'
Updated: Aug 25, 2023 05:29 PM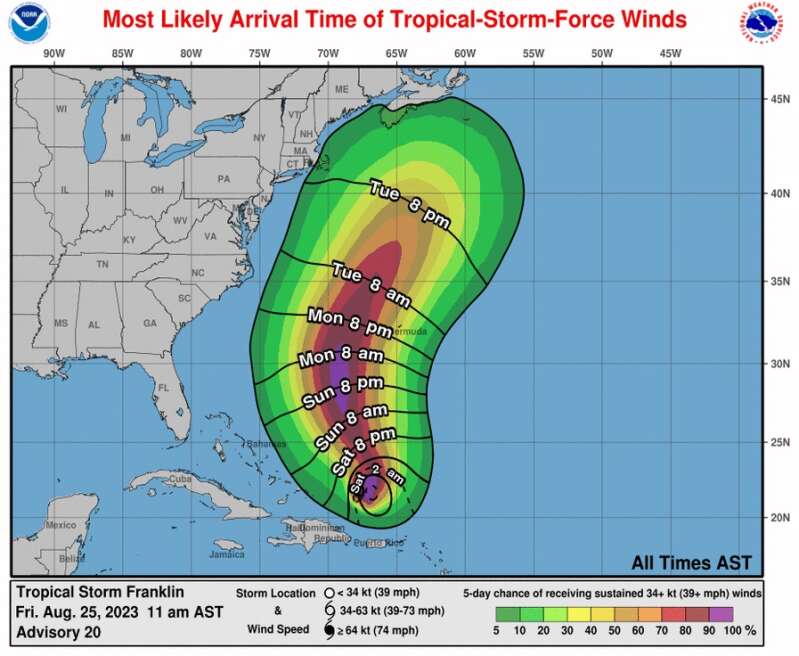 Gusts of about 50mph could be recorded around the island when Franklin passes to the west early next week, the Bermuda Weather Service said.
The system — a tropical storm — is expected to develop into a hurricane by then.
At midday today, the BWS said Franklin was about 750 miles south of Bermuda.
The forecast said that the system's closest point of approach to Bermuda in the next three days was expected to be about 340 miles to the southwest at noon on Monday.
The BWS warned that the storm could move closer to the island after that time depending on its track.
The weather service forecasted that the island would be "at least" in a Tropical Storm Watch on Monday and Tuesday.
It predicted for then: "Inclement weather spreads over our area as Franklin, possibly a Category 2 hurricane by this time, approaches our west and, as of the most current National Hurricane Centre forecast, passes near enough to bring 20 to 30 knots (23mph to 35mph) to our western marine area, with the possibility of 25 to 35 knots gusting 40 to 45 knots within heavier showers, especially in exposed and elevated locations.
"Franklin then swings a band of clouds over the island on Monday afternoon with showers ensuing."
Forecasts hinted that thunderstorms were possible.
The BWS added: "Rough seas along with swell and possible rip currents are expected through the majority of the long term.
"During early Tuesday, strong winds that occasionally gust gale/tropical storm force will have veered to the southwest as Franklin tracks north of our area.
"Seas will begin to recede along with diminishing swells that also veer west.
"By Tuesday evening, SW winds will have become moderate and skies may show signs of clearing, but this depends on the patterning of the rain bands around Franklin."
An advisory from the NHC at midday said that Franklin was "disorganised but forecast to strengthen this weekend".
It explained: "Franklin is moving toward the east-southeast near 5mph, and this motion will gradually become more easterly and northeasterly today.
"A sharp turn toward the north, with an increase in forward motion is expected tonight and Saturday, with a northward or north-northwestward motion over the western Atlantic continuing through early next week.
"Maximum sustained winds are near 50mph with higher gusts.
"Gradual strengthening is forecast by tomorrow, and Franklin will likely become a hurricane over the weekend."
The forecast added that tropical storm-force winds extended outward up to 115 miles from the centre of the storm.
Tropical storm warnings in effect earlier for portions of the Dominican Republic and Turks & Caicos were discontinued yesterday.
The Associated Press reported that Franklin caused heavy floods and landslides in the Dominican Republic, where one man was killed when he was swept away by floodwaters.
Two women were also injured after a landslide.
Franklin is one of several systems being watched in the Atlantic this week.
Meteorologists were monitoring a thunderstorm system in the eastern Atlantic, which could develop in the coming days.
"While environmental conditions are marginal for additional development, they could become more conducive in a few days," the NHC said. "A tropical depression could form by early next week while the system moves west-northwestward to northwestward into the central subtropical Atlantic."
The NHC estimated there was a 20 per cent chance the system would become a tropical depression by this afternoon and a 50 per cent chance the system would turn tropical in the next week.
Meteorologists are also monitoring the remnants of Tropical Storm Emily.
While the storm petered out into a post-tropical cyclone this week, meteorologists said there was a 50 per cent chance it could become tropical again in the next week.
"Recently received satellite wind data suggests that the system has lost organisation from Wednesday, but a tropical depression or storm could still form as it moves northward over the subtropical central Atlantic," the NHC said.
"By this weekend, the system is expected to merge with a frontal boundary north of the Gulf Stream."
The 2023 hurricane season has been forecast to be busier than usual as warmer than normal water temperatures offset El Niño, a weather phenomenon known to limit hurricane development in the Atlantic.
The National Oceanic and Atmospheric Administration estimated that the season could include 14 to 21 named storms, of which between six and 11 could reach hurricane strength.
Of those storms, it is estimated two to five could become major hurricanes reaching at least Category 3 strength with winds of 111mph or greater.
• UPDATE: This article has been updated with the latest information.