Specialist calls for national dementia strategy
Created: Jan 11, 2021 08:00 AM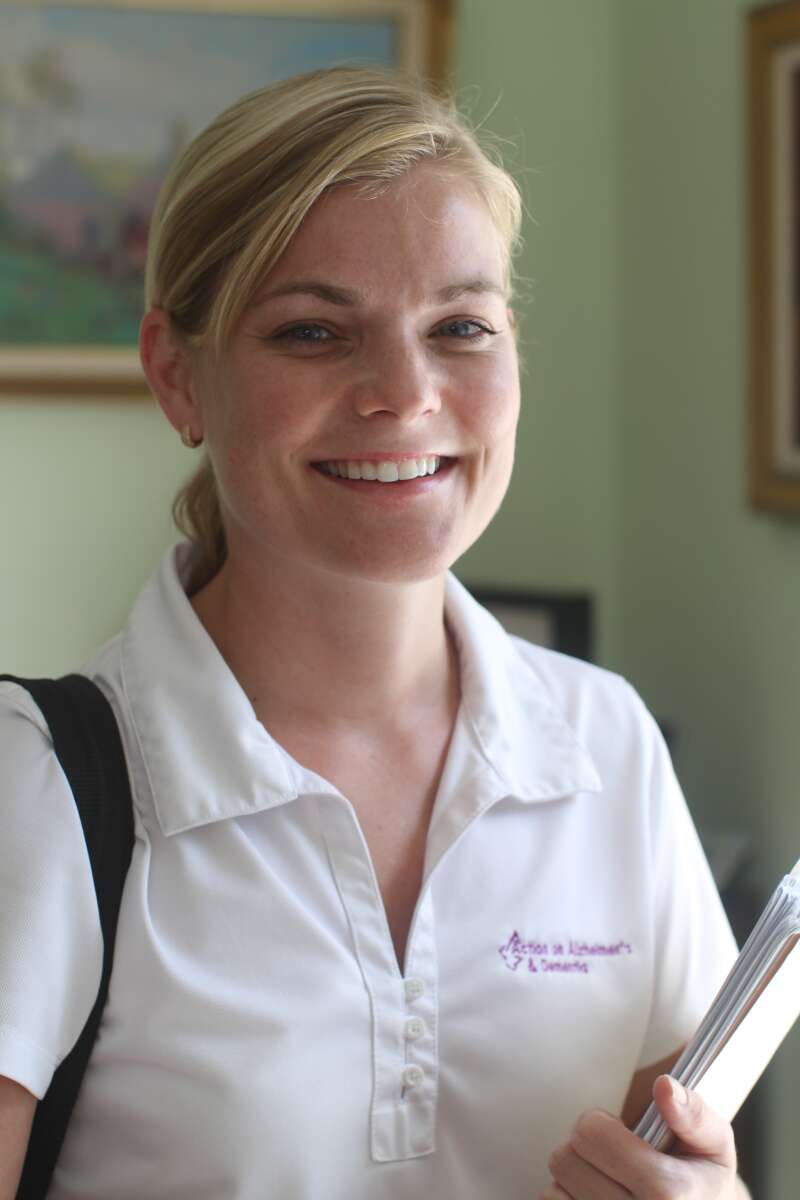 As a dementia care specialist, Marie Fay has grave concerns about Bermuda's future.
She has seen a tremendous rise in the demand for services in the past year. Although in keeping with global trends, the situation is compounded here: the cost of private care is too expensive for many families and there are too few people with the skills to provide it.
"My major challenge right now is that dementia care and services are not properly supported under the standard health benefit for insurance," said Ms Fay, an occupational therapist in private practice who works part-time with the charity Action on Alzheimer's & Dementia Bermuda. "There's very little, if any, dementia-specific care coverage or in-home care benefits for people who are living with dementia at home or those that are attempting to care for somebody who has a diagnosis, at home.
"What I am concerned about, with the current economic crisis especially facing the non-profits right now, is what the future is going to look like. If that funding isn't as readily available – to continue to support AAD for instance in offering occupational therapy services programming and support group meetings and the like – there's going to be this major gap for this very vulnerable population. And of course the numbers are expected to increase. We know there's around 3,000 people in Bermuda right now that are living with a diagnosis of dementia of some kind and we're expecting those numbers to increase dramatically over time. It's just concerning that there isn't really a coordinated plan in place as yet."
Adding to those problems are the social constraints brought on by Covid-19. Since March Ms Fay has been receiving daily calls from families worried that their loved ones are suffering because they don't have access to the resources they once did.
"I'm getting as much as 20 phone calls a day, not necessarily from new contacts but from clients and families that are already members of AAD just reaching out to say that things are changing and they're finding things more challenging at home," she said.
"It's been advised that this population stay at home because they do fall within the senior or older adult category. It has resulted in this prolonged period of isolation for the person living with dementia which, we know, is very detrimental for them in terms of levels of engagement and also for their care providers.
"Many of the community-based support services outside of AAD are still not up and running to full capacity. So things like daily programming and respite care and some of the government community therapy services are still not [available to] people as readily as they were before. It's only really the urgent cases that are being seen. From my perspective, the longer the general referrals sit the more urgent they become as well."
Dementia is described as "a general term for loss of memory, language, problem-solving and other thinking abilities that are severe enough to interfere with daily life" with Alzheimer's disease, a progressive neurologic disorder that causes the brain to shrink and brain cells to die, the most common cause.
Ms Fay "fell into" the field while working in the memory care unit of a hospital in Canada in 2011.
"It had never been anything I'd considered before but I just really fell in love with the population and I could see the difference that we could make to them by implementing some really simple strategies," she said. "Just the way that we communicate with people and the way that we approach them can really make a huge difference as to whether they have a positive outcome. I've been working in dementia care services specifically ever since then."
In Bermuda, she works with clients to determine their necessary level of care and to educate and support their family members and caregivers. As such, she is well placed to track the numbers of dementia patients.
"What I noticed generally, since the beginning part of 2020, the numbers were increasing," Ms Fay said. "Dementia is a growing health crisis not just here in Bermuda but everywhere [and] since the Covid situation exploded in March, we've actually doubled the numbers of [new referrals] each month since the first quarter.
"We are really having to stretch ourselves and think about how we can continue to optimise the person's quality of life within the current scenario and provide the necessary support and respite to those care providers that are caring for them.
"Knowing that there's no easy fix, the message that I'm getting is that people just feel entirely alone in the process, they sort of feel like they're being abandoned and are being expected to cope alone at home."
At the start of the year health providers were working to allow GPs to visit people with advanced dementia in their homes. A "simple thing" that had to be put on hold because of the pandemic, it would have reduced the stress on patients and their families.
"It's an additional challenge for people who are already coping with so much already," Ms Fay said. "If you're looking at having a caregiver come in to spend time with the individual with dementia, or assist them with the daily living activities, you're looking at $20 to $30-plus an hour dependant on whether you go for a private caregiver or a care agency.
"I would say the vast majority of people I come across currently are not in a financial position to be hiring outside caregivers. And those that can are still finding it a challenge to find the right caregiver match – the person with the right level of experience and training to be able to manage the specific care needs of the person with dementia."
She continued: "One of the biggest challenges we have with dementia care specifically, is that it's a specialised skill set and you really can't throw just anybody into that type of a scenario. There needs to be that background understanding and training of what dementia is and how it impacts on people."
Ms Fay is hoping that positive change will come when government's reform of the island's healthcare system is complete.
"As a private practice therapist working with the dementia population with the support of AAD I have definitely made our voice heard that we really feel dementia care services need to be considered and included within the new care package that is being put together as part of the health reform and I'm really hoping that that is the case. And then I know that there is also word that there will be a new seniors' strategy developed over the next couple of years and part of that will be a national dementia strategy for Bermuda. But of course that's not in place right now and without that standard health benefit piece we really can't continue to guarantee service in the future."
At the moment AAD is underfunded and "definitely feeling the strain" although grateful for the financial support its Cognitive Stimulation Therapy Programme gets from the Chronic Disease Innovation Programme which is managed by the Bermuda Health Council.
"I'm really concerned about the future of the charity and just how sustainable that will be. We are the only dementia-specific care and support service out there right now and we are 100 per cent run by a voluntary board," Ms Fay said.
She added: "We are offering both in-person (limited numbers) and online versions of the programme through May at no cost to the client/family. If there's anybody out there that is feeling isolated and needs to find some innovative ways to stay connected with the community and with others, we are currently in a position to assist with that and we can have a number of donated devices that we can provide to those that really have financial need to help them access the programming."
For more information on Action on Alzheimer's & Dementia Bermuda visit alzbermuda.com. To enrol in the Cognitive Stimulation Therapy Programme contact Marie Fay: 704-0387 or mlfayot@gmail.com
Signs of dementia
Dementia is determined through medical assessment usually completed by a doctor or specialist.
Short-term memory loss, changes in speech and language and difficulty in orientation are among the ten warning signs to look for according to Action on Alzheimer's & Dementia Bermuda.
"We have some referrals that have come through because people are getting lost in familiar places," said Marie Fay, an occupational therapist who works with the charity part-time. "They may go into Hamilton and have difficulty navigating their way around town because things don't look as familiar as they used to. Also there can be changes to mood and personality as well as part of the condition."
The incidence of risk of developing dementia increases with age. Early onset dementia refers to anyone younger than 65 who has received a diagnosis; the youngest person Ms Fay has worked with was 41.
"If you reach age 85 you have a one in three chance of developing some form of dementia. But what we're seeing is a lot of younger people beginning to experience onset symptoms.
"Obviously there's other risk factors involved that can increase somebody's chance of developing dementia. Things like intellectual disability can increase your risk of developing dementia in later age and also head trauma of any kind. So if somebody's had a traumatic brain injury or repeated concussions because they were in an occupation – say a professional athlete or something like that – we can see people developing dementia in younger years.