Record-breaking under-ice swimmer to visit Bermuda
Updated: Aug 13, 2021 08:04 AM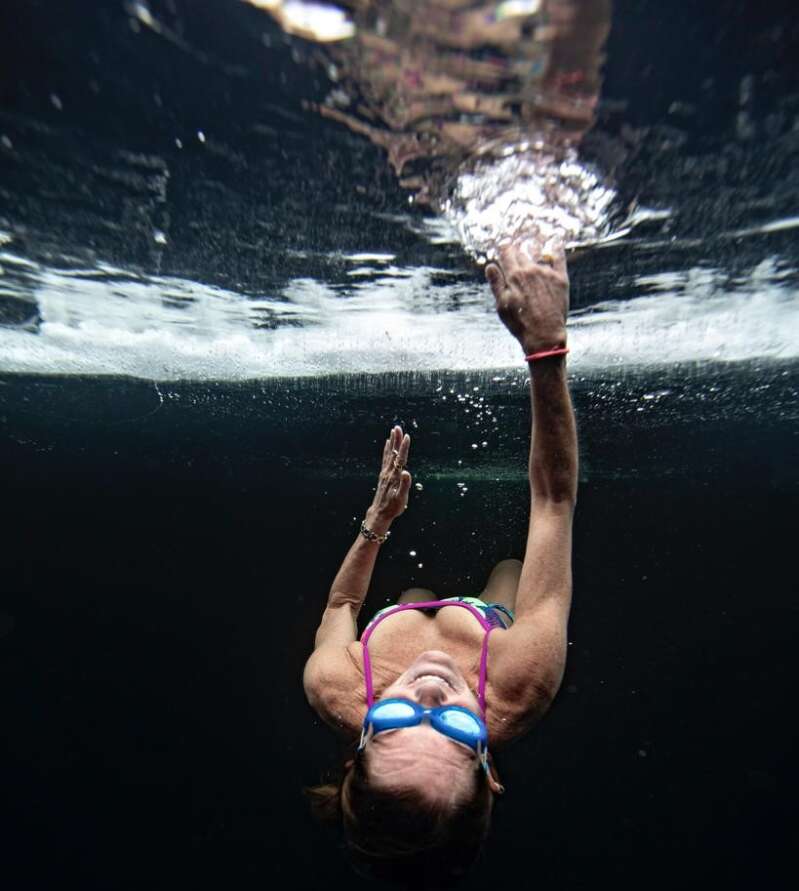 In February of 2020 Amber Fillary swam 70 metres, under 34 centimetres of ice, while in a bikini.
It set a new Guinness World Record for the longest swim in sub-zero temperatures without breathing apparatus or a wetsuit.
For Ms Fillary, an alcoholic who has battled with anorexia, bulimia and depression, and has tried to commit suicide on a number of occasions, it showed her that "anything is possible".
Until 2016, the South African worked in Bermuda as a nanny and then a waitress at Elbow Beach Hotel. She is planning to return to the island at the end of November to give a workshop on breath holding and do an underwater swim of at least 80 metres.
It's preparation for her next efforts. In Egypt in November she will attempt to complete the longest underwater walk; in February she hopes to break the men's record of 100 metres for the longest under ice swim.
"It is going to be far, but that's the plan," said Ms Fillary who would love friends and former co-workers here to support the GoFundMe page that she is hoping will raise cash for her training. "I battled with depression and had addictions like alcoholism and an eating disorder – things I battle with still to this day. Especially with Covid, there's been so much more anxiety and depression; people not knowing what's going on.
"I wanted to do it to raise awareness and help people that are struggling find a voice so they can speak about it rather than keep silent. So they can reach out and ask for help. I also just wanted to show that no matter how many battles you have, you can still achieve your goals, your dreams. You don't have to swim underneath the ice but if you have a goal you can still do it even if you're battling with issues."
Ms Fillary's battle with eating disorders began at age 15. Having attempted suicide on several occasions she spent much of her early twenties in rehab where she was also treated for her alcohol use.
During "a dark period in [her] life" she married although the union was short-lived; her late husband died of kidney failure brought on by excessive drinking.
After a near-fatal car crash Ms Fillary was sober for several years during which time she travelled to Egypt and was introduced to free-diving.
The sport changed her life by showing her that by "breaking records [she could be] a positive inspiration for others who are battling with the same or similar difficulties" as her.
Over a decade Ms Fillary set "numerous South African pool free-diving records including a breath hold of six minutes and the dynamic no-fins dive of 135 metres".
She has represented South Africa at the World Free Diving Championships and is a world record holder in the sport.
She began swimming under ice after she perforated her eardrums while diving.
"It's kind of free-diving in inverted commas," Ms Fillary said. "Proper free diving is out for me and so I ended up doing the pool disciplines and then I broke all the South African records. I've lived in England and places like that so I knew I could swim in cold water but I wasn't sure if I could hold my breath. I discovered I could actually do it; that I had an ability to get in one degree water and be relaxed."
She trained for three months, initially in a swimming pool where she worked on her stroke and "getting my breath-hold up".
In Berlin, Germany, where she now teaches swimming, Ms Fillary practised in the lakes to get acclimatised to the cold.
"And then I went to Norway and I had probably a week to get ready – to get used to the set-up and the cold."
To mark the record, holes were dug in the ice every ten metres. Ms Fillary swam attached to a rope.
"The guys were amazing. I might have achieved the record but especially, with something so complicated as swimming underneath the ice, the team that's there with you helping you is so important because it's dangerous. I'm in cold water. I don't have a wetsuit on, it's underneath the ice; it's easy to get lost. I really need a good support team with me.
"For safety you are attached to a rope. You can't always see the hole so clearly. It depends on the visibility and the light. And they normally have a marking where the hole is which makes it easier – because you can't get out. You can only get out where there's a hole."
Ms Fillary smashed the women's record of 50 metres and then had to face the challenges of Covid-19.
"I'm on medication but I really still battle, especially with depression," she said. "I can still fall back into that hole. I can't say I'm super woman and I'm cured and I'm amazing, those demons still come back.
"I ended up going back to South Africa at the beginning of this whole Covid thing and I had a total meltdown because we went into such a bad lockdown and I felt totally suicidal. Achieving the records is hard. It's not easy and it's especially not easy when you get depressed. It makes it even harder but I aim to show people that no matter what, you can still go after these things and try to achieve them."
For details on Amber Fillary's upcoming visit to Bermuda see amberfillary.com