Nina powers up beside the water
Created: Aug 26, 2021 07:59 AM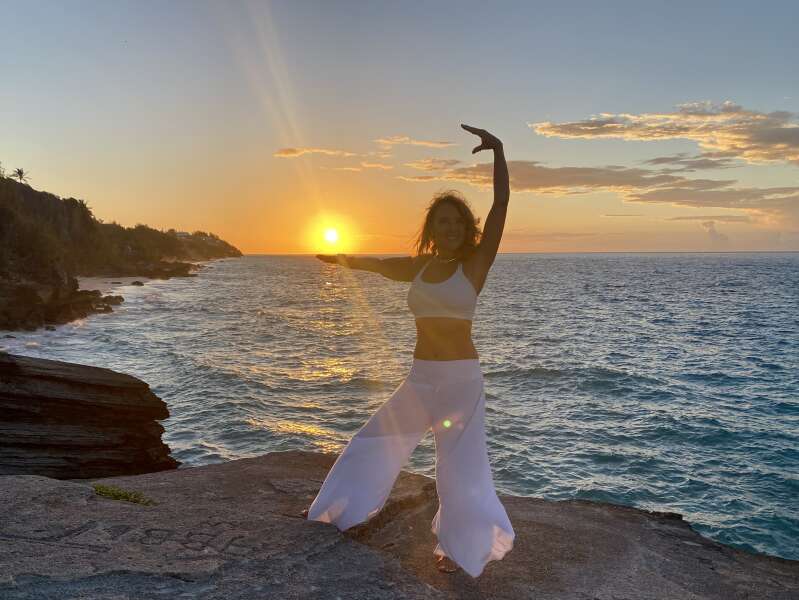 It was 6.45am. I was standing in Astwood Park on the edge of a rugged stone slab shaped by thousands of years of ocean winds. I was practicing Qigong movement meditation and gazing at the ocean rolling in front of me like a breathing royal blue canvas. Waves crashed with startling force on the cliff below me, throwing white spray into the rising sun. I spread my arms wide, embracing it with both my body and my mind. I breathed in the salty air and felt happy. I was complete.
This is my power spot in Bermuda. I found it a long time ago and I return to it to recharge my energy, to think, to be silent, to replenish my strength, and to feel a healing connection with Mother Nature. It is a place where I feel good. There are all the essential elements: the fresh wind I breathe infuses me with energy, the flowing water and rhythmic sound of waves bring me deep relaxation, the warm sunshine ignites enjoyment and love, the ancient stones are my stability, and the tall palm trees embody resilience and flexibility. I am right in the centre and I feel balanced and at peace.
In every place I visit, I always try to find my power spot. The main element for me is water. I have to be close to the river, the lake, the stream, the ocean or the pond. Where did this connection with water come from? Why is water so vital to my relaxation?
When I was a child, we had a summer house on the banks of the Angara River in Siberia, near mighty Lake Baikal. More than 300 mountain streams flow into this vast, cobalt blue lake, but only one river, the Angara, flows out.
I spent many summer days there with my grandfather, Boris. He was approaching 80, yet energetic, slim, and constantly fixing his old, weathered boat.
My grandfather was not talkative. He exuded calm and never raised his voice. During the course of his busy day he often sat down on a bench facing the river and asked me to sit next to him. We relaxed in the shade of the jasmine tree my mother had planted many years before in memory of my grandmother, Sophia. We were surrounded by white and pink peonies,
At first, I was not keen to just sit, I was a very active child. But then I began loving these still and silent moments of special connection with my grandfather and the river. We didn't talk, we just watched the slow flow of the deep, cold water. Occasionally, a boat would rumble by.
He didn't hug me or hold my hand because he was of the generation that had survived Second World War and had been brought up to not show their emotions. Instead, he looked at me with unconditional love, and I felt it like a flower feels the sun.
I now understand that there on the banks of the Angara River with my grandfather, I found my first power spot. It was a place where I felt calm and loved. My grandfather made me stay quiet and just watch the water.
How simple and how potent!
My dear readers, where is your special spot?