Focus on happiness not weight, says personal trainer
Updated: Oct 13, 2021 07:56 AM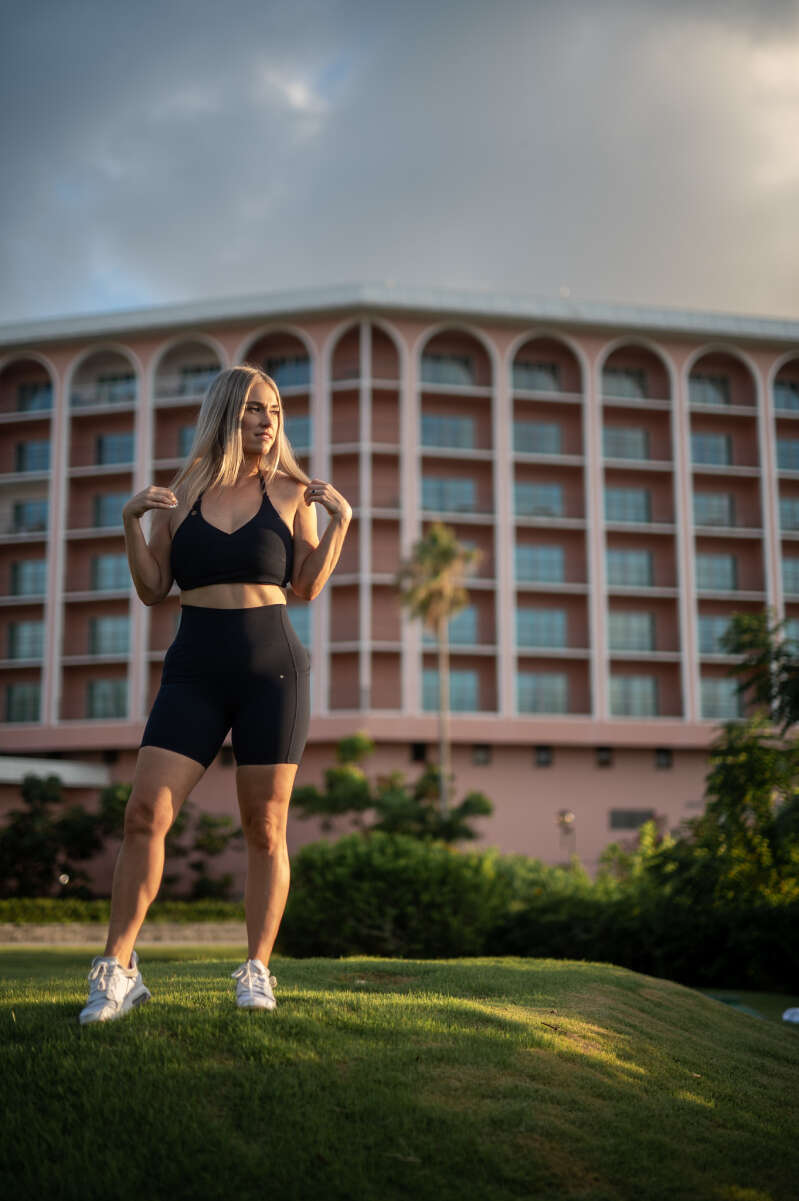 In her 20s, Carrie DeSilva thought that if she could just lose weight she would be happy.
She tried everything from the Keto diet to fasting, to meal replacement shakes, belly wraps and waist trainers.
"I found a raw foods diet in the back of a book in a health food store," the 38-year-old said. "I decided to try it even though at that time the only vegetables I ate were in a Caesar salad."
That plan lasted exactly a day.
In 2009 she discovered bodybuilding. It initially helped her to lose weight but she couldn't stick with it and the scales zipped up and down.
In 2015 she gave it another try. The following year she took the top prize in the bikini division at Night of Champions.
"I'd lost over 100lbs," she said. "I went from a size 18 to a size zero. I had rock hard abs."
But she still was not happy.
"Something was still missing," Ms DeSilva said. "If the same negative thoughts are still running through your head, you are just a smaller version of yourself with the same thoughts. I looked good in photos and I felt like going shopping at that point, but that was pretty much it."
She started looking at strength training as a way to feel good instead of a way to get on stage and took a more flexible approach to dieting.
"I was still following a healthy lifestyle but it was more about setting boundaries in life, and choosing food that made me feel good," she said. "I would praise my body for its ability to exercise. I would keep a closet full of clothing that fit me, so that when I went to my closet I would feel good. Simple shifts like that are ultimately what brought me happiness."
After winning the Night of Champions, she became a certified nutrition coach and personal trainer. She left her job as a pharmacy technician to start Carrie Lee Fitness. She also started an Instagram page to help empower other women.
"I was single and without children so I was working 13-hour days with clients back-to-back," she said.
Success, she said, comes down to whether or not a person believes they can change.
"It is about the habits that are running on autopilot in your mind."
Just like a "GPS", she can make suggestions for routing and rerouting but ultimately the client is in the driver's seat, Ms DeSilva said.
Her typical clients tend to be busy mothers or business women over 30.
Over the years she has seen plenty of success stories. One client lost 30lbs; another lost 110lbs.
"I don't want them to need me for ever. We check in every so often and she has maintained the weight loss. She has created a lifestyle."
When her son Arlo was born in 2019 Ms DeSilva gained 70lbs and had to go through the transformation process all over again.
"I did feel a little self-conscious that I was an overweight fitness trainer," she said. "I began my journey by simply walking. I got back into lifting weights about 12 weeks post-partum and lost the 70lbs about 15 to 16 months after. It wasn't a race to me this time around and it was much more enjoyable."
She documented the experience on Instagram, trying to be as real as possible.
"I showed them what I had for breakfast," she said. "I would say my baby is not sleeping so tonight we are having a rotisserie chicken with air-fried French fries. You don't have to have fancy meal prep. It just has to be constant momentum in the right direction. Just keep showing up and doing your best every day. It was nice to share that with everyone."
In an effort to reach more clients, she started offering online training in 2019 which prepared her for when Covid-19 shut everything down.
"I moved fully online when the pandemic hit but missed the in-person aspect of coaching," said Ms DeSilva, who runs an app-based, group strength training subscription service called The Fit Method. "When we went into lockdown I was working out of my son's playroom. Luckily he was taking long naps twice a day so I was able to get work done."
In 2020 she started an outdoor strength training class at the Botanical Gardens and a podcast that deals with such fitness topics as self-sabotage, motivation, bullying and yo-yo dieting.
"Ultimately, I am there to build trust and add some nuance to a lot of the topics floating around," she said. "A lot of times everything seems very black and white – Keto is the best diet, or Keto is really bad for you. I make fun of a lot of things but it is just my humour. If someone truly loves a diet it might be the best thing for them but do you have to do that to lose fat and be healthy? No."
Wanting to expand and reach even more women, she joined Ignite's business accelerator programme this year. It has given her a sense of community and lots of networking opportunities and helped her zero in on the kind of client she wants to work with.
For more information e-mail carrieleefit@gmail.com; www.carrieleefitness.com. Follow Carrie DeSilva on Facebook and Instagram @carrieleefitness