Calm your thoughts and enjoy the moment
Created: Apr 27, 2023 08:01 AM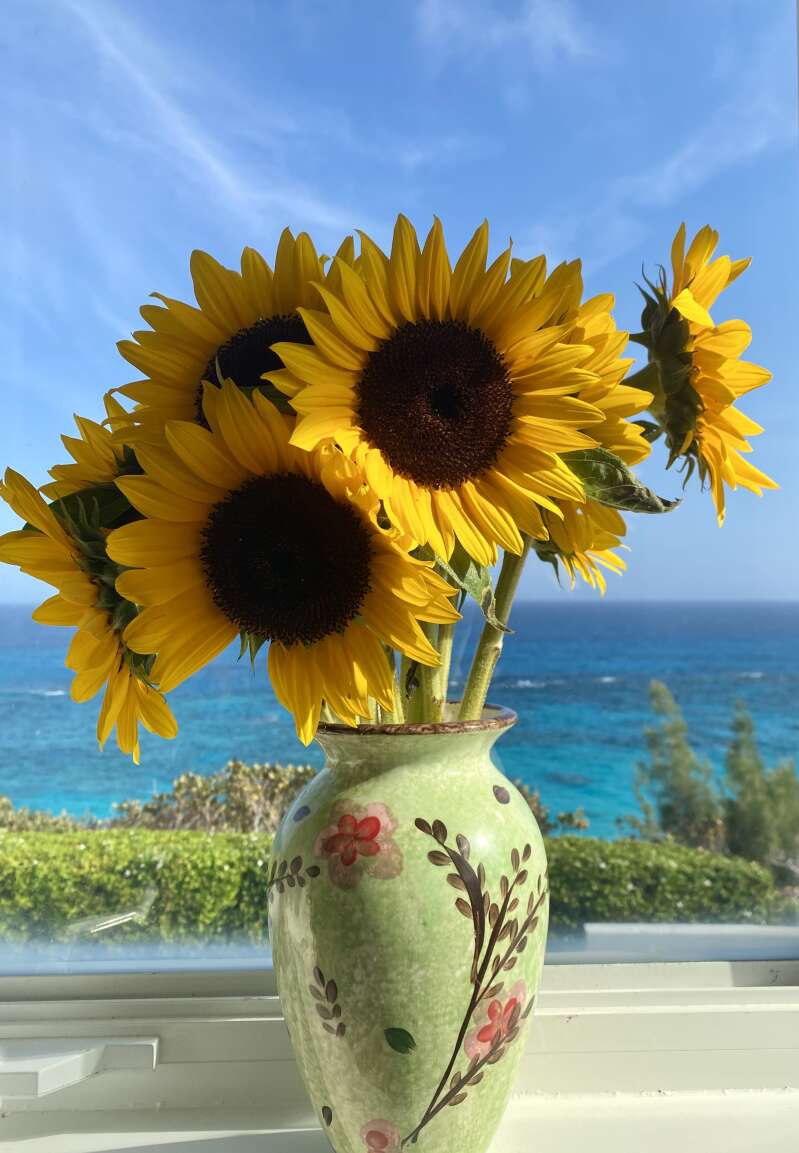 It is a gorgeous Saturday in April. Bill and I look out from the cliffs below our house and the South Shore stretches in an arc of glittering beauty that takes my breath away.
Bands of aquamarine and turquoise waves roll gently to the supplicant shore.
The wind has calmed and the sea sighs in a cadence of contentment, gently unfurling in long white flags of foam along the hidden coves of Southlands and Marley Beach.
Overhead, Bermuda longtails dance their eternal dance of delight, pure white angels soaring in the vivid blue of a cloudless sky.
After several windy days pushing distant waves, the ocean stretches in vivid languor, a lover caressing the smooth and perfect sand.
I can hear the hiss of water receding, pulled back reluctantly to the ocean depths and its dark infinity of cobalt blue.
Thoughts and images tumble in my mind, a kaleidoscope of distraction. I close my eyes.
I breathe in the salty air, freshest in the world, purified by countless miles of travel across the blue abyss of the wild southern ocean.
It finds direction in the relentless coil of the Gulf Stream, and finally washes over and through me in a flood of grace.
I look at Bill, lost in thought as he gazes across the waves. He reminds me of sailors from long ago, searching for the topmast of a schooner to break the quiet line of the empty horizon.
"What are you thinking?" I hold his arm and put my head on his shoulder.
A long pause and he answers quietly.
"Be here now. That's what I'm thinking. Whenever my mind races, I tell myself, 'Be here now.' I have been using those three words since I was a teenager to tame my unruly thoughts," he smiled.
In that moment, I realised that today is a day to enjoy the simple things, to be present, to see, feel, touch, hear, taste and smell it! This is my recipe for a happy day!
We drove west to J & J produce, a roadside stand at Astwood Park. I saw a basket full of tall and stately sunflowers.
I thought about how they grow always facing the sun, receiving radiant energy in silent supplication.
I bought a bouquet and we walked to Astwood cliff. I thought of how many times we have come here on wild and stormy days to feel the raw power of the ocean as it batters the shore.
"Nina, come here now!" shouted Bill. I scrambled along the rocks and he handed me his binoculars.
He pointed, I adjusted the focus and gasped. Two majestic humpback whales broke the fragile pane of the surface in an explosion of white water.
They breached, rolled onto their backs and slapped the surface of the water in some kind of unknown joy. It was simply magical.
"Where else in the world could you see this?" I asked in awe.
We have been taught that happiness lies just around the corner. We chase one goal after another.
We often forget we live surrounded by natural wonders. Take a moment and enjoy this bountiful, beautiful energy.
Beauty is knocking on your door. Open your arms wide like sunflowers and face the sun. Calm your thoughts and let the beauty in.
Nina London is the founder of Mermaid Wellness Centre for Women and a certified Chi Gong and Laughter Yoga teacher. Her mission is to support and inspire mature women to make positive changes in their bodies and mind. Contact her at www.mermaidwellness.com and on Instagram: mermaid_wellness