Sport in 2022: Flora confirms her GOAT status
Updated: Jan 12, 2023 12:13 PM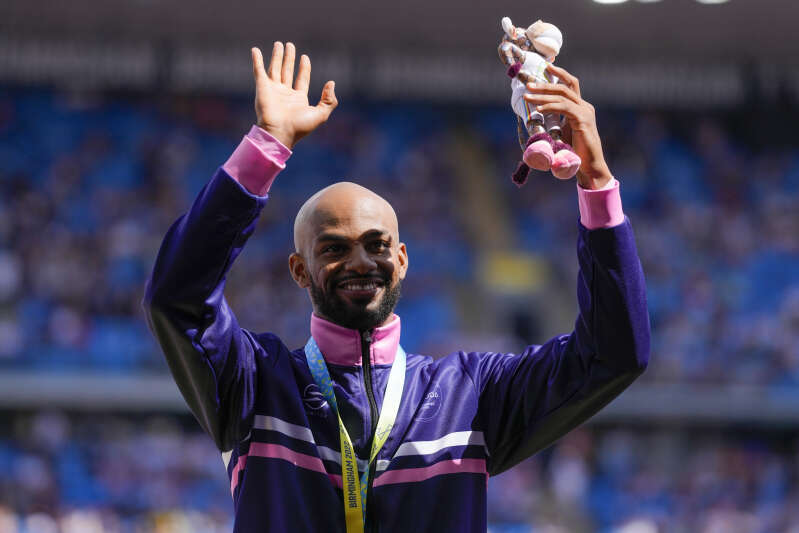 Those of you expecting a different introduction to this year's Royal Gazette yearly sports review will quickly need to revise those expectations as Bermuda's golden girl Dame Flora Duffy elevated her career to even greater heights in 2022.
At the age of 35, Duffy continues to break every record in the book, with another dominant victory in the final leg of the World Triathlon Championship series in Abu Dhabi securing her a record fourth world championship title.
But Duffy doesn't just break records, she breaks spirits. As Georgia Taylor-Brown, Duffy's big rival in the winner-takes-all world championship finale, found herself in the same position as thousands of triathletes before her when watching the diminutive Duffy's frame vanish into the distance, she could at least console herself with the knowledge she was beaten by the Goat.
And that's exactly what Flora is. While doubts still persist over whether Cristiano Ronaldo or Lionel Messi is football's best even after the Argentinian's World Cup-winning performance, there are no longer any question marks surrounding where Duffy ranks among elite triathletes.
This year's world championship victory in Abu Dhabi was not Duffy's only big-race success, though, as she also successfully defended her Commonwealth Games crown in Birmingham. Again holding the pressure of knowing that Bermuda's medal hopes rested heavily on her shoulders, she became the first triathlete to successfully retain a Commonwealth crown when again beating Taylor-Brown by a comfortable 41 seconds.
Between that success in England and the crowning glory of her year in the Middle East, Duffy also took the chance to storm to victory in Bermuda when thrilling the home crowds with yet another dominant display. With most vantage points on the route taken by thousands of Bermudians, the reception that greeted Duffy as she ran past the birdcage is sure to live long in the memory.
Despite being awarded a Damehood in the New Year's Honours List and accepting it at an investiture ceremony at Buckingham Palace this month, Duffy shows no sign of stopping with the intention to defend her Olympic title in Paris in 2024.
Who knows what the next two years holds for any of us but in closing the 2022 chapter of Duffy's stellar career, it might be best to let her do the talking.
"Being in Abu Dhabi just a few days ago with a big battle against Georgia for the world title was a really intense way to end the year," Duffy told The Royal Gazette earlier this month.
"Obviously I was very happy with the outcome and pleased with how I raced. I executed everything as I had hoped and it was really special to win my fourth world title.
"At the start of the year that was not really my goal and so I was so pleased to find myself in a situation where I was battling it out for the world title and it was a big relief to have achieved that. Winning a record fourth world title and then receiving my damehood a few days later was just a very cool experience and a great way to end the year."
While Duffy managed to win Commonwealth gold as she approaches perhaps the twilight of her medal-winning exploits, a Bermudian at a relatively early stage of his career found his way on to the podium in Birmingham.
Jah-Nhai Perinchief became the first Bermudian to win a track and field medal for 28 years when finishing third in the triple jump to follow in the footsteps of Brian Wellman, who finished third in the same event in Vancouver, Canada, in 1994.
Perinchief's first-round jump of 16.92m was enough for a bronze medal and he finished just 11cm behind Indian gold medallist Eldhose Paul, with the performance all the more meritorious given that he had disappointed at the World Championships in Oregon when he failed to qualify for the final.
That setback spurred him on and Perinchief followed a Commonwealth Games bronze medal with a silver at the North American, Central American and Caribbean Association Senior Championships in the Bahamas in August.
On the domestic front, the Cup Match result felt all too familiar with Somerset emphatically beating St George's by ten wickets for the second year in a row. Experienced all-rounder Dion Stovell led the way scoring 111 not out and then bamboozled the East Enders batsmen by taking six for 101 with his spin.
Dandy Town Hornets overcame the loss of coach Kwame Steede to win the double. Technical director Aaron Denkins replaced his office chair for a seat in the dugout and finished the season as coach of the year after his side won the Premier Division and beat PHC Zebras 3-2 in a thrilling FA Cup final.