Experiencing the big waves on a Girls Skiller Voyage
Updated: Sep 15, 2011 09:04 AM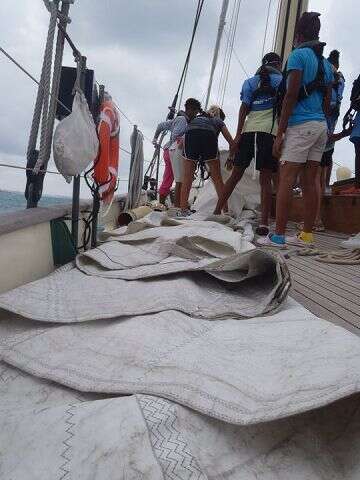 "Getting to meet a lot of new people from other schools that I would never think to talk to," was a highlight of Alexa Manuel's week-long cruise aboard Spirit of Bermuda this summer. The 14-year-old Bermuda High School student spent July 11 to 14 on a Girls Skiller Voyage with the Bermuda Sloop Foundation vessel, learning more about the vessel itself, Bermuda's marine history and her fellow Bermudians. Spirit of Bermuda (Alexa and her BHS middle-school class had sailed in October 2010), after embarking at Dockyard, they spent the first day in the Great Sound becoming reacquainted with the sails, winches, helm and shipboard rules.Warwick which was being excavated this summer, and learned more about the artefacts being recovered from the 17th century wreck. These included ancient ammunition and a clay pipe. They also were up front and personal with a variety of reef fish and lobster.
And though the group of 15 youngsters and crew members never left Bermuda waters, they got a taste of what it might be like to cross the Atlantic Ocean. The night sailing was fun, even though she got seasick. "It was being more independent," Alexa explained. "There was only one watch on at a time. You got to complete other tasks do a whole boat check, man the helm. It was fun to experience the big waves, see the flying fish, to feel you were out at sea and there's just the sea ahead of you."
Every day there were tasks to complete: the deck, galley and rooms were cleaned; there was 'dish duty' to complete; and setting the sails was "a lot of work because they're heavy and you have to pull on the ropes."
But, she admitted, "It was a lot more fun than it sounds."
Because most of the girls had already experienced sailing on
In addition to sailing offshore, the girls had the opportunity to visit the marine archaeology site off Castle Roads in Castle Harbour. They snorkelled around the site of the
An added attraction was Chef. "The food was good," Alexa declared emphatically.
Having enjoyed two local cruises, Alexa is keen to complete an overseas voyage in the near future.
"It's kinda fun being on a boat, just doing the sailing," she explained. "You become close with the crew members [and other trainees]; you become a mini-family."