Music students hit all the right notes
Updated: May 14, 2015 08:01 AM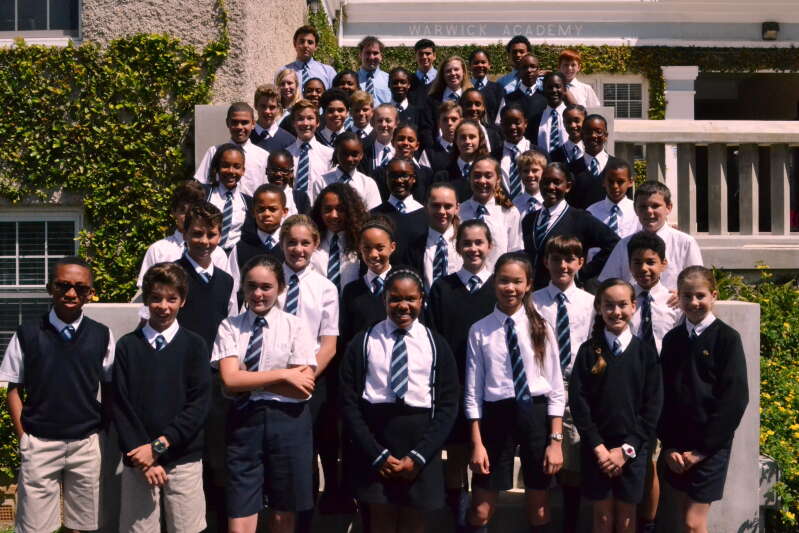 Music is an integral part of life at Warwick Academy. With three dedicated music teachers, Davidson Bishop in the Primary together with Kent Hayward and Brian Swan in the Secondary School, students have music options starting in the Reception year and running through to Year 13.
This is in addition to our dedicated music stream in the Secondary School which starts in Year 7 and operates through to Year 11.
We host nine ensembles ranging from the Concert Band, String Orchestra, a full Orchestra and the renowned Jazz Band and have a number of live concerts throughout the year.
Students also have the option to take GCSE Music and International Baccalaureate Music.
As a commitment to the music programme the students agree to participate in a five-year dedicated music programme including instruction in Music Theory (Grades 1-6) — Wind, Brass, Percussion and Strings.
The Warwick Academy Music Department is pleased to announce that we have 76 music students who have successfully passed their Associated Board Royal School of Music (ABRSM) Theory Exams for the 2014/15 academic year.
Congratulations to:
Grade 1 Pass: Kiana Cann, Jamar Stovell, Zayla Bolin, McKenzie Tuckett.
Grade 1 Merit: Kiandre Spencer, Charlie Thorpe, Grace Arrowsmith, Mya Bridgewater, Benjamin Dill, Thomas McPhee.
Grade 1 Distinction: Jude Snelling, Benjamin Jones, Samuel Pettit.
Grade 2 Pass: Matthew Massa, Madison Thompson, Abigail Aicardi, Hayley Barnett, Sekena Francis, Asha Symons.
Grade 2 Merit: Imani Phillips, Miaya Pereira, Mathias Delage, Viggo Jabon, Jayce Fraser, Zoe Caines, Malcolm Hendrickson, Daniel Simmons, Makenna Bearden.
Grade 2 Distinction: Shani Tucker, Ellie Cordeiro, Ethan Sousa, Jaeshri Romeo, Logan Soares, Joe Watson, Anna Francoeur, Kylah Hall.
Grade 3 Pass: Taylor Carrick, Ryley Mason, Chayah Guishard, Cara Mallon.
Grade 3 Merit: Louise Crawford, Angele Basden, Benjamin Pettit, Angus Betts, Eryn Bhola.
Grade 3 Distinction: Giovanni Hollis, Joe Arrowsmith, Jack Thorpe.
Grade 4 Pass: Alisa Bernardo, Malini Romeo, Nicholas Siese, Brady Cordeiro, Hannah Fletcher, Philippe Miranthis, Daniel Beverley, Benjamin Barnett.
Grade 4 Merit: Carmel Butterfield, Khyla Glave, Hayley Dill.
Grade 4 Distinction: Caroline Alexander.
Grade 5 Pass: Caleb Jones, Corrie Cross, Tia Froud, Theo Wolffe, David Proctor, Benjamin Britten, Emily Medway, India Wilson, Janaya Williams, Hannah Mallon, Jai Whaley.
Grade 5 Merit: Sabriyya Harvey, Samantha Soares, Cameron Bell, Nicholas Hassell, Zachary Myers, Zachary Dyer, Campbell Patton, Finn Smith, An Mei Daniels.
Grade 5 Distinction: Kamilya Reid, Conor Hay.