I feel that Howard is preparing me for greatness
Updated: Nov 01, 2018 08:19 AM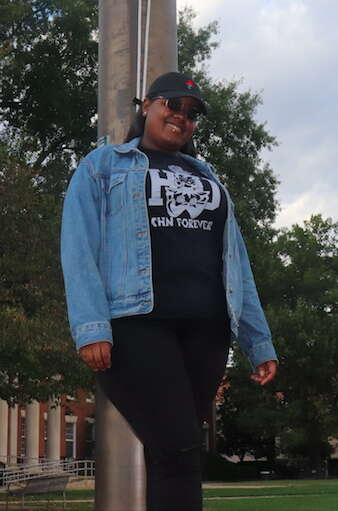 Up close and personal with Hydia Scott-Riley.
Name: Hydia Scott-Riley
Age: 19
Graduated: From the Berkeley Institute on June 28, 2017 with a 3.57 GPA
Present status: In her second year at Howard University in Washington DC
Studying: Bachelor of Arts in English Concentration in Creative Writing
Tell us about life at Howard University
Howard University is often accredited as one of the best Historically Black College and Universities in the country.
Howard was established in 1867 and is comprised of 13 schools and colleges over 256 acres. As of 2015 Howard University's undergraduate enrolment is around 6,354.
It has a reputation that truly precedes them. A school known for its academics, graduation rates, and successful alum. As a Howard Bison we all take pride in our school and work hard to represent our school in the best light. Howards motto "Veritas et Utilitas", Truth and Service is a key part of the Bison identity.
What is your day to day schedule like?
Since I am a Resident Assistant in my dorm building my day-to-day schedule varies from that of some students, and days can be very spontaneous in their happenings.
Usually I wake up around 8.30am and start getting ready for my day of classes. I head to my first class on Mondays, Wednesdays, and Fridays at around 9.50am.
My first class on these three days is Sophomore Seminar 1 for English Majors and Minors, the class is form 10.10-11am.
At 11.10 I have Patterns in maths until 12. Then I have about an hour for lunch before I head to French at 1.10 until 2pm. On Mondays and Fridays from 2.30-4.30pm I work in the mailroom of the dorm building I live in.
On Mondays, I have a class after my shift, Controlling Stress and Tension from 5.30-7.20pm. Wednesdays, from 3.30-5.30pm, I have open door hours to interact with my 30 residents and at 6.30pm I go to the office for an hour.
On Tuesdays and Thursdays my first class is not until 11.10am so I might be able to wake up a little later.
I have Intro to African-American Studies 1 from and immediately after that I have African-American Literature Foundations for English Majors and Minors until 2pm.
On Tuesdays, I might get some lunch before heading to the office/mailroom in building once again from 4.30-6.30pm. Thursdays I have office hours from 5.30-8.30pm and am on duty so I have to do rounds in the building and make sure everything is in order.
Today, as I was doing this interview I was also preparing for the Miss College Hall North Pageant, in which I was a co-ordinator.
After the pageant, which lasted two hours and was a very emotional and beautiful experience, I returned to the building. I was called down to a situation in which a resident could not be contacted and was, technically, considered missing.
Once that was resolved, I still had to spend about an hour writing an incident report before I could even return to finishing this interview. All this after a day of classes and a mandatory training session.
What are you career aspirations?
Still I feel that Howard University and my job experiences are preparing me for greatness.
After graduating I would like to receive my master's degree to be able to teach at a college level. I would like to return to Bermuda and teach at Bermuda College. Also, I would like to be a published and acclaimed author, similarly to Howard alum Toni Morrison. I would also like to take the chance to travel abroad and teach English in another country such as China or Korea.
Tell us a bit about dorm life
I've lived in the same dorm building for the past two years. Last year, I was a resident of College Hall North and this year I am an RA in the same building.
When living in a dorm, it is all about communication, compromise and courtesy. I lived in a triple, which meant I had two roommates. It was just one giant shared living space with an attached bathroom.
I was on the top bunk, and had gone from having a room to myself with sharing living quarters with two strangers. There was a lot in the way of annoyances, but I had to remember that some of my quirks might also be seen as annoying. So, communication and compromise are key when living with anybody.
What tips do you have for students to prepare for college
When preparing for college I would say be prepared to unlearn pretty much everything you have learnt. Structures and habits taught in high school can both be a blessing and a hindrance. You must also be ready to be a world thinker and leaving yourself open to new ideas and possibilities.
Also, college is hard, there are the good days and the bad days but you cannot give up. It is about character, integrity and self-determination.
Top 10 items in my suitcase when I come back to school
Phone
Laptop
Favourite pair of sneakers
Favourite denim jacket
My journal
Favourite Victoria secret blanket
My tarot cards
A book
Speaker
Travel coffee mug/cup
What do you miss away from home?
I miss my family, friends and just the island atmosphere. At home I am way more relaxed and carefree. I love being in school and my university, but some days I miss just being able to relax and look out my window at the ocean.
Top tips for people visiting the city
One must head to the Washington Mall and check out the historical sites. There are the Smithsonian Museums: of Natural History, American History, African American History, Portrait Gallery, and more.
Also, the National Zoo is a nice place to go. You can also take a look at the White House which is nearby.
Check out one of the many unique restaurants or food trucks all around the city.
You can head on out to Georgetown and check out how the other half lives and get a movie before enjoying the nightlife and some good food.
During the spring months, particularly March, you can check out DC's Cherry Blossom Festival, which is very beautiful.