Mount Saint Agnes tours the Big Apple
Created: May 02, 2019 09:00 AM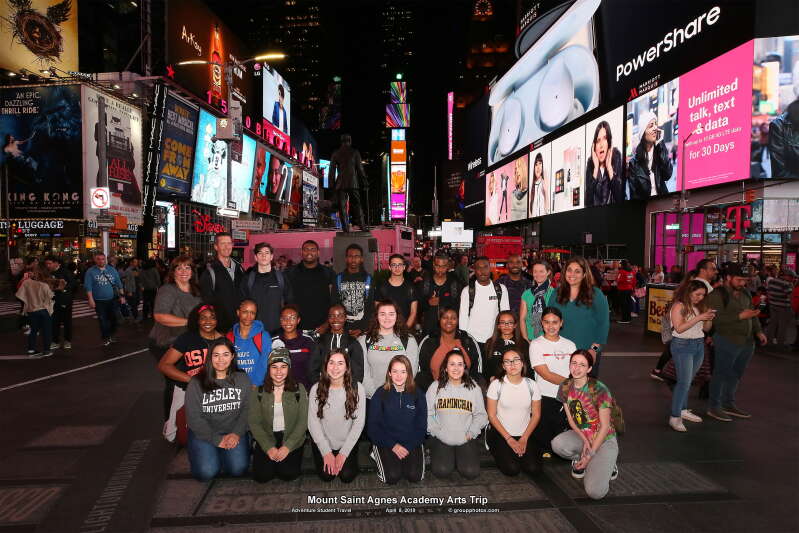 This past Easter break Mount Saint Agnes Academy took 21 high school students on a five-day arts trip to New York City. Our trip had a little something for everyone.
Our artists were able to revel at all of the masterpieces at the Metropolitan Museum of Art, our singers sang a beautiful rendition of Hallelujah with one of the street performers at Central Park and our dancers learnt the official choreography for a song from The Lion King on Broadway.
Our foodies were able to taste some authentic New York pizza and hot dogs and even had some homemade gelato from Little Italy. Our sightseers saw many attractions including the Statue of Liberty, a cloudy view from Top of the Rock, the Charging Bull on Wall Street, Madame Tussaud's and St Patrick's Cathedral.
Our historians were able to visit the Ellis Island Immigration Museum and the National September 11 Memorial and Museum and our performers were able to see Lincoln Centre, Radio City Music Hall, Wicked and The Lion King on Broadway.
It was a busy five days filled with new experiences, creating lifelong memories.
Travelling as a group with Adventure Student Travel we had a personal tour guide who not only showed us around the sights of the city, but shared a personal narrative and overview of iconic places that we wouldn't have learnt otherwise.
He led us on the subway every day and allowed us to experience what the life of a New Yorker is truly like.
My favourite part of the trip was visiting NBC's The Today Show.
Although we woke up at 4am and stood outside in the cold for three hours, it was very exciting meeting the hosts and representing Bermuda.
For the following week I heard many family members and friends excitedly tell me that they saw us on TV.
It was our "15 seconds of fame" and it made the early, cold morning worth it! I also enjoyed the Lion King Broadway workshop we participated in.
We were taught the official choreography to the song He Lives in You by Simba's understudy. It was fascinating as the dance routine we learnt was the exact same as performed in the production.
During the play, we all eagerly waited for our song and then sang and danced along in our seats when it came on.
On behalf of the participating students, we are grateful to our teachers for spending their holiday chaperoning us around the city.
It was a once-in-a-lifetime experience to visit New York together, representing MSA and Bermuda.
In their own words:
Bryanna Furtado: This was an experience of a lifetime, I made so many memories with the other students in my school and got the opportunity to get closer to everyone involved. My favourite was Broadway.
Mia Currin: Overall fave was the Lion King workshop. We clearly are not the best dancers, however, it was an amazing experience to work with Simba's understudy. This trip was an eye-opener for the way Broadway shows are created, An unforgettable experience.
Kayla Raymond: My favourite part of the trip was seeing the Broadway show Wicked. I enjoyed going with my school and had many memorable moments.
Julia Pimentel: My favourite part was the Met — the Metropolitan Museum of Art, to see the work of famous artists was very inspiring to me.
Mya Rodrigues: My favourite was finally seeing a Broadway show, not one but two.
Sierra Rodrigues: I had a very enjoyable experience, I saw many things for the first time, two Broadway shows and most of all the memories we all made together.
Claudia Fortuna: All the artwork we got to see was beautiful. We listened to many musical artists and the Broadway shows were amazing
Sha-Lae Richardson: NYC arts tour was amazing! I enjoyed every aspect of the trip especially the Broadway show Wicked.
Natalie Young: Going on the NYC arts tour was truly a once-in-a-lifetime experience, considering all the places we visited. My favourite part was listening to all the talented singers in the Broadway shows.
Sarah Medeiros: The NYC tour was a trip I will never forget, an amazing experience from the Broadway shows, to the museums, the Lion King workshop and my chance to sing at the Lincoln Centre was unforgettable. This experience opened my eyes to so much more …
Mya Prat: I really enjoyed this trip and all the great experiences. I especially enjoyed the Lion King workshop. Can't forget the subway experience for sure!
Matthew Massa: I really appreciated and had fun on this trip even though it might not have seemed like it at the time. My favourite experience was riding the metro.
Ayanna Peniston: I have been to New York before, but this experience was better than I have ever had.
I saw more of the artwork that New York has to offer. My favourite experience was when we went to Ellis Island and I got to see the historic side of New York.
Anias Godfrey: My favourite memory this tour was the art museum and especially Madame Tussaud's wax museum.
Najee DeSouza: My most memorable part of the Art trip was Wicked and the Met art museum.
Zachary Lewis: My most memorable part of the trip was our tour guide "Mr G", who I became friends with.
Caroline Amaral: My favourite part of the New York trip was visiting The Today Show. It was cold and early but it was very exciting being on TV and hearing friends and family tell me that they saw us.
Teacher Cristina Capelo: The NYC arts trip is always a fun experience with our students. This time around, we had a fantastic tour guide that Zachary Lewis nicknamed "Mr G", Gary Dennis and it stuck.
We followed him everywhere and he was knowledgeable and funny, he made the experience unforgettable for our students and us.
We jammed a lot in over the four days and five nights and Ana McLaughlin from Traveledge in Bermuda helped make this possible with Adventure Student Travel in NYC.
A worthwhile experience and I have students from past trips who have kept the bonds they made from their trip.
My favourite, the art museum because that's my subject, memorable would be the 9/11 Museum, the singing in Central Park and in the Lion King workshop, loved both the shows for different reasons.