Orchids get more than they bargained for
Created: Mar 24, 2012 09:20 AM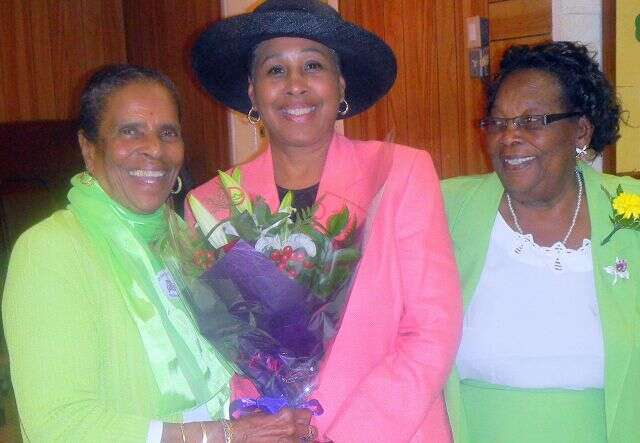 The Orchid Charity Club, under the presidency of Mrs Janet Maynard, pulled out all the stops on Sunday last in making its annual St Patrick's Day Tea a grand celebration.
Scores of patrons from all over the Island enjoyed the Orchids' delectable delicacies served to the background music of the North Village Band and then sat back for the presentation of the guest speaker, Mrs Rhonda J. Smith-Simmons, RN, BA, MBA.
She is head of the Bermuda Cancer and Health Centre (BCHC), a registered charity that seeks to educate the community about prevention and early detection of cancer and promotion of healthy and productive lifestyles in the Island.
Before getting into the nuts and bolts of the educational programme of the BCHC with respect to being sun smart, and the pilot anti-smoking programme the Centre has introduced in three local primary schools, Mrs Smith-Simmons gave an engrossing story about a young North Shore school girl who many years ago had been accepted for entry into the Berkeley Institute to pursue higher education.
Her family members were very proud, but none more so than her beloved moher and grandmother. At that time BI was a selective, academic institution and entry was not a right of passage, as one had to earn a space by passing an entry exam. That girl was second eldest in a family who found it difficult to pay the school fees.
The Orchid Charity Club was approached for assistance. And a scholarship was granted, enabling the girl to cover her fees until graduation. The student would not have been described as outstanding, but what she lacked in academic ability was more than compensated for by her determination, and the tenet that had been instilled in her that a good edcation opened one to a world of opportunities.
Upon graduation, she worked for two years for an insurance company before travelling to England to study nursing. Returning home as a qualified nurse in February 1972, she was accepted for her first post at King Edward VII Memorial Hospital. Despite the rigours of shift work and raising a family, she made time to continue her studies.
Jokingly referred to by her family as a 'professional student', in 1993 she decided to go to Baltimore, Maryland, graduating there with honours, earning a Bachelor's degree with a dual major in Psychology and African American Studies, and subsequently an MBA.
Amid the mounting suspense, the guest speaker revealed that young girl was herself. And her grandmother was Mary Elizabeth Symonds, a founding member some 60 years ago, and lifelong member of the Orchid Charity Club who, like fellow founders, has gone on for their heavenly rewards.
Mrs Smith-Simmons, to applause, added: "It is difficult if not impossible to think about how different my life would have been without the assistance given by this Orchid Club at that critical stage of my life. Now I stand before you doing my best to 'pay it forward' with the work I do at the BCHC."