Reefs waiter travels far and wide
Created: May 22, 2013 09:00 AM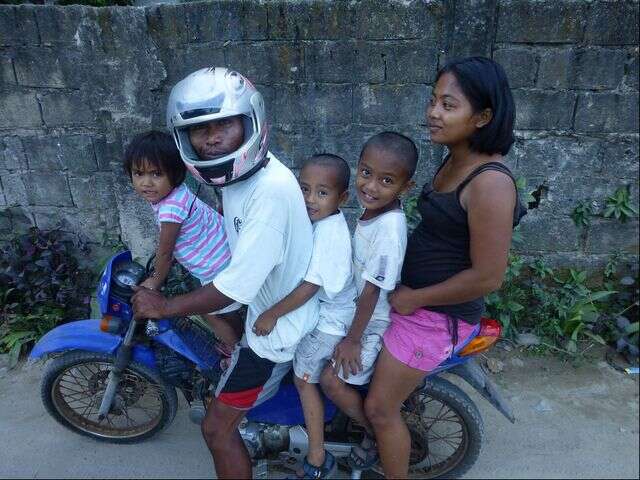 Bermuda resident Martin Grznar first caught the travel bug while working in Switzerland during his 20s.
Up until that time he was the type to travel by booking months in advance and scheduling all his hotels and tours through a travel agency.
But after seeing how people in Western Europe were prone to picking up a rucksack and map and travelling on a whim — he started to venture to places off the beaten track.
Over the past ten years he has explored numerous countries around the world like Thailand, India, Bangladesh, Nepal, Mexico, Tanzania, Laos, Vietnam, Cambodia and Indonesia.
His job as a waiter at The Reefs gives him the flexibility to travel during the off season.
Earlier this year he ventured to the Philippines, where he spent a month visiting rice terraces in Ifugao, climbed an active volcano near to Legazpi and dived with whale sharks around Oslob. (Thankfully the breed of shark mostly feed on plankton.)
He also got to see a small primate called a tarsier, relax in hot springs and venture to exotic food markets in Malatapay.
Travelling as much as he does, Mr Grznar said he no longer experienced 'culture shock' when venturing to new parts of the world.
"When I first started travelling you get to a different country and the climate, people and the system [of how things work] is different," he said. "The transportation right from the airport [is not the same], but I am just so used to travelling and know what to expect, so it takes a lot to surprise me. It would have to be something extreme."
Upon his arrival to the Philippines, he said he was pleased to find warm weather and friendly people.
It was also a relatively cheap country to stay in — with a breakfast of eggs, rice and meat like fish or pork costing $1 and budget accommodation running between $5 and $10 a night.
With his free style of travelling, he said he can decide to stay in a place he likes for five or six days or move on to a different area if it's not quite what he envisioned.
Mr Grznar typically tries to avoid touristy areas and stays in local spots, where it's quieter and easy to keep a low profile, he said.
Perhaps his most adventurous activity during his time in the Philippines was climbing to the top of the active Mayan Volcano.
Just this month, five people were killed at an eruption at the volcano site he visited.
Mr Grznar said he wasn't scared at the time of his trek, however it was physically challenging to get to the top and back.
The volcano was so steep he spent hours crawling his way down. He said it was much harder than Mount Kilimanjaro, which he successfully climbed last year.
The interesting cuisine was also a great part of his journey — he ate lots of seafood like stuffed squid, but said he drew the line at trying the 'balut' (duck embryo).
One of the thing he prizes most about travelling is how it has changed his perspective on what truly matter in life.
"You can learn a lot because I travel by myself but observe more and meet the local people," he said.
"Sometimes it opens your eyes to a different world. Here we have everything and yet we complain, but over there people don't have much and they are still happy and they smile.
"Sometimes when I come back from travelling I feel bad about spending so much money and it changes my way of thinking," he said.
It has also given him the opportunity to be independent, meet new people, explore diverse cultures and realise that anything is possible.
Philippines highlights
Planning a trip to the Philippines sometime soon? There are a host of spots worth visiting according to travel sites online. Here are just a few worth knowing about:
1 Rice terraces in Banaue, Ifugao have been called the eighth wonder of the world. If you are going to catch of glimpse of the terraces built by Filipino locals over 2,000 years ago with wooden tools, you might want to also check out ancient burial caves and hanging coffins in the area.
2 The Chocolate Hills in Bohol and Panglao Island get their name because when the grassy hills dry up in the summer they turn a rich brown colour. This is a great place for pictures and while you are in the area you might also be able to catch some of the world's smallest primates called Tarsiers at the preservation centre in Canapnapan.
3 Water sport fanatics might want to head to Siargao Island, where they can find unparalleled surfing, as well as deep sea fishing, kayaking, sailing and windsurfing. There is also Suhoton Cave, which is known for its stunning blue lagoon.
4 If you are after some downtime, Boracay Island is well known for its lush powdery sand beaches. Take some time to have a massage on the beach or just go snorkelling or diving if you feel like exploring.