Justin's guardian angel
Updated: Oct 29, 2014 08:01 AM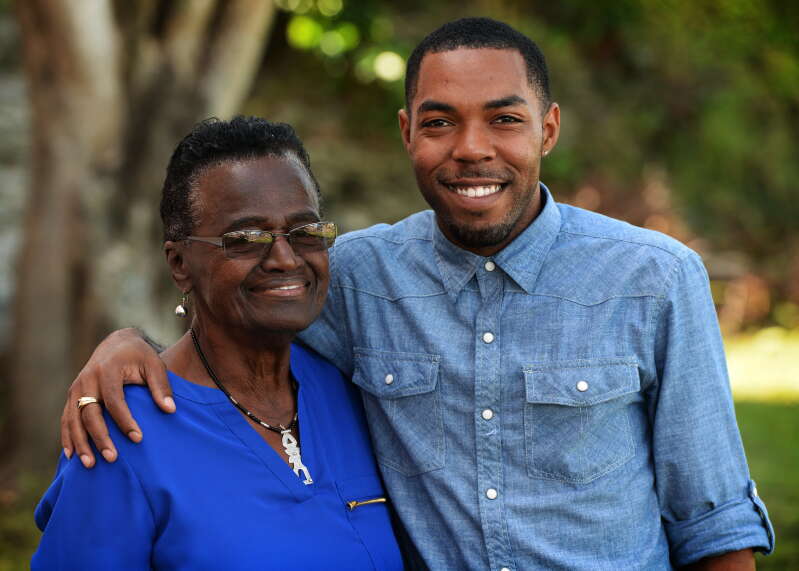 The bills were coming in one after the other, and at 22, Justin Easton felt like he was going under. He was on his own for the first time and was finding it daunting.
"It was one of those moments where you pray to God and say 'how I am I going to make it?'," said Mr Easton.
Then in walked Marion Tucker, a lady he now calls his guardian angel.
"She came in as a client," said the 27-year-old customer service rep at WOW. "I always liked to talk with the clients, but she was getting really deep, asking me about my goals and whether I was saving money. I told her I was living on my own and having a hard time."
Mrs Tucker, 82, has made a habit of mentoring young people in the community over the years. She often strikes up a conversation — in stores, passing on the street or riding on the bus — as she goes about her daily chores.
"There's something in their eyes that says they need help," the former hairdresser said. "Over the years, I have worked with about six young men. Recently, I also started helping two young women with children."
Every time she is in town, she pops in to see how Mr Easton is doing. Sometimes she helps him with groceries if he is having a hard time. Often, she takes him to lunch and dishes out advice.
"A lot of young people haven't been taught how to manage their money," she said. "Advice like 'bring your own lunch, don't buy it in town' might sound really simple, but a lot of young people have never been told that. A lot of the young people I meet spend every penny they earn and don't put anything into the bank. They might think $20 is just $20, but $20 plus $20 is $40 and so on. It adds up."
Her own father, Austin Wilson, a carpenter, was an inspiration to her.
"He was the best father anyone ever had," she said. "When I was young he took me to the bank and made me take out a loan. I said, 'Why am I taking out a loan, I have a job? I don't need this'. He said, 'You're not going to spend it. You are going to put it back in the bank. As you pay it back you will be establishing a credit history'."
Using his advice, she was eventually able to take out a loan from the bank and purchase a piece of land. She eventually sold the land at a profit that allowed her to purchase her first home.
"I taught these skills to my son [the late] David Wilson and my daughter [artist] Sharon Wilson," she said. "Now I am teaching them to my grandchildren. My grandson, Paul, is a lawyer and my granddaughter, Whitney, is teaching English as a second language in Vietnam while she works towards her Master's degree."
"She came in when I least expected it, and helped me," Mr Easton said.
Partly on her advice, Mr Easton decided to move into a smaller apartment to save money.
"It will be a sacrifice, but it will pay off," Mrs Tucker said.
Mr Easton said he wants to move up in his career and is thinking about taking courses at the Bermuda College. Mrs Tucker is working to find someone to give him professional advice.
"I haven't decided yet what I want to study," he said. "I'm still trying to work out the puzzle of who I am and what I want to do."
Mrs Tucker said she wished more people would take responsibility for Bermuda's young people.
"It doesn't always have to be about money," she said. "It can also be advice and encouragement to let them know we love and care about them. I believe that if younger ones knew that older ones cared about them, they wouldn't do some of the terrible things that they do."
Mrs Tucker received a senior citizen community service award from the Department of Community and Cultural Affairs earlier this month for her efforts.