Place targets national record
Updated: Mar 27, 2012 09:30 AM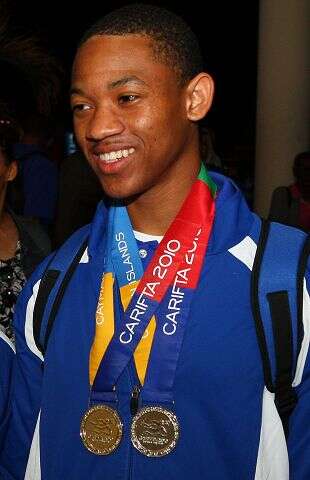 Jeneko Place has set his sights on shattering the junior national 100 metre record at next week's Carifta Games in Bermuda.
The last time the Island hosted the annual competition in 2004, Lovintz Tota ran 10.6 seconds, a time which has not been bettered since.
But Place, who won two silver medals at the 2010 Games in Cayman Islands, has been backed to go quicker than Tota, having ran 10.8 while in "cruise control" at last weekend's final trials.
His coach Xavier James, a former Olympic sprinter, believes a packed partisan crowd at the National Sports Centre (NSC) will bring the best out of his young charge.
"We have a personal goal of targeting the junior national record of 10.6," said James. "He's on target for that and in the next two weeks his best will come out.
"He ran this weekend on cruise control, mainly to protect his leg, and ran 10.8 seconds. That was after just one training session since he injured himself at the recent Telford Mile."
Place, who will be competing in the Under-20 boys category, admits he may sacrifice the 200 metres to ensure he doesn't aggravate a slight hamstring injury.
He said he only feels the strain when running the curve in the 200 metres.
"I feel all right, I just have to make sure I work out all the tweaks that I have," said Place. "I won a two silvers in 2010 and after doing my 100s at the trials I feel pretty confident. I might scrap the 200, though, as it's working my leg too much. When I come off the bend my hamstring doesn't feel proper."
Although he is considered as one of the Island's best hopes of a medal, Place insists the real pressure is on his sprint rival Kyle Webb, who is also competing in the under-20 category at the Games.
"Right now I don't feel the pressure's on me, it's on Kyle. I don't really want any pressure because really it's quite bothering," said Place.
"All the cheers can make you run faster though, because you don't want to disappoint them, that's when my best comes out.
While Place remains fully focused on adding to his Carifta Games medal collection, his main objective this season is making his mark at the World Junior Championships in Barcelona, Spain.
"Competing with bigger and better athletes shows you what's really out there," said Place. "You get to compete with the world instead of just the Caribbean.
"I've seen how they run and I've seen how I run; I think it's pretty close."
The Carifta Games is considered by many as the top youth track and field competition in the world. When Bermuda last staged the event, current world record holder Usain Bolt, of Jamaica, became the first junior athlete to break 20 seconds in the 200 metres in a time of 19.3 seconds.
More than 550 athletes from 27 countries are expected to compete at the NSC next week.