Kelly Hunt's art to be shown at NY gallery
Updated: Mar 18, 2011 09:49 AM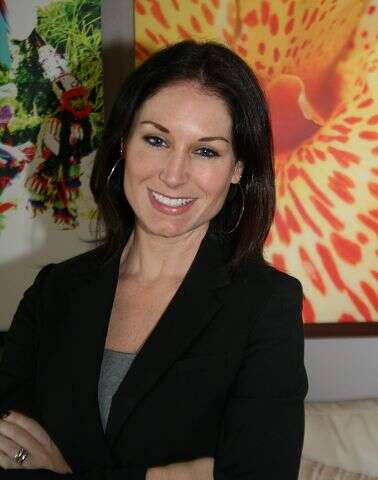 A little piece of Bermuda will liven up springtime in New York when Bermudian artist Kelly Hunt's work will be exhibited in a Manhattan art gallery.
'Altered States of Reality' is Mrs Hunt's first exhibition abroad.
The show opens on April 19 at the Agora Gallery in Chelsea, Manhattan and will run until May 10.
The Agora Gallery is a contemporary fine art gallery dedicated to the promotion of national and international artists.
The gallery publishes ARTisSpectrum Magazine and is the sponsor of ART-Mine.com.
Mrs Hunt is well-known locally for her extreme close-ups of local plants and flowers. Some of her art is displayed at her and her husband, Donte Hunt's Hamilton restaurant, Plaza Cafe.
She has also had her work featured in several local art shows.
"I was told about Agora by a visitor to the Island who is an editor of a New York arts magazine," said Mrs Hunt.
"She told me about a gallery in the art district that represents artists from around the world and said it was worth a shot contacting them. Of course, before anyone will contact you, you are asked to submit a number of pieces for review. I quickly became aware that since my medium is photography, I would have a lot of competition. There are so many talented photographers out there and almost everyone is looking for representation. In other words, I was definitely skeptical that I would be selected on the first try. Being chosen is certainly a privilege."
Mrs Hunt didn't hear anything back for some time.
"Then a couple of months later they said they would like to represent me," said Mrs Hunt. "They thought my art would be well-suited to a spring show because it is colourful and flora and fauna-themed."
As described on the Agora website: "Kelly Hunt's artistic practice is inspired by the ephemeral, lush and delicate life of flowers. Her sensual still lifes isolate the beauty of her native Bermuda's flora and fauna with graceful precision. Suggestive and rendered in vivid colour, pattern and texture, her large-scale digital photographs on canvas feature rolling and blooming petals, isolated and enlarged nearly to the point of abstraction. Metaphorically, the images suggest discovery, growth, intimacy, interiors, innocence and transcendental states of mind."
Mrs Hunt has been exploring local plants and flowers in her art since 2007, and she said it has evolved a great deal since then.
"I just try to make it as different and abstract as I can from a theme that might be over done," she said. "If you understand certain things about lighting you can get away with not using the expensive equipment. All the work is untouched. I don't photoshop anything. "
Mrs Hunt said some of the smaller flowers can be harder to photograph. One of her pieces in the Agora show is a close-up of an African violet, which she said was difficult to take.
"It is tiny but I am making it 5 ft wide so it has to be a certain resolution," she said. "If you want to blow something up large it has to be very high resolution."
The artist said she was over the moon to get the representation in New York.
"I feel like I am representing Bermuda in a way," she said. "It is a privilege and an extreme honour. International exposure is ideal for every artist and I am no exception. Ultimately, I would love for my work to be used by major designers in large projects such as corporate buildings and-or hotel sites. Overall, I am a firm believer that you can achieve whatever it is that you claim for yourself. You just have to go for it."
Useful website: www.agora-gallery.com/artistpage/Kelly_Hunt.aspx