Genteel beauty lies within 'Radical Blooms'
Updated: Apr 03, 2023 07:48 AM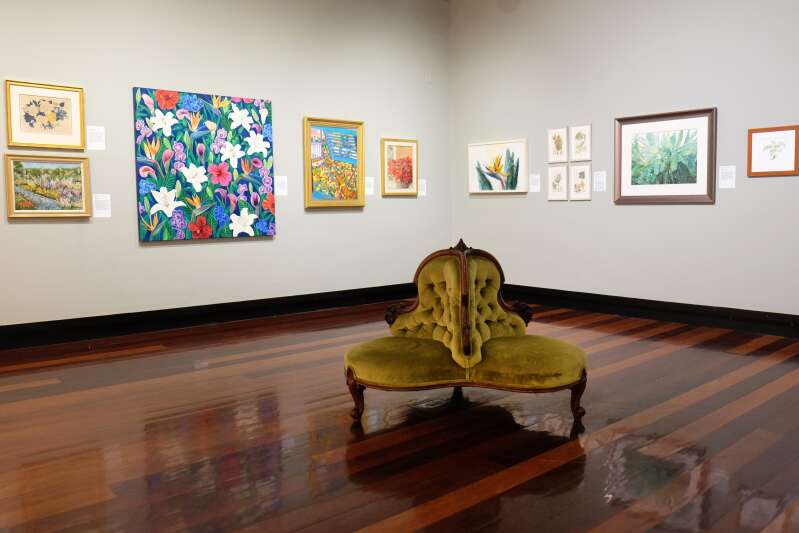 Beauty is a fundamental human need. Indeed, it is life-affirming, life-enhancing and is an important aspect in our sense of wellbeing. Nevertheless, within modern art, beauty has become suspect.
Jonathan Jones, writing for TheGuardian back in 2012, noted: "Beauty is simply treated by the art world as a joke, a con, an idiotic, old-fashioned idea. This makes much art irrelevant, because beauty is everywhere and obsesses everyone."
So despite the opinion of critics, Jones's position that "beauty is everywhere and obsesses everyone", is a point with which I am in full accord. Beauty does matter, even in art, and is contrary to the thinking that beauty in art is a contamination.
A word of caution, however. Not all modern art is ugly. Space does not allow for examples, but some modernist art is exceedingly beautiful.
All this leads to Radical Blooms, the current exhibition at Masterworks Museum of Bermuda Art. It is an exhibition of botanical art by women artists here in Bermuda from the 19th century through to right now. It is a relatively small show, consisting of 22 paintings by 16 artists. The show itself exhibits a quiet, genteel beauty. It was curated by Sara Thom, curatorial researcher at Masterworks.
But what is radical about this show? Unlike other places in the art world, where women "played second fiddle" to their male counterparts, here in Bermuda women led the way in the arts. Think of Bessie Gray or May Middleton and the Tucker sisters and others in that light. These were the pioneer Bermudian artists in the latter part of the 19th century and early 20th century. So what is radical? Women leading out in the arts – that is radical. And here in Bermuda, women continue to lead in the arts.
Flowers are beautiful and Bermuda is notably floral. Flowers are also a common subject favoured by early Bermudian female artists such as Bessie Gray and May Middleton. I think of Middleton's Scarlet Cordia as an example. It is seemingly a favourite with the curator as well, for it is featured on the cover of the exhibition catalogue.
Georgia O'Keefe, the most famous American female artist, is represented in this show with a drawing called Banyan Tree with Palms. She is also famous for her super large paintings of flowers, especially irises. She vacationed in Bermuda in 1933 and 1934 and it was at that time she made the drawing of the banyan tree. She also produced a series in charcoal of banana flowers. Unfortunately, none of her banana drawings are in any local, Bermuda collection for they are rich in tonal contrasts. From velvety blacks they graduate to subtle mid-tonal values, all the while pictured as suspended in space. They can be found and seen on the internet.
Christine Phillips-Watlington has four botanical illustrations on exhibition. She is highly regarded as a botanical illustrator, also as an environmentalist and as an author. Additionally, her illustrations are conveyors of joy.
Jennifer Davidson's Lefann's Fern is exquisite. She is a Bermudian who is recognised internationally as a botanical artist. Although her reputation was known to me, this is the first time I have seen her art and I am impressed.
Marion Watlington's Petticoats stands out. Pictured is a banana patch, but the artist has highlighted the lacelike edges of each banana leaf. There is also the impression of the swaying of banana leaves. It's as if they are dancing.
Nancy Valentine's Poinsettia, is the most painterly work in the show. By that I mean the application of paint is applied in such a way one is conscious, above all, that it is made with paint. The dominant feature in the composition is the poinsettia. In the upper left, through possibly a window, is the suggestion of two small cottages.
Louisa Bermingham's Bermuda Flora with Peacock Plate, recalls the work of Matisse. There is here a mix of spontaneity and thoughtfulness.
The earliest painting in the exhibition is by a relatively unknown artist named Louisa Freehand.
Her painted Bouquet of Flowers, although somewhat faded, has a 19th-century feel. It was painted in 1880.
The exhibition's largest painting is by Alice Cedenio. It is conspicuous not only because of its size (48" x 48"), but also because of the strong contrast between the brightly coloured, variegated flowers and the darker background.
Gwen Cann was a versatile and forceful artist here a few decades back. She was not only a painter, she also was involved in various crafts, especially the fibre arts. She has a painting of a bird of paradise flower in the show.
At the exhibition's opening I was asked if I could identify the location of a walled garden pictured in a painting by Eleanor Abrams. I did not have a clue. Still, I was reminded of that favourite children's book, The Secret Garden, by Frances Hodgson Burnett. Although the story is set in an English garden, the author began wintering in Bermuda beginning in 1911. This was shortly after the publication of The Secret Garden. Abrams' painting depicts a multicoloured flower garden set within a high wall.
Abi Box has two of her highly abstracted landscapes on show. While abstract, they are at the same time, suggestive of sunny, warm vistas.
Phoebe Hughes is exhibiting Fuchsia Alocasia, a fairly modern approach to depicting a fuchsia plant and in the colour fuchsia.
There is now in Bermuda a remarkable wealth of artistic talent and the art scene is showing amazing growth. Along with this proliferation of artists, we now also have five institutions for exhibiting art, including Masterworks. In just recent weeks the gallery has hosted several exciting shows and more are being planned.
I urge the general public to support our artists and the exhibiting institutions by attending exhibitions. Also think about joining them. You will benefit the organisations, but they will also benefit you.
• Radical Blooms continues in the Mezzanine Gallery at Masterworks Museum of Bermuda Art through April 15. For more information visit www.masterworksbermuda.org