Butterfield tops $200 million in earnings for 2022
Updated: Feb 15, 2023 08:11 AM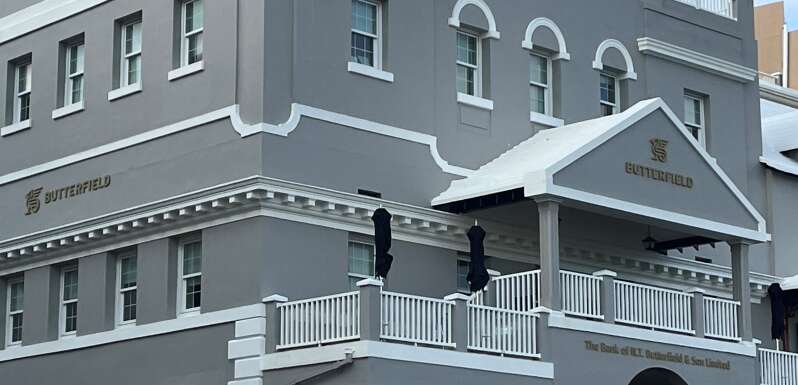 The Bank of NT Butterfield & Son's profits surged 31.5 per cent in 2022, as rising interest rates boosted profits.
The bank earned $214 million, up $51.3 million, from $162.7 million in 2021. Much of the increase came from rising interest rate income, which jumped $43.8 million or 14.6 per cent to $343.6 million.
Half that increase came in the fourth quarter, when net interest income rose $20.1 million to 94.6 million.
The Bank beat earnings estimates with fourth quarter earnings per share of $1.27, 12 cents better than the analyst estimate of $1.15, according to www.investing.com.
Butterfield shares are down 12 percent in the last 12 months were up 2.3 per cent to $32.94 today. The bank's results came out after the close of the New York Stock Exchange.
Butterfield at a glance
Core net income for the year: $215.7 million (2021: $163.6 million).
Return on average common equity: 25.7 per cent (2021: 16.8 per cent),
Core return on average tangible common equity: 28.6 per cent (2021: 18.7 per cent).
2022 efficiency ratio: 59.2 per cent (2021: 65.9 per cent)
Core efficiency ratio: 58.9 per cent (2021: 65.5 per cent)
Quarterly dividend: $0.44 per common share to be paid on March 14 to shareholders of record on February 27.
Non-interest income rose from $198.1 million in 2021 to $206.6 million in 2022, while non-interest expenses fell from $333.9 million to $331.6 million.
Total assets dropped by $1 billion to $14.3 billion largely due to a $510 million drop in investments to $5.73 million.
The bank also reduced its net loan portfolio from $5.24 billion to $5.1 billion. This was attributed to the early repayment of a number of loan facilities and the strengthening of the US dollar on Pound Sterling denominated balances, offset by tthe extension of a government facility in the Cayman Islands.
Deposits dropped from $13.87 billion to $13 billion, which the bank attributed to expected withdrawals after the end of the Covid-19 pandemic and and reductions in the value of non-US dollar deposits following the strengthening of the US dollar.
Michael Collins, Butterfield's chairman and chief executive officer, said: "Butterfield's results for the full year and fourth quarter of 2022 continued to demonstrate the bank's strong return profile, which benefited from rising market interest rates, non-interest income growth, and disciplined expense management that helped drive the efficiency ratio below 60 per cent.
"As we enter 2023, we believe that Butterfield's healthy returns on common equity will continue to support investor returns and overall growth objectives.
"Our longstanding strategy remains focused on limiting credit exposure in our conservative investment portfolio, growth through targeted acquisitions and thoughtful capital management. I was pleased to see tangible book value per common share recover 15.7 per cent during the fourth quarter."
He added: "We have made good progress preparing to on-board clients and new colleagues from our previously announced acquisition of the Credit Suisse trust business in Singapore, Guernsey and The Bahamas. We remain on track to progressively close the transaction during 2023.
"In terms of capital management, in addition to our quarterly cash dividend, we prioritise capital to support organic growth and the potential for acquisitions, and plan to recommence our share repurchase activity in the first half of 2023 (subject to market conditions). I am pleased that the board has authorised a new share repurchase programme of up to three million shares.
"I remain optimistic about Butterfield's continuing success following the proven resilience of our business model across recent interest rate and economic cycles. I am also encouraged by the removal of pandemic-related travel restrictions to our island jurisdictions, which should help to bolster tourism and international business and stimulate local economies.
"I look forward to working alongside our great teams of people in 2023 and beyond to help clients achieve their financial goals while also enhancing shareholder value."