Fighting is just a hobby like sewing, says Dyer
Updated: Jun 22, 2018 01:48 PM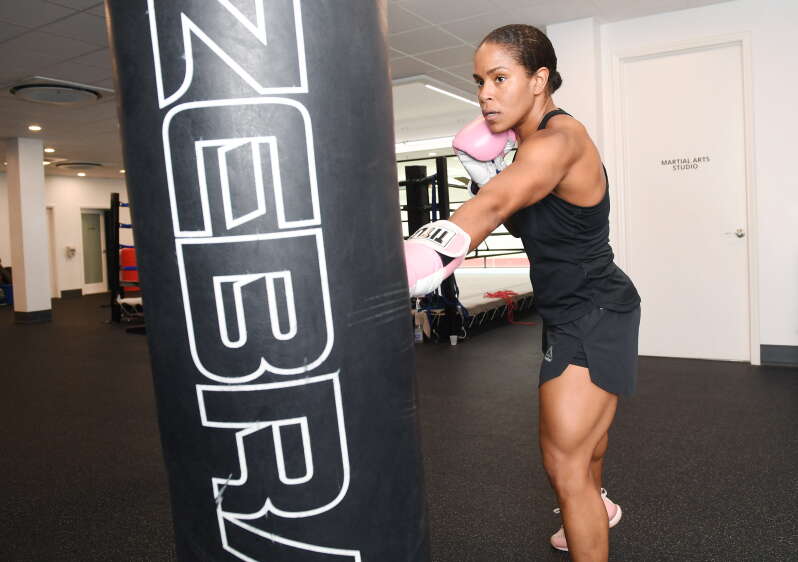 On first impression it is hard to imagine Krista Dyer — softly spoken, polite and unassuming — happily pummelling her opponent into submission.
Upon closer inspection, however, it becomes apparent that Dyer, who looks like she has never skipped leg day in the gym, carries a raw strength and explosiveness that is naturally suited to combat sports.
The kickboxer admits she enjoys being able to express her oft-hidden "dark side" between the ropes as well as challenging society's traditional ideals about women in sport.
"Like most people I have different sides to my personality," Dyer says. "On the street I'm softly spoken, a quiet person and quite introverted. But obviously I have some part of me that needs to come out and make a big impact — quite literally!
"If people have seen me [fight] and meet me they're like, 'Oh, I thought you would have a deep, gravelly voice and be an angry individual'. I'm not like that at all.
"Although I'm a physical woman with muscles I enjoy expressing a more feminine side to my personality as well, letting people know that just because you have muscles or you like to fight doesn't take away from the stereotypical feminine qualities that we're more familiar with."
Dyer, a member of the Bermuda Sanshou Association, has been kickboxing for 4½ years. She says there was something about the challenge of outwitting an opponent that appealed to her competitive spirit — but also hints at the undeniable pleasure of landing a clinical blow.
"I don't think I really thought it through, to be honest," says Dyer, who has four wins from seven bouts. "It wasn't until a few sessions in and I was like, 'Wait, we're punching each other?'. I'm not one to give up and was like, OK, I can't lose my cool, so let's see if I can retaliate in a sportsmanlike fashion like we're supposed to.
"It's more like a chess game to me. I don't think about beating somebody up, I just think about outmanoeuvring them and seeing if I can land more strikes. Hopefully one of them is hard enough to put an end to it early."
In her previous bout, at the Sanda Kicks and Licks tournament in Barbados last month, Dyer avenged her defeat to Sara Buczek from a year ago, defeating the Canadian in the main event.
It was Dyer's third successive win, taking the first and third rounds and drawing the second, to claim the women's 65kg title and reinforce her reputation as one of the region's most feared female fighters.
Buczek like Dyer's previous opponent, Ragan Beedy — a three-times American champion and World Wushu Championships bronze medal-winner — boasted an impressive record but struggled to handle the Bermudian's power and precision.
"This time I knew what to expect and had a more solid game plan," she says. "I wasn't steamrollered [in the first fight] and I knew the win was a definite possibility.
"Beating Ragan in November [at the Fairmont Southampton], an opponent with such a good track record, gave me a bit of a confident boost. Just being able to stand toe-to-toe with her and hold my own. Her technique is awesome. I just needed that extra confidence; that's what I was missing."
The 30-year-old has now turned her attention to the Pan American Wushu Championships in Buenos Aires, Argentina, in November, where she hopes to win a gold medal. She lost her opening bout at the previous Championships in Lubbock, Texas, in 2016, losing to Emily Diaz of the US.
"I've got a new bit of confidence attached to me," Dyer added. "I'm a competitive person and if I have a chance of coming first, second, third at something I'll give it a try. It's a trait of mine, which I'm not sure is good or bad — it gets me into situations like this!"
Dyer admits she relied on natural athleticism in her early fights but believes she is now marrying the technical skills which she has worked tirelessly to perfect to her physical prowess.
"My strength, physicality, and cardiovascular capacity carried me through at first," says Dyer, who works as a group fitness instructor and personal trainer at Aries Sports Centre and Studio One. But my technique is starting to match my raw, physical capacity and that's what's made the difference in my last few fights. I always know what I want to do, but it's having the finesse, timing and conviction behind my strikes."
Dyer is continuing Bermuda's impressive tradition of producing female fighters.
Teresa Perozzi, who retired from boxing in 2014, is a former women's WBA middleweight title-holder, while Talia Iris, a BSA coach, is someone Dyer holds in high regard.
"Sometimes the fight prep can get quite emotional and I don't want to talk to Sentwali [Woolridge] or Reyel [Bowen] about how I'm feeling," she says. "Having another girl [in Iris] to chat to is incredibly helpful.
"Sparring with her is super helpful. I'm used to sparring with the guys, so just having someone's face at the same level as mine, I don't have to reach really high to land a strike."
Happy to be changing people's perceptions of female fighters, Dyer hopes to inspire more women to follow her into kickboxing.
"The travel opportunities are a big draw; we've been to Argentina, travelled through the States, been to Costa Rica, Indonesia and Barbados," she adds.
"The Sanda [Chinese kickboxing] community is tight-knit and you make friends who you will keep for life. It's just a hobby like any other. It's like my sewing — do people still sew?"