Pressure is on Bascome, says Headley
Created: Jan 18, 2020 08:00 AM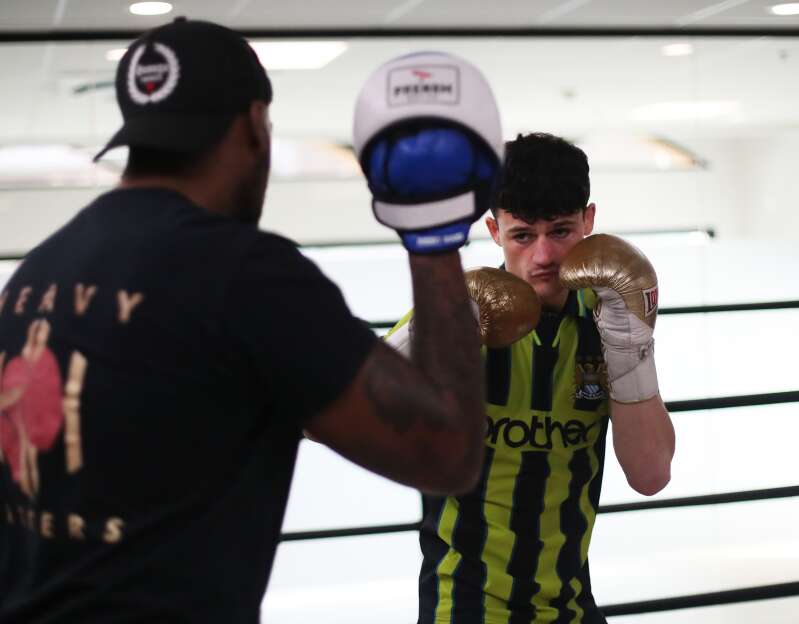 Haroon Headley has cranked up the pressure on Nikki Bascome before his fight against Ryan Oliver at the Fairmont Southampton tonight, insisting: "He's holding the weight of the island on his shoulders."
Headley, Oliver's trainer and manager, believes a second professional defeat for Bascome could spell the end of his boxing career and said he has looked particularly tense throughout fight week.
Despite Bascome representing a step up in quality for Oliver, Headley is adamant his fighter has the ability to expose the chinks he has perceived in the Bermudian's armour.
"All the pressure is on [Bascome]," Headley said. "There's a lot of expectation on him and he's already had that big loss [against Fábio Costa in November 2017]. I heard it was like a funeral afterwards. He can't afford another night like that. I think it would end his career. He has to perform."
Headley, who has been working with Oliver since 2017, suspects Bascome might still be harbouring mental fragilities from his knockout defeat by Costa and has studied footage of the pair's weigh-in when they became involved in a heated exchange.
"I don't just study someone when they're fighting, I study what they're saying, their lifestyle, what commitments they've got," added Headley, who fought 71 times as an amateur.
"I started watching the fight week of when he got beaten, the argument over the gloves about them being tampered with.
"I've really broken that down. Just looking over at him [during the pre-fight press conference on Thursday] and his team, there's a big circle around him; it's like a force field and he feels comfortable within there.
"But that force field walks down the steps and sits down [before the fight] and he goes in the middle with Ryan. It's interesting to see the psychology of it. How many chiefs does he have? One, two, three, four."
Although the majority of Oliver's eight bouts have been against journeymen, he has sparred with some top domestic names such as Anthony Fowler, Jack Catterall and a former lightweight world champion in Terry Flanagan.
A convincing victory for Oliver over Bascome will serve as a "launch pad" to bigger and better things, according to Headley, who expects the Lancastrian to "win in style" on his overseas debut.
"This is Ryan's first opponent with a winning record and he has to have that test," added Headley, a former firefighter.
"Ryan didn't have an extensive amateur career. He's learning on the job and he's getting better and better. His boxing IQ is brilliant and he's a great student in the gym. He's a joy to work with.
"He's sparred with some top competitors in the UK. He's sparred with Anthony Fowler, Terry Flanagan, Jack Catterall and an up-and-coming fighter in CJ Challenger.
"There's a lot of good fighters that Ryan's been in with that he has learnt off.
"Nikki can fight his fight, but we will fight our fight. We've come to win and we've come to win in style."
Fight card, page 25