LIVE UPDATES/PHOTOS: Nikki Bascome scores win over Dylan Rushton at Fight Night 2022
Updated: Jan 30, 2022 12:18 PM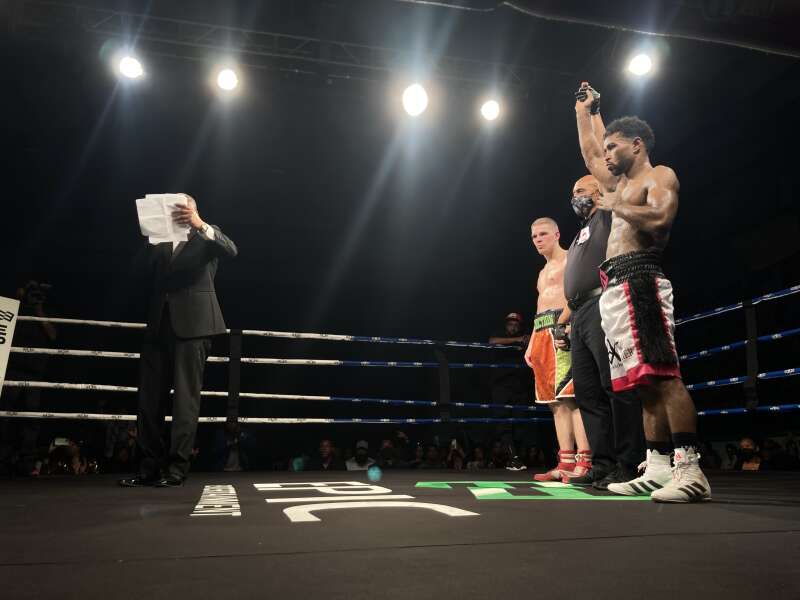 Nikki Bascome v Dylan Rushton
DECISION: We have a unanimous decision. The judges all scored the fight 79/73 in favour of Bermuda's Nikki Bascome, who improves to 10-1.
ROUND 8: Rushton stalking, Bascome staying patient, looking for his opening. Two big body blows by Bascome, he remembers! Jab, counter, jab, counter, we can almost predict the punches that are coming next at this point. Bascome works some space for himself and lands a few shots, but so did Rushton. That's it, eight rounds in the bag! This one is close folks, we await the judges' decision.
ROUND 7: Bascome has abandoned the body attack he employed in the opening rounds, while Rushton is doing what he has been doing all night, staying low and tight and scoring whenever the opportunity presents itself. Still, both fighters seem comfortable, almost too comfortable. There is little firework, but Bascome is also scoring well and is trying to loosen up but Rushton counters with two left hooks. This one will be decided in the final round.
ROUND 6: These two seem pretty evenly matched so far. Rushton's defence continues to frustrate Bascome and he surprises with a nice four punch combination even though it didn't seem to trouble Bascome too much. Bascome scores well in the last 20 seconds of this round, with a few right cross and uppercut combinations that finally pierce Rushton's stubborn defence.
ROUND 5: Not much happening in this one so far. Rushton is busy and Bascome is staying close. Ok here we go, both boxers again tagging each other, scoring regularly, but no one has taken control of this one yet. Three rounds to go.
ROUND 4: We are at the halfway stage and we are yet to see a clear leader in this one. Both boxers are trading blows, this has so far been the theme of this contest. Bascome does seem to be generating more power from his punches. A straight right that snapped Rushton's head backwards was a perfect example of this. He follows that up with a right hook and uppercut combination, but Rushton, as always, responds right away. Another close round.
ROUND 3: Both fighters have clearly now found their range. Dylan is staying low and compact, Bascome stays light and is moving well in the ring, easily neutralising Rushton's attacks. Rushton connects with a right cross and left hook combination, but Bascome is still there and responds with a couple shots of his own.
ROUND 2: Bascome comes out with more purpose straight away, attacking Rushton's body and searching for an opening. A heavy right cross, followed by a hook by Bascome draws some blood from Rushton's nose. Bascome will be happy with that round.
ROUND 1: Bascome stays tall and works his jab, but Rushton is not backing off, taking the fight to the Bermudian and so far keeping the fight at close quarters. Rushton does seem to be the aggressor in these early exchanges, but wait, Bascome is fighting back. Cautious first round from both fighters, but the intention is clear, they both want to do some damage.
OK it's time for the main event, Bermuda's Nikki Bascome goes up against Canada's Dylan Rushton in what should be an interesting eight round contest. Rushton comes in with a 4-11-3 record, while Bascome takes a 9-1 record to the ring.
Let's go!
Andre Lambe v Jose Ceja
Result: Andre Lambe
Well they don't call him 'Showtime' for nothing.
Andre Lambe's walk to the ring was a spectacle ‒ Gombey and all, and he certainly brought the fireworks inside the ring as well. So did his opponent Jose Ceja, at least in the first round.
Round two was a totally different story, as it clearly went to Lambe, whose hands became really familiar with Ceja's face, with a couple of heavy blows forcing a standing eight count from referee Anthony Mouchette.
Two more assaults in the third round led to additional counts and when Lambe was called out of the neutral corner for a third time, he ensured that it would be the last, with another flurry of punches that sent Ceja staggering backwards.
This left the referee with no choice, but to call for the bell and end the fight, in the process, bringing an end to the punishment that Ceja was receiving.
Adrian Roach v Jack Cabotaje
Result: Adrian Roach
What a fight!
This was only three rounds, but neither boxer seemed interested in going the distance, with both looking to cause damage to the other, from the opening second of the fight.
Adrian Roach was clearly up for this one, and there was real venom in each punch, with the Bermudian delivering a fierce second-round right hook, sending Jack Cabotaje to the canvas and exciting the sell-out crowd.
The final round saw Cabotaje hunting a response, as Roach consolidated his advantage and avoided any major contact, to see out his impressive victory, which arrived by unanimous decision.
Ngai Franklin v Michael Parsons
Result: Exhibition
These two were never meant to face each other, being in difference weight classes and ranks. However, with both fighters' original opponents being unable to make the fight at the last minute, the decision was taken for these two to essentially have a workout together.
Michael Parsons stayed on his front foot and was always stalking Ngai Franklin, who did well to keep him at bay with slippery footwork and a few meaty combinations, in what was a very technical and measured contest.
A lot of silk, but no real steel in this one, which in technical terms was fun to watch, even if it looked more like a good sparring session, as opposed to an actual match, more often than not.
In case one forgets, that's exactly what it was.
Dejon Benjamin v Ismail Mohammed
Result: Ismail Mohammed
In an exciting stand-up, in-your-face bout, which saw both boxers looking to score, seemingly with every extension, Ismail Mohammed came out slightly ahead of Dejon Benjamin, with his counterpunching and cleaner hits proving critical.
Benjamin certainly got his shots in, and kept Mohammed honest throughout, but could not maximise on his better jabbing, with the Canadian's greater reach stopping many of his attacks, before he was really able to loosen his arms.
Ethan Daniels v Noah Andrews (Amateur boxing)
Result: Exhibition
Both youngsters showed a lot of enthusiasm in the opening exchanges, but Noah Andrews demonstrated more ring maturity throughout, and if a result was on the line in this one, there is no doubt whose hand, would have been raised at the bell.
Poise, control and well-timed attacks, Andrews seems a decent prospect for the future, leading with his jabs, easily evading the less-cultured lunges of 17-year-old Ethan Daniels and connecting his shots consistently. One for the future perhaps.
Krista Dyer v Taylor Gerow (Kickboxing)
Result: Krista Dyer
The final kickboxing bout of the night was a competitive affair between Krista Dyer and Taylor Gerow.
Dyer started well with three quick tosses in the first round, but struggled to impose her will against the taller Gerow, who was intent on keeping the fight at close quarters, despite her better reach.
The final two of the three rounds were quite technical and lacked in real action, but the clearer shots were made by the more aggressive Dyer, who was in the end, a deserving winner. She takes her record to 8-6, while Gerow fell to 8-5.
Che Durham v Tyler Kerr (Kickboxing)
Result: Che Durham
This was the first really close fight of the night, as Tyler Kerr and Che Durham did not disappoint, with both fighters giving as much as they received, in a high-energy display.
In the end, Durham was adjudged the winner, with the more telling connections of his jab cross combinations in the final round, no doubt giving him some separation from Kerr, in the eyes of the judges.
Cole Durham v Ashton Bell (Kickboxing)
Result: Ashton Bell
Ashton Bell was the more experienced fighter in this contest, and it showed from the first few hook and lead kicks that he landed against the debutant, Cole Durham.
A well-balanced and technical fighter, Bell, who claimed his fourth win in five bouts, showed a good range of boxing combinations and kick moves, to easily overpower his opponent and claim the unanimous victory.
In truth, Durham did well to avoid a more telling defeat, even landing a few good punches himself, and will no doubt be looking forward to his next test.
Kallan Todd v Schaefer Underwood (Kickboxing)
Result: Kallan Todd
Kallan Todd had full control of this one, dominating his opponent from start to finish, with his superior strength and powerful combinations leaving Schaeffer Underwood with precious little throughout the three, two minute rounds.
Todd won by a unanimous decision, to secure his first win, in what was his second attempt.
Enzi Johnston v Samantha Knight (Kickboxing)
Result: Enzi Johnston
Enzi Johnston scored a split decision win over Samantha Knight in the first official fight of the night.
Knight's aggression reaped dividends in the opening 1-1/2 minute round, but Johnston made several telling connections in the remaining two, including an impressive throw and kick to the back of her opponent's head, in the final 10 seconds of the contest, to secure the result. Johnston's record now moves to 2-0.
All set for Fight Night Champion
Welcome to The Royal Gazette's live coverage of Fight Night Champion 2022, which takes place at The Shed, in Dockyard.
It is a wet evening, but we are expecting some steaming action inside the ring, as Bermuda's Nikki Bascome faces Canada's Dylan Rushton, in tonight's welterweight main event.
Bermudian welterweight Andre Lambe, will also square-up against Jose Ceja from the United States, on the undercard, which features a number of amateur fights.
We will be providing results of each fight leading up to the main event, for which we will be sharing round-by-round updates.
The fans are making their way inside the venue, and by all accounts, tonight's event is sold out.
FULL CARD
Enzi Johnston v Samantha Knight
Kallan Todd v Schaeffer Underwood
Cole Durham v Ashton Bell
Che Durham v Tyler Kerr
Krista Dyer v Taylor Gerow
Ethan Daniels v Noah Andrews
Dejon Benjamin v Ismail Mohammed
Ngai Franklin v Michael Parsons
Adrian Roach v Jack Cabotaje
Andre Lambe v Jose Ceja
Nikki Bascome v Dylan Rushton