Salvation Army rallies round to help seniors with festive giveaways
Created: Dec 21, 2021 07:49 AM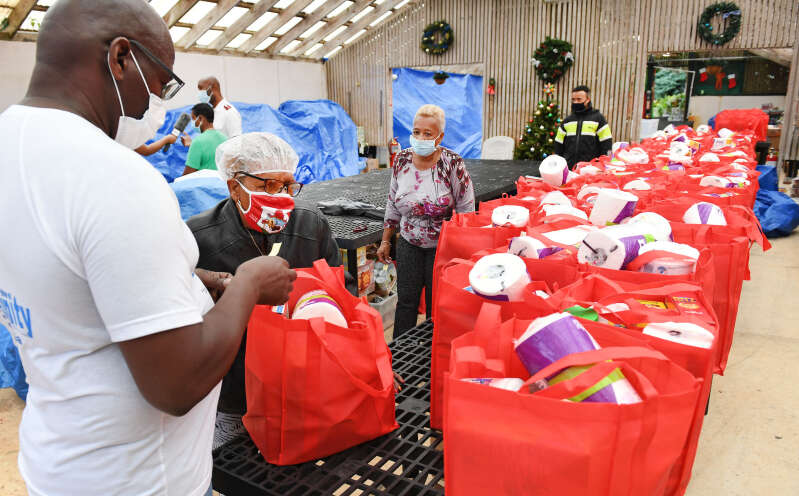 Seniors were yesterday given hundreds of hampers to help them have a happy Christmas.
The Salvation Army handed out non-perishable Christmas foods, as well as toys for people with grandchildren who live with them.
The event came after the charity distributed 154 bags of toiletries to seniors across the island on Saturday.
Salvation Army Captain Dwayne Barnes said the two giveaways were "really amazing" and admitted they brought him to tears.
He added: "I have seniors in my family and oftentimes I think the seniors are left behind, so the very thought of helping them really made them happy and really made my day."
A total of 350 hampers were handed out at the Botanical Gardens in Paget.
It was part of the Salvation Army's Christmas giving that started on Friday for families and others who struggled with financial problems.
The distribution programme will continue with a similar hamper drive aimed at families.
The toiletry bags delivered on Saturday also included sheets and towels, as well as grocery vouchers and a fruit basket.
Captain Barnes said that he came up with the idea because he noticed that seniors who lived by themselves often had trouble buying hygiene products.
He said that the charity turned to their list of 109 seniors who were signed up for their food delivery service.
Captain Barnes added that the Salvation Army gave 45 toiletry bags to care homes.
He said: "We had some seniors say 'wow, the Salvation Army actually thought about me' and 'I haven't received a visitor in a long time'.
"One lady literally tried to keep us at her door – we wanted to stay and chat but then we realised we have to get around to all these other locations."
Captain Barnes said that many seniors told him the Salvation Army did similar giveaways years ago.
He added: "One lady said 'I remember many many years ago the Salvation Army used to bring fruit platters to us' – talking about her family members – and just she wondered why the Salvation Army had stopped.
"Then she said 'I just want you to know that you were the first organisation to do this – all these other organisations and churches that are now doing it are taking cues from the Salvation Army'.
"That was good for me to hear as someone who is serving the community."
He also thanked the volunteers who put together and distributed the bags, as well as those who donated to the charity.
Captain Barnes said: "We are extremely grateful for our donors.
"The community was really rallied around the Salvation Army – and I'm sure many other organisations – to help us support the people that we are serving each day.
"Without the generous donations of donors, the Salvation Army would not be able to do what we're doing."