At 86, Hughie's still making music
Updated: Jan 04, 2023 09:51 AM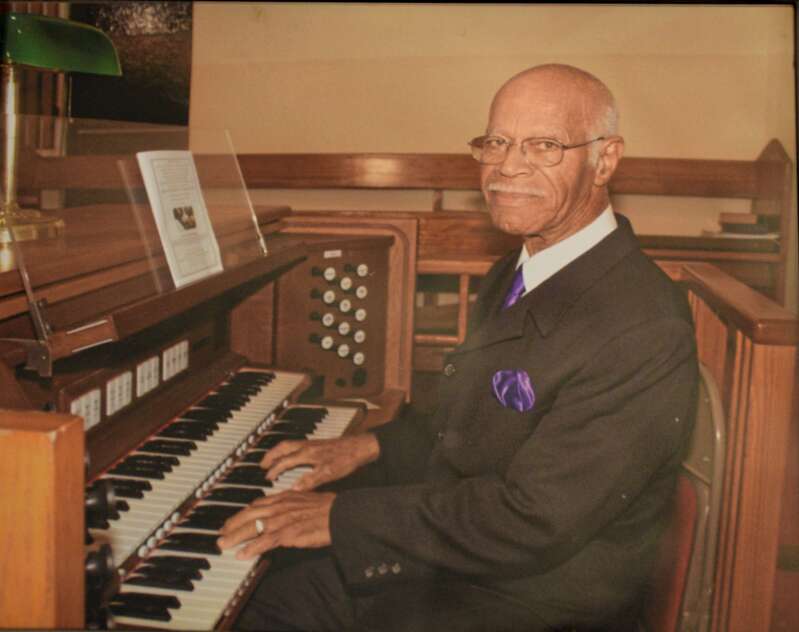 At 22, Hughie Smith didn't know how to drive and did not have a licence.
So when he was put behind the wheel of a truck on his first day at the Department of Works & Engineering's asphalt plant he was more than a little bit anxious.
"It was my job to transport materials around the quarry and deposit them in a hopper," the 86-year-old said. "I was just going back and forth across the quarry, but you can bet I was nervous.
"I did eventually get my licence, but I never had any formal lessons like people do today."
He stayed with Works & Engineering for almost 45 years, working his way up to supervisor with several men working under him.
When he retired at 63, in February of 1999, he received a commemorative plaque with several little bottles of the different materials needed to make asphalt.
Mr Smith grew up in Devil's Hole, Smith's, in a family so large he is a little unsure of how many siblings he had.
"I think there were 14 or 15 of us," he said. "I was the eighth or ninth child."
His mother, Evelyn Smith, took care of the family, and his father, Ashley James Smith, was a stone cutter.
"He worked out of a place in Tucker's Town called Tank Hill," Mr Smith said. "When the weather was good, he was a fisherman."
He was decidedly uninterested in following in his father's footsteps.
"Sometimes he would take me out with him, but he would stay out there all day," Mr Smith said. "There were a group of four of them that would go. They would leave from John Smith's Bay and head out to St David's."
He did well in his studies at Harrington Sound Primary but had to leave at 14 to help his parents. "With such a large family everyone had to do their part," he said.
His first job was as a deliveryman for a neighbourhood store, Harris Bay Grocery.
"I would have two baskets, one on the front of my pedal bicycle and one on the back," he said. "Down by Tucker's Town Bay, near the Mid Ocean Club, you would go around this bend and then there would be this hill. I would have to get off and push the bike up the hill. I was fit in those days."
He always loved music and around the age of seven started taking piano lessons with Louise Smith.
"Some people said my fingers were too short to be a pianist," he said. "But I can span an octave."
In his early 20s, he started playing the organ at St Philip African Methodist Episcopal Church, Smith's.
"It was a bit of a transition from piano," he said. "With the organ you have to use your hands and feet. The first organ I played on was this little Hammond organ that the church had."
Six decades later he is still playing, although he has moved to Bright Temple AME Church in Warwick.
"I have stuck with it all these years because I just love the sound of the organ," he said.
He practises for at least two hours every night on a keyboard in his dining room. When he is not playing, he loves listening to organ music on his record player.
"I have a radio, but I think the sound is richer on vinyl," he said.
This summer he was ill and could not go to church for several weeks. "I really missed playing," he said.
The church struggled to find a replacement for him, because organists are becoming extremely rare in the community.
"I don't know why there are so few young people taking up the organ," he said. "I think they are just not interested in this type of music. It is very sad. Sometimes when the church does find a replacement, the person they find is not skilled."
Over the years he has worked hard to improve his skills.
"I have had many teachers," he said. "In more recent years, I even took lessons at the Bermuda School of Music with Karol Sue Reddington. We would practise on the organ at St John's Church in Pembroke. There is always something to be learnt with music."
He and his wife Cynthia have been married for 60 years.
"We met when she used to come to Devil's Hole to see her aunt," Mr Smith said. "She was 18 when we met. I was 23."
The couple have two children, Gregory and Allison Smith, and have been heavily involved in the Big Brothers and Big Sisters programme which pairs young children with mentors.
"We have been involved in that for a number of years," he said. "We have had a little brother and two little sisters. They are all doing well now."
Mr Smith is also known for his kites.
"I used to make these 6ft kites," he said. "Sometimes I would win kite-making competitions they held at Elbow Beach on Good Friday."
He remembers one year enthusiastically building a giant kite, only to realise it was so big he could not get it out the door.
"Normally, you would turn it sideways to get it out," he said. "But it didn't work that way either."
In the end he had to bend some of the sticks to extricate it from the house.
"Unfortunately, that did impact the way it flew," he said. "I couldn't get it to fly straight afterward."
• Lifestyle profiles the island's senior citizens each week. Contact Jessie Moniz Hardy on 278-0150 or jmhardy@royalgazette.com with the full name and contact details and the reason you are suggesting them