Teenager describes being shot as he ran from gunman
Created: Nov 17, 2011 09:04 AM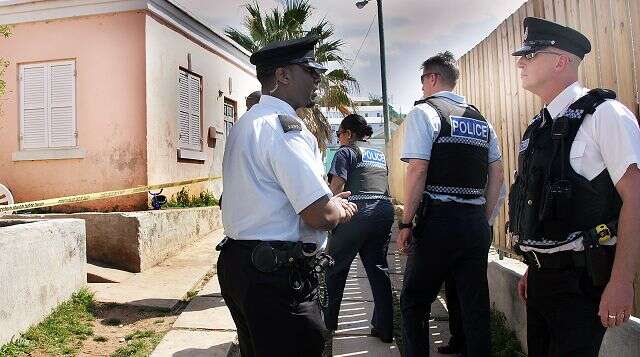 A teenager described running for cover as he was shot, telling Supreme Court it wasn't the first time someone had tried to kill him.
Jahrockia Smith-Hassell said he looked over his shoulder and recognised his would-be shooter as he passed him.
"I saw him pull a gun out from his jacket pocket," the 17-year-old said. "Then he shot me in my back."
Southampton resident Royunde Stevens Cyrus, 24, has denied attempted murder and using a firearm to commit an indictable offence.
Mr Smith-Hassell, who was 16 when he was shot on March 25, said: "I hit the ground. He shot and missed. Then he shot me again in the back. He shot again and missed, and the last shot hit me in the leg."
The victim said he was able to flee from his attacker and hide behind nearby houses on Rambling Lane, Pembroke.
"I tried to call my baby mama, but she didn't answer," he said.
A friend phoned police, and he was able to walk to another friend's house where he waited half an hour for an ambulance.
After three weeks in hospital, Mr Smith-Hassell said he was asked by police to identify his attacker from a series of photographs.
"I picked out the picture of Royunde," he said.
Asked by Ms Kiellor how sure he had been, Mr Smith-Hassell replied: "One hundred percent sure."
Ms Kiellor asked: "Why were you shot? Was this the first time you were in a situation like that?"
The witness said that about four months before the shooting, a man had tried to stab him in the back while on Fenton's Drive, Pembroke. The man had also threatened to kill him and his older brother, Tafari, Mr Smith-Hassell said.
"All of them just want to kill him," he said of his brother.
Asked who had threatened his brother, he replied: "Parkside."
Mr Hassell-Smith said his brother lived with his father on St Monica's Road, and not at his mother's home on Rambling Lane, because of threats made on his life.
He added that in December of last year, a man approached him around Friswell's Hill in Pembroke and pointed a gun at him, but the trigger jammed.
And he said he received phone calls before and after he was shot by people he did not recognise "who said they were coming for me".
The court heard next from Bermuda Police Sergeant Travis Powell of the Combined Operations Room, which receives 911 calls.
Sgt Powell confirmed that a caller reported gunshots in the area of Cedar Avenue and Laffan Street, around 10.22pm on March 25.
A second call, at 11.48pm, reported shots in the area of Fenton's Drive.
Forensic firearms examiner Dennis McGuire, of the Miami-based company Forensic Expert Services, confirmed he received evidence collected from both those incidents.
Mr McGuire also confirmed that cartridge cases and a spent bullet retrieved from the earlier gun incident of the night matched the characteristics of eight other Bermuda gun cases. The evidence from the second incident of the night, he said, came from a different firearm.
The case continues.