'You just need a heart to kill' court hears audio from defendant's cellphone
Created: Feb 14, 2013 08:00 AM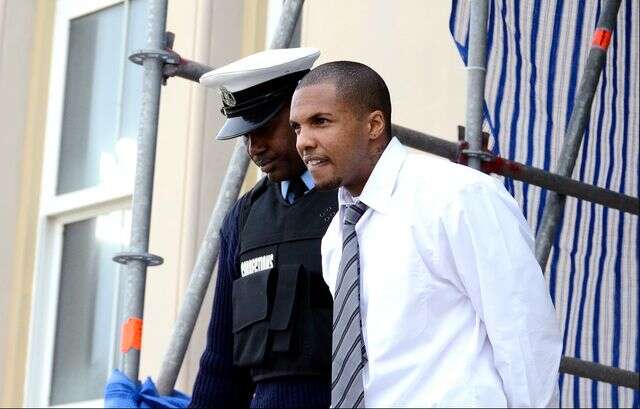 A gang expert told the Supreme Court that both men charged with the murder of Randy Robinson are members of the 42 gang.
And while Detective Sergeant Alex Rawlins said Mr Robinson, 22, was not affiliated with any gang, he is related to high ranking members of the rival Parkside gang.
Mr Robinson was gunned down while walking along Border Lane North on March 31, 2011.
Jay Dill, 23, and Devon Hewey, 24, stand accused of the premeditated murder, and using a firearm to commit the indictable offence. Both have denied the charges.
As their trial continued yesterday, Det Sgt Rawlins told the jury that there are around 13 gangs on the Island, with 42 and Parkside being two of the more notable groups. While the members of the rival Pembroke gangs used to be friends, there was a division in the late 2000s.
"Originally, this used to be about drugs and territories," he said. "What we see now is revenge shootings and revenge murders. It's a tit-for-tat mentality."
He said in such cases, the target of the revenge shooting doesn't have to be the person responsible for the original act, but any member or family member of the rival faction.
"Shane Minors is an example," he said. "He was killed in 2009 in the Friswells Hill area. Shane was not a gang member, but his brother was."
Det Sgt Rawlins said that he knew and had interacted with both defendants, and knew them to be members of 42.
The court were shown a series of pictures of the defendants taken from seized cell phones. Det Sgt Rawlins said the images depicted the defendants flashing gang signs, showing four fingers on one hand and two on the other.
The pictures also showed the defendants surrounded by other men, who the officer described as members of the gang.
Asked about Mr Robinson, Det Sgt Rawlins said: "I am not aware of him being a member of a gang. However he is related to members of Parkside."
He noted specifically Mr Robinson's cousins Sergio and Vincent Robinson, both of whom he said were active in the Parkside gang.
He described Sergio as high ranking in the gang, while Vincent was in the mid-to-high level.
Det Sgt Rawlins was also played two "voice notes", which the court had heard were taken from Mr Dill's cellphone following his arrest.
In one of the recordings, a voice is heard saying: "He thinks he is the only one doing this s***. Anybody can pick up a f***ing thing and push the f***ing thing. That's ain't no problem. You just need a heart to kill."
Asked what it was referring to, Det Sgt Rawlins said gang members try to avoid saying "gun" and "ammunition", and the speaker was likely talking about picking up a gun and pulling a trigger.
The court also heard cross-examination from gunshot residue (GSR) expert Alison Murtha, who previously told the court that GSR particles, produced by gunfire, were found on a jacket and pants taken from Mr Dill by police.
She explained that while barium, lead and antimony are all released into the air by gunfire, only when all three are fused together is it classified as true GSR.
While compounds containing two of the component elements are produced, she explained they can also be from other sources, including brake pad lining and fireworks, although usually with different "elemental tags".
Particles containing two-component particles were found on items, including Mr Dill's motorcycle and several items of clothing. Asked if it would be speculative to say that particles containing two or one of the component elements were formed by gunfire, she agreed but added: "It would be speculative to say they are not.
"What I can say is that they could have come from the discharge of a firearm and every possible measure was taken to make sure they did."
Asked if it was possible for GSR to be transmitted from an armed officer or a police car to a suspect, she said it was.
And she also agreed, when questioned, that several items tested were found to contain only single-component particles made up of lead or antimony, including Mr Hewey's hands, motorcycle, helmet, keys and phone.
Asked if that means no certified GSR was found on the items, she said: "That is correct."
The trial continues today.