Commissioner of Police faces private prosecution
Created: Mar 07, 2023 01:35 PM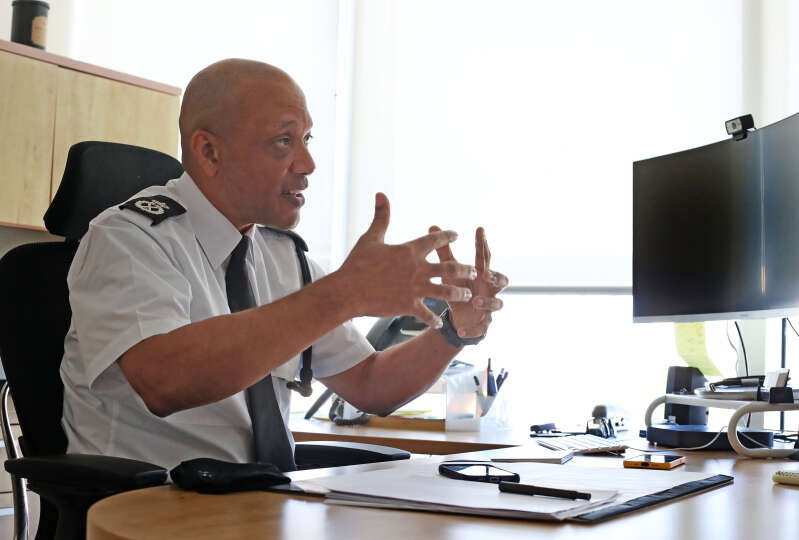 The Commissioner of Police is set to appear as a defendant at Magistrates' Court next week after a serving officer brought a private prosecution against him.
Sergeant Mark Monk has accused Darrin Simons of refusing to perform his duty as a public officer and attempting to pervert the course of justice.
The charges each carry a 12-month jail term if the defendant is found guilty by a magistrate.
A hearing is set to take place on Wednesday, March 15, according to court documents seen by The Royal Gazette.
Private criminal prosecutions are rare and this one was given the green light by magistrate Tyrone Chin after Cindy Clarke, the Director of Public Prosecutions, opted not to pursue a prosecution against Mr Simons.
A BPS spokesman told the Gazette: "With this matter now before the courts, there will be no comment forthcoming at this time."
The case stems from allegations of misconduct made against Mr Monk by two fellow officers in June 2020, which led to him being suspended on full pay from the Bermuda Police Service for almost two years.
He was unhappy with an assessment of the complaints written by Superintendent Gillian Murray, a British officer who was then the head of the service's professional standards department.
After it was found that Ms Murray did not have the legal authority to act in disciplinary matters, Mr Monk hired a lawyer to have her assessment declared unlawful and asked the BPS to pay his legal fees.
Stephen Corbishley, then the Commissioner of Police, refused and Mr Simons, then the Deputy Commissioner of Police, escalated Mr Monk's case to gross misconduct.
Mr Monk was reinstated to duty last March but is facing criminal charges of using a phone to cause Mr Corbishley "annoyance, inconvenience or needless anxiety" and using a phone to harass Ms Murray.
He denies the allegations and has also pleaded not guilty to attempted perversion of the course of justice by harassing investigating officers and falsely accusing them of perjury.
His wife, Tricia Monk, denies using a phone to harass Ms Murray.
The charges brought by Mr Monk against Mr Simons allege that between September 10, 2020 and May 17, 2022, the police commissioner:
· "as a public officer, without lawful excuse, omitted or refused to perform" his duty; and
· "did pervert the course of justice" by refusing "to do an assessment of conduct on a complaint made about [Ms] Murray and refused to appoint an investigator to investigate the matter".
The second charge continues: "You did so to ensure that [Ms] Murray could avoid answering to the misconduct complaint and in doing so … was able to avoid being held accountable by the Police Conduct Orders."
Ms Murray left the BPS in May 2021 and Mr Corbishley resigned in October that year.
It was reported last month that Mr Monk's defence lawyer, Jerome Lynch KC, was seeking a Government House-ordered report into misconduct allegations against Mr Corbishley.