Seconded police discipline head returns to Britain
Updated: May 06, 2021 02:46 PM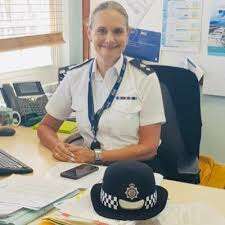 The head of the police internal discipline unit has returned to Britain and a Bermudian officer has replaced her.
The announcement that Superintendent Gillian Murray – seconded from the British Transport Police – had left the island came more than five months before her contract was due to end.
Chief Inspector Arthur Glasford has taken over as the head of the service's Professional Standards Department.
Commissioner of Police Stephen Corbishley said: "I am delighted for Superintendent Murray, who goes on to promotion with her home police service, the British Transport Police.
"Her leadership with the BPS has been first class."
He added: "Mr Glasford is a seasoned detective and senior leader whom I have no doubt will continue the essential work we do in this area."
The news was announced yesterday just a few hours after The Royal Gazette asked the BPS if Ms Murray would leave before the date her contract was due to end – October 21 – and if a replacement had been selected.
Ms Murray was brought in by Mr Corbishley in October 2019 as part of efforts to root out corruption and boost standards of conduct in the police service.
But a review of her decisions was ordered last October after it was found she did not have the authority to make them because of a legal technicality.
Mr Corbishley said at the time that Ms Murray was highly experienced, but that a BPS officer was expected to take over the role in 2021.
A total of 87 officers – more than 20 per cent of BPS personnel – were investigated and three dismissed between October 2018 and October 2020.
Deputy Commissioner of Police Darrin Simons sent an e-mail to all BPS officers last October about a "growing level of unprofessional behaviour towards members of the BPS Professional Standards Department, particularly its head, Superintendent Murray".
He wrote: " … I will not abide acts of disrespect or bullying – subtle or otherwise – towards any staff member or department and in particular the one that is charged with protecting the integrity, legitimacy and professionalism of the service."
A response from the BPS to a public access to information request from The Royal Gazette confirmed that Ms Murray was on a contract this year for $78,000.
The Pati officer said the BPS held no records to show if her salary was supplemented by the British Transport Police.
He wrote: "Superintendent Murray is on a secondment agreement between the British Transport Police and the BPS to assist with our continual development of the Professional Standards Department.
"Superintendent Murray is not an employee of the BPS and retains her title as Superintendent, as stated within her employment contract with the BTP."
He said the BPS held no records to show if she was paid anything by another public authority, such as the Ministry of National Security.
The officer said Ms Murray had two earlier contracts, from when she was brought in by the BPS in October 2019, and both were under $50,000 so did not have to be published under the Pati Act.
The Pati disclosure revealed that five other British police officers employed as consultants have had their contracts extended for another year.
The officers – each being paid almost $100,000 a year according to a notice in the Official Gazette – were brought in to work on forensic, intelligence and special investigations over the past six years.
The BPS's Pati officer said the contracts for special investigators David Boyce and John Ashington, Diana Dissington and Victoria Holden, scenes of crime investigators, and Andrew Jones, an intelligence analyst, had been extended until March 31 next year.
He wrote: "These investigators' commence dates range between two years to six years.
"The Bermuda Police Service required the relevant expertise within forensic, intelligence and special investigations to assist with ongoing investigations."
He did not provide requested records to show when each of them was hired or which cases they had worked on.
The Pati officer also released the employment contracts of Mr Corbishley and Mr Simons after a request for salary information.
The 2021 list of government salaries published on the Government's website listed Mr Corbishley and Mr Simons as earning $66,039.44 each a year – an apparent mistake representing a fraction of the correct amounts.
The contracts disclosed under Pati show that Mr Corbishley, who came to Bermuda in 2018 from Britain, is paid $200,904 a year.
Mr Simons gets $194,369 a year and both get a housing allowance of $22,447.
The commissioner's five-year contract is scheduled to end on August 2, 2023.
Mr Simons's five-year contract, renewable for another five years at the Governor's discretion, is until December 26, 2024.
A government spokeswoman said there was an inaccuracy in the published salaries but could not provide a reason.
Personal information contained in the contracts for the two top officers was removed.
A BPS spokesman said Ms Murray was scheduled to leave the island yesterday and Mr Glasford would take over immediately.
To see the Gazette's Pati request and the BPS response, as well as the commissioner and deputy commissioner contracts, click on the PDFs under Related Media.