'As I recognised him, I was shot in the chest'
Updated: Mar 22, 2023 02:12 PM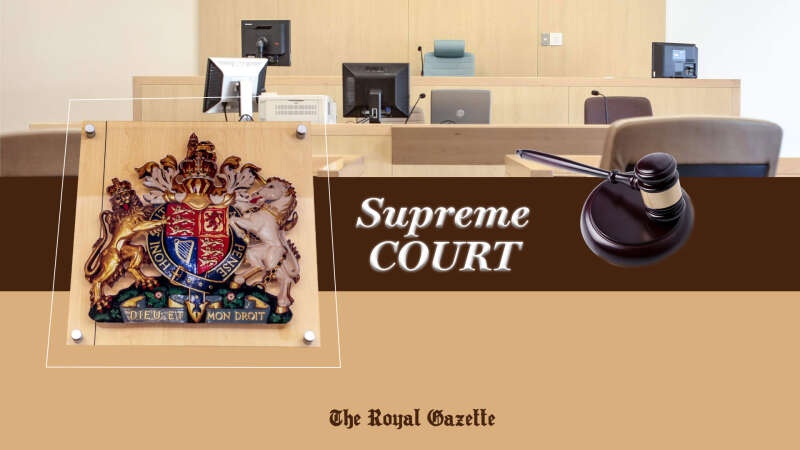 The alleged victim of a daytime robbery identified the accused as the person who tried to snatch his gold chains before he was shot by another man moments later, a Supreme Court jury heard yesterday.
The St David's man, who cannot be named for legal reasons, told the court that he was spending the day with his son on May 8, 2020, and took him to The Hub on Middle Road, Warwick, to go shopping.
He said that he had begun to chat with to the store's owner outside, near where he had parked his motorcycle.
He added that, at the time, he wore two gold chains that were adorned with pendants – about $8,000 in jewellery.
The man said: "He [the owner] didn't get out many words because someone had approached me from behind.
"As he approached me, he grabbed my chains. He said 'come out them chains'."
He said that the robber had his jacket pulled up to his moustache, but added that could still recognise him.
He told the court that he had seen Grayson Swan around the Warwick neighbourhood for several years, even having seen him just a few days before the alleged robbery.
"I've known him probably as long as he's been in Warwick," he said. "My family's in Warwick, I'm a Warwick guy. I'd travel from St George's to Warwick all the time.
"I'd see him at least one to three times a week. I've even given him a fist bump."
When asked if he could identify the man in court, he said that he could and pointed to Mr Swan.
He added that another man later came and hit his son off of the motorcycle before they took off with his jewellery.
The man said: "A bunch of rage hit me. I blanked and then I pulled out the knife I had and went to stab him."
He added that it was only after he gave chase that the man's face covering fell away and he recognised the man as "Chewy".
He chased his assailant after he robbed him and hit his nine-year-old son.
He said: "I jumped off the bike and then I pulled out my knife and gave chase to him.
"He tried to get away, and that's when the disguise came off and I saw his face. I was looking right into his eyes."
He added: "As I turned the corner there was a man pointing a gun straight at my chest.
"As soon as I recognised him, I was shot in the chest."
The man was speaking during the second day of the trial.
Mr Swan, 22, has denied robbery, the use of a firearm after committing an indictable offence, and handling a firearm.
The man said that he chased his attacker to the back of the store, until he came across another man, who shot him in his upper chest.
The man told the court: "I had to run for my life. There was a car, so I slipped behind the car and I just looked to see where their feet were."
"I got up and ran after I saw his feet move, when I heard a few more shots."
He said: "I started to check my body. As I checked, I got more and more light-headed so I sat down. As I sat down, I saw them leave."
The man said that he was later taken to the King Edward VII Memorial Hospital where he received treatment for more than a week. The trial continues.
• It is The Royal Gazette's policy not to allow comments on stories regarding criminal court cases. This is to prevent any statements being published that may jeopardise the outcome of that case.