Charles Trott leads Rangers' county rout of PHC
Updated: Jul 11, 2022 07:51 AM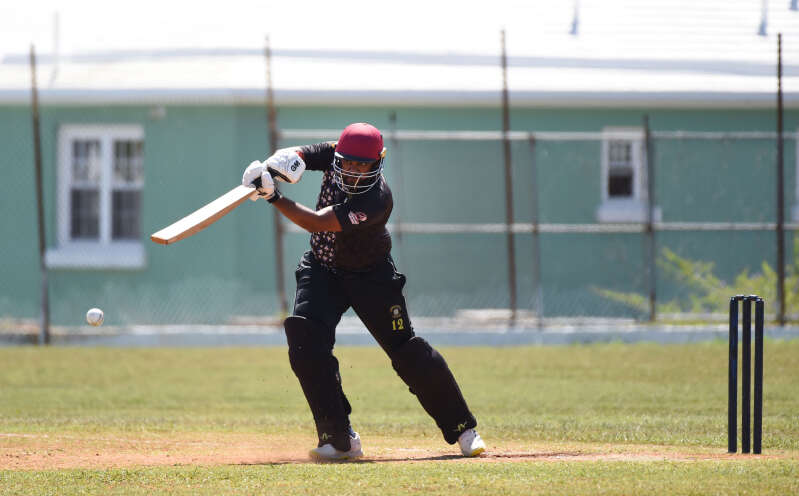 Southampton Oval (PHC won toss): Southampton Rangers beat PHC by nine wickets
Another day, another demolition job executed to near perfection by Southampton Rangers, as they emphasised to PHC the chasm that exists between a champion and one possessing desire, but lacking ability to yet challenge for the Western Counties Cup.
Rangers made stunningly short work of their second round defence, the only fault being the loss of one batsman, while rolling to victory on a day when their opponents could neither question nor answer the menacing juggernaut occupying all paths.
Chief among the destroyers was left-arm seamer Charles Trott, who tortured all who dared come to the crease, using his knowledge of the nuances of a worn surface that had most balls staying low, predicating front-foot batting action, the art in which his opponents were found lacking.
Time and again Trott had batsmen fencing between minds as to defend or attack, consistently beating the bat. The Bermuda player bowled unchanged for nine overs, while collecting a season-best haul of six wickets, which amazingly looked less than he deserved.
"It was pretty good for me out there today," said Trott, his soft-spokenness belying his performance. "I was able to find my lines and lengths.
"Basically that's my home team we were playing against and it was nice to be able to play against them and perform the way I did.
"There's a lot of cricket that's been played. I just came off tour where I've learnt quite a bit and today I was able to find the right areas, play my natural game, come in, bowl and get batsmen out.
"The wicket was flat and the ball was staying low and it was probably best for the batsmen to stay on the front foot and keep the bat in front of your pads."
Trott, who surrendered just 16 during his spell, was assisted in the wicket-taking department by Dion Stovell, himself toying with batters, using his array of off breaks, arm balls and change of pace to effect three dismissals for a mere seven runs, and adding a spectacular diving catch running in from point for one of Trott's wickets.
Of the PHC batters, five perished without scoring, with newly minted national team player Khiry Furbert, one of two guest players in the challengers' line-up, the only one to manage double figures with 13. Extras was the highest scorer with 19.
Afterwards, PHC captain Dev Hanuman expressed great dissatisfaction as to the manner of defeat.
"It's extremely disappointing," said Hanuman, who was one of the few that stayed in for any appreciable time, even though his 21-ball vigil produced no runs. "We at least wanted to put up a fight. We wanted to win and even if we didn't win, we at least wanted to put up a fight.
"So it's greatly disappointing. We appreciate the experience of our invited players [the other being Ricardo Brangman, of St David's], but they didn't get off as well; nobody stuck around.
"We had a batting collapse, just a simple batting collapse, where we kept losing wickets and nobody stood up and stayed a while.
"In choosing to bat first the point was to stay there, wait until the ball gets a bit old and try and build a partnership from there.
"Rangers is an experienced team who know their pitch. And they probably would have put a younger team under pressure by batting first and posting a big total.
"We wanted to keep them out there as long as possible, make a total, or at least bat a good amount of overs and let the sun do its work."
There was no recourse upon failure of the ploy, as Stovell blasted three fours and a six while racing to 22 not out from 19 balls, enabling victory in just 5.2 overs. Alarmingly for PHC, Stovell's score was matched by the 22 runs that littered the extras column.
A lone bright spot on the day for PHC was Terron Webb, who bowled one over, a maiden, and claimed the only Rangers wicket to fall, that of Jaloni Albuoy for four.
Victorious captain Dalin Richardson not surprisingly offered high praise for the effort of Trott, but was yet miffed at his inability to win a toss and allow for a full rollout of a game plan, which he hopes to experience when Warwick Workmen's Club come calling in the third round on August 6.
"I feel like Charles Trott, in particular, bowled very well today," Richardson said of his Bermuda team-mate. "No complaints about him; he really stepped it up. And looking at the rest of our performance, we were exceptional in the field. There were no dropped catches, so we did well today.
"We've been trying to win the toss, but I can't win a toss. Hopefully against Warwick we can win a toss and go out there and do what we want to do.
"Warwick will probably be a little stronger and give a better test than the teams we've played. Hopefully, we will come out victorious again."
SCORECARD
PHC
D Richards run out 5
*D Hanuman lbw b Trott 0
K Lambe c Smith b Trott 0
K Furbert c Stovell b Trott 13
†R Brangman c Smith b Trott 1
D Dowling lbw b Stovell 6
J Beach b Trott 2
T Place c Albuoy b Trott 0
T Webb b Stovell 0
D Anglin not out 0
K Evans lbw b Stovell 0
Extras (b 6, w 13) 19
Total (18.4 overs) 46
Fall of wickets: 1-12, 2-12, 3-19, 4-24, 5-35, 6-38, 7-40, 8-46, 9-46.
Bowling: Smith-Mills 5-1-17-0; Trott 9-4-16-6; Stovell 4.4-0-7-3.
Southampton Rangers
D Stovell not out 22
†J Albuoy b Webb 4
A Lynch not out 0
Extras (b 4, w 18) 22
Total (1 wkt; 5.2 overs) 48
T Manders, J Tucker, *D Richardson, T Smith, C Trott, A Raynor, M Bean and N Smith-Mills did not bat.
Fall of wicket: 1-40.
Bowling: Dowling 2.2-0-24-0; Hanuman 1-0-10-0; Anglin 1-0-10-0; Webb 1-1-0-1.
Umpires: E Carrington and H Watson.