The Darrin Simons interview: knife crime among young a 'disturbing trend'
Updated: Mar 23, 2022 01:46 PM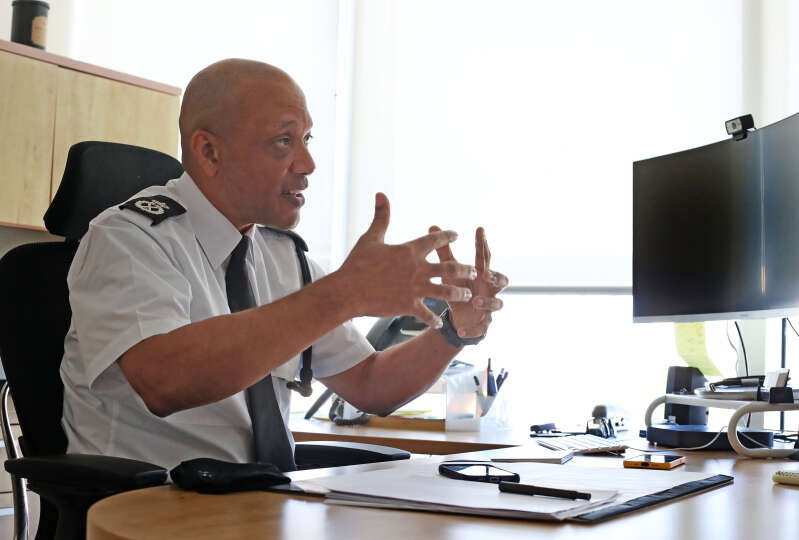 Gun and gang violence "without a doubt" remain Bermuda's "No 1 crime issue" to resolve, the new Commissioner of Police has vowed.
But Darrin Simons, a Bermudian officer for 28 years who was appointed to the top role last week, highlighted youth knife crime as "a disturbing trend".
"What causes a 14 or 15-year-old to think that they need to carry a knife for protection?" Mr Simons told The Royal Gazette today in a first full interview since his appointment.
He said a factor in "the ebb and flow around the use of knives" could be "the perception around being caught with a knife versus being caught with a firearm".
"Obviously their availability contributes to that.
He added: "But it's difficult to say. You look at the UK and they have gone through a pandemic around knife crime. Exactly why these evolutions occur is unclear."
Ms Simons said suppression of gang-fuelled firearms crime remained "top of the tree" in police priorities.
He declined to comment on the investigation into a double shooting at Devonshire Recreation Club on March 10, but cited rifts in a Pembroke gang as the trigger in recent gun crime.
"What has evolved is, a group known as Parkside has significantly fractured for a number of years.
"That seems to be the greatest source of tension and gun and gang violence that we see today."
Mr Simons likened ongoing gang crime to "a tap that keeps running and running".
He said: "Clearly the policing job is about cleaning up the big spills. But if you can't turn the tap off, we're forever going to be caught in this cycle of growing new gang members and dealing with the impacts of their crime."
He added: "No one grows up wanting to be a gang member, but they may look at the range of opportunities open to them and there's a sense of being a CEO is not likely on my horizon — how can I make a living? How can I enjoy life?
"We really need to provide these individuals with a sense that there's something to lose. And that's complex."
Mr Simons said police were "good at telling you what's happening" but not explaining socioeconomic drivers of gang crime.
"It's clearly known that violence is a societal ill that happens to be a crime.
"Meaningfully moving the dial on that social issue is going to require a societal response."
He said he looked forward to embedding more of "a customer-service ethos" in the police service.
"Courtesy is a particularly Bermudian feature of our culture," he said. "When you're at the head of an organisation, you have the ability to influence its direction and influence changes in organisational culture."
Mr Simons also hinted at changes to come in how police dealt with domestic violence.
"We're trying to shift from 'domestic violence' to 'domestic abuse', which covers a broader class of negative events."
He said the public were keen to see dangerous driving tackled and that Operation Vega, launched last summer, had doubled the number of tickets issued by police for traffic violations.
The next round of roadside sobriety checkpoints is set for Friday through to Monday, with police checks across Hamilton Parish, Smith's, Devonshire, Pembroke, Paget, Warwick and Southampton.
The commissioner said: "One thing people might not necessarily appreciate is they [the checkpoints] are very labour-intensive".
He said bar owners had reported a shift in attitudes when it came to drink-driving.
"We really want to get to a space where it's a feature of the culture that you just do not drink and drive — such as in the UK, where now you would be vilified."
Mr Simons said the public could expect to see "much more" in the year ahead from the Bermuda Road Safety Council on changing driver behaviour.
He singled out "fatigue" as a broader challenge for the Bermuda Police Service after two years contending with the Covid-19 pandemic.
"No two ways about it," he said. "When I walk through the station and visit people, I see fatigue, which I've never really seen before."
Mr Simons put extra staffing on the top of his wish list.
"Right now at our staff levels, we have to shift resources. Having some consistency in all areas would be particularly helpful."
He said projected staffing had increased slightly.
"But the funding associated with those new posts has not been provided.
"[National security minister Renée Ming] said during the Budget debate that the hope is for some cost savings in operations that will help offset new hires."
The 2022-23 Budget has set aside $300,000 for replacing ageing equipment, such as motorcycles, which Mr Simons said were still in use for patrols after 15 years on the road.
A further $250,000 was earmarked for the old police headquarters at Prospect in Devonshire, which Mr Simons said was expected to close this year ahead of a renovation that would deliver lower-rent accommodation for "a couple of police units".