After-school mentor and road crossing guardian bids farewell
Created: Jun 26, 2013 09:00 AM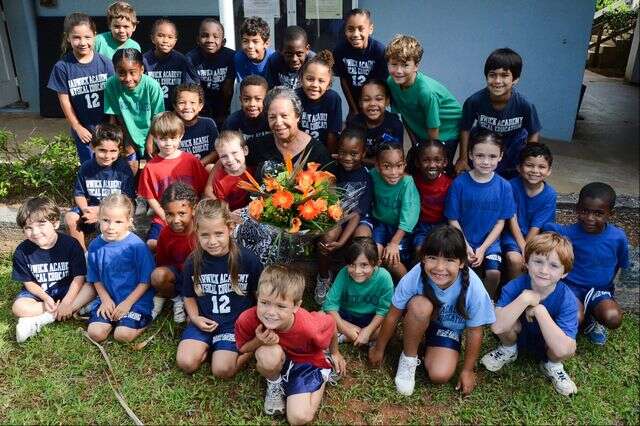 A "mentor and friend" to the primary students of Warwick Academy has stepped down.
Retired police inspector Jean Victors supervised the after-school programme at Warwick Academy and worked as a crossing guard over 22 years.
Following a special assembly yesterday the lifelong Warwick resident recalled crying bitterly as a child at being excluded from attending the school.
"I didn't know that I couldn't come here because I didn't know I was black," Ms Vickers said of the school's segregated past. "But I never held anything against it."
Two years ago the school awarded Ms Vickers an honorary diploma — making her Warwick Academy's oldest graduate.
The Island's first Bermudian policewoman considers herself privileged to have been given free rein over the after school activities there.
"I offered my help for free, and the Lord has blessed me tremendously," she said.
"There was not one day that I didn't feel like coming over to be with these children. The years just rolled by."
Ms Vickers first got the role after she retired from 25 years on the police force. She offered her time to then-head of primary Jane Dyer.
After just one year of working with students she was asked to run the after-school programme.
Speaking before husband Darrell and daughters Pamela Pitt, Lisa Mattis and Delight Morris, Ms Vickers said the job had afforded her the chance to become a mother to many.
Adopted son Clevon Cunningham told the assembly Ms Vickers had been "a mentor and friend to all the children she has come into contact with ... she leaves a legacy behind to inspire, encourage and enlighten others".
Ms Vickers said she looked forward to using her retirement to see the young Cubans she helped support and teach: Rolando, Elizabeth, Geisha and Miguel.
Addressing students, Warwick Academy principal Maggie McCorkell congratulated Ms Vickers as "the special lady who's been helping you get across the road safely, and looking after a lot of you after school".