Paget Primary celebrates Black Bermudians' achievements
Updated: Feb 24, 2023 11:11 AM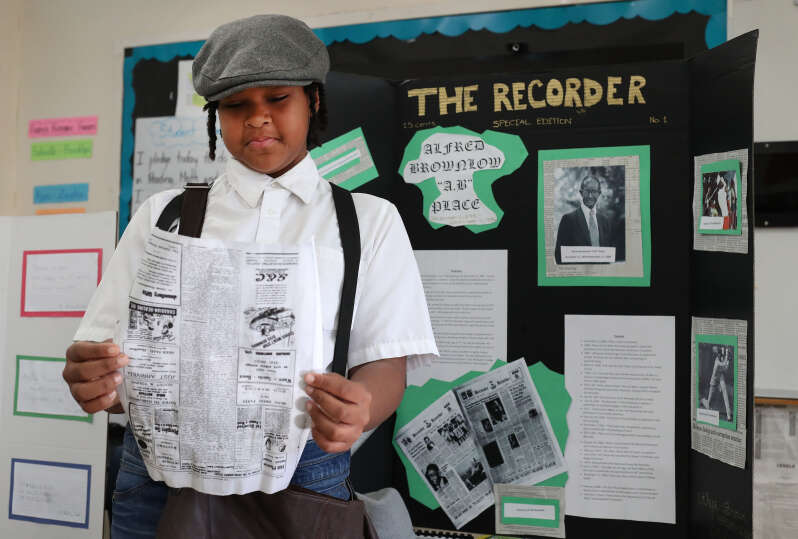 Black pioneers, visionaries and leaders were celebrated in an engaging display at Paget Primary School as part of its fifth annual Black Bermudian History Museum.
Each class at the school created museums for Black History Month depicting the struggles and also the triumphs of Black Bermudians who "created historical perspectives for the future leaders of Bermuda".
David Burt, the Premier, attended the two-day event along with other dignitaries as pupils shared the knowledge they have learnt in the past few weeks about chosen figures and organisations in Bermuda's history.
The Governor, Rena Lalgie, cut the ribbon and gave opening remarks on Wednesday morning and family members of the subjects studied were also in attendance.
Ethel Liverpool, social studies and support teacher at the school, said: "It is more than sharing stories to remind us of how far we have come, it is also an opportunity to deepen our commitment to educate, engage and empower our students.
"We started the day with an assembly where the children sang Lift Every Voice and Proud to be Bermudian. Everyone was up on their feet and feeling really ecstatic.
"Each classroom was decorated, guests could walk through and the children gave presentations about all the people they had learnt about.
Figures who were celebrated during Paget Primary School's Black History Month museum display
Maxine Esdaille, of the African Diaspora Heritage Trail; Warwick Workmen's Club, a supporter of Paget Primary School; Professor Dr Eve De Rosa, the first female and first Black dean of faculty at Ivy League Cornell University in New York; Arnold Francis, QC, JP, MP, OBE, Bermudian politician and a founding father of the Progressive Labour Party; Alfred Brownlow "AB" Place, founding publisher of the Bermuda Recorder; the Speaker of the House, Dennis Lister; Merle Brock Swan Williams, the founder of the Adult Education School; Shaun Goater, MBE, former professional footballer; Earl Cameron, CBE, actor; Wendell Smith a former Cup Match captain, and the Progressive Group, which spurred the Theatre Boycott of 1959.
"It is important that we teach children about Bermuda's history. These individuals were instrumental in paving the way for other Bermudians to come through and experience the benefits we do today.
"We try to choose people the children can relate to we had to have a variety of people.
"It's awesome — we had a minister say one year that every school should do this."