New stamps commemorate 20th anniversary of St David's Pow Wow
Created: Aug 06, 2022 07:54 AM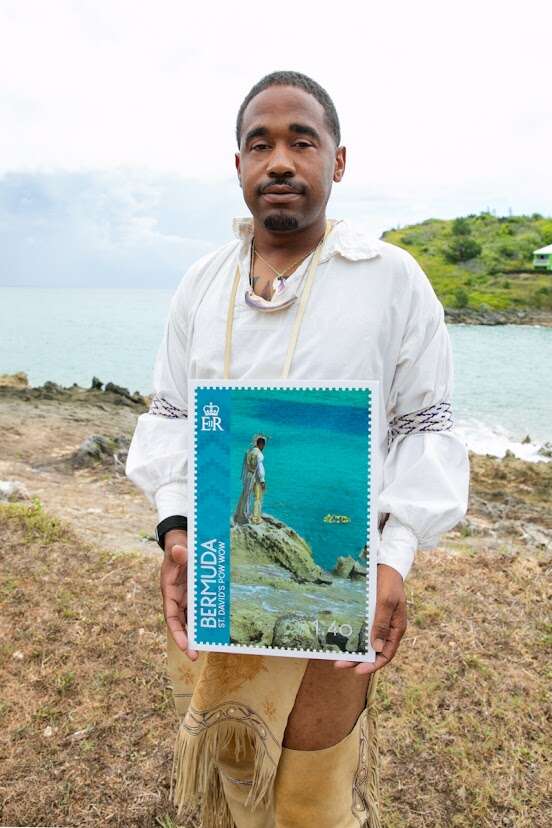 A series of commemorative stamps have been unveiled honouring the 20th anniversary of the St David's Islanders and Native Community's Pow Wow.
The stamps, which feature vibrant images of native culture and heritage, are on sale at the General Post Office in Hamilton as well as various sub-post offices around the island.
The stamp issue coincides with the 20th anniversary of the St David's Islanders and Native Community.
Wayne Furbert, the Minister for the Cabinet Office, attended the unveiling at St David's County Cricket Club yesterday. He said: "These stamps seek to capture the glorious and rich heritage that forms part of the cultural identity of St David's in particular and Bermuda in general.
"It is a historical fact that Native Americans were brought from the Americas to our shores as enslaved people. We know that a significant portion of these slaves settled here in St David's, while others went further afield across Bermuda.
"It is also a fact that many Bermudians, therefore, have the blood of Native American slaves coursing through their veins.
"As we participate in our emancipation observances in Bermuda this month, it is appropriate that we also remember to honour the many Native American slaves who were brought to the island in the 1600s.
"Their legacy and cultural impact are deeply embedded in our history. They have shaped our community over many generations, and I know that throngs of Bermudians are extremely proud of their Native American roots, and rightly so.
"Where once this ancestral lineage was the subject of ridicule and scorn, especially towards St David's islanders, they are now the source of immense pride by many Bermudians."
The Pow Wow serves to enable members of the St David's Islanders and Native Community, as well as visiting communities from America, to share and preserve stories, customs and traditions. It is hoped that with the help of fundraising efforts the biennial event will make a return in 2023.
The Stamp Design Advisory Committee had planned to commemorate the Pow Wow in 2020, but owing to the pandemic, the stamp issue was postponed to coincide with the St David's Islander and Native Community's 20th anniversary of community togetherness and cultural preservation.
Terlena Murphy, chairman of the St David's Islanders and Native Community, said: "It is a great honour for us, the St David's Islanders and Native Community, to be recognised by the Bermuda Post Office's Philatelic Committee as a commemorative stamp issue … on this our 20th-year anniversary.
"Globally, native and indigenous people are reclaiming their native culture, lost due to mass colonisation, restoring their lost languages and traditions through research and education.
"There was a time when we as Black and native people here in Bermuda could not express ourselves in our native tongues or through native customs by having gatherings or dancing. Many of these events happened in secret.
"Colonialism here in Bermuda was ingrained. As time passed, our elders became our ancestors and we as a people began to forget our cultural ways.
"There are remnants, not only in some of our physical features, but in how some of us have the art of storytelling, how to tie certain boat knots, or a dance move that our Gombeys display.
"Like other native and indigenous peoples, we, the St David's Islanders and Native Committee, have reclaimed our heritage."
The St David's Island Reconnection Committee was formally established in February 2002 to reconnect its native lineage from North America, mainly links to the Mashantucket Pequot, Mashpee Wampanoag and Narragansett tribes.
The committee held its first Reconnection Festival on June 15 and 16, 2002.
Ms Murphy added: "This committee was formed with like-minded individuals who were researching their 'lost' family lineage, spending hours at the archives, researching family records and building their ancestral findings to make connections with their lost legacy.
"Many of our ancestors were bought here as enslaved people, with many of them coming from New England following the Pequot War (1636 to 1637) and the King Philip's war (1675 to 1676).
"Our mission is to preserve, illustrate, exhibit and promote the unique heritage of St David's Island as well as other native cultures in Bermuda. Our goal is to obtain a permanent space for a museum to house various historical items and information that belongs to the organisation.
"As Bermudians we now have more opportunities to learn and explore our history as a people through educational talks, museum exhibits and cultural events."
Ms Murphy said the committee's initiatives extend beyond the Pow Wow including a collaboration with the Warwick Gombey's to create a museum showing the symbiotic relationship between the two groups.
She added: "We are currently working with the Ministry of Education by building a curriculum to educate our young people of our heritage."