City gearing up for Christmas Boat Parade fun
Created: Dec 08, 2022 07:35 AM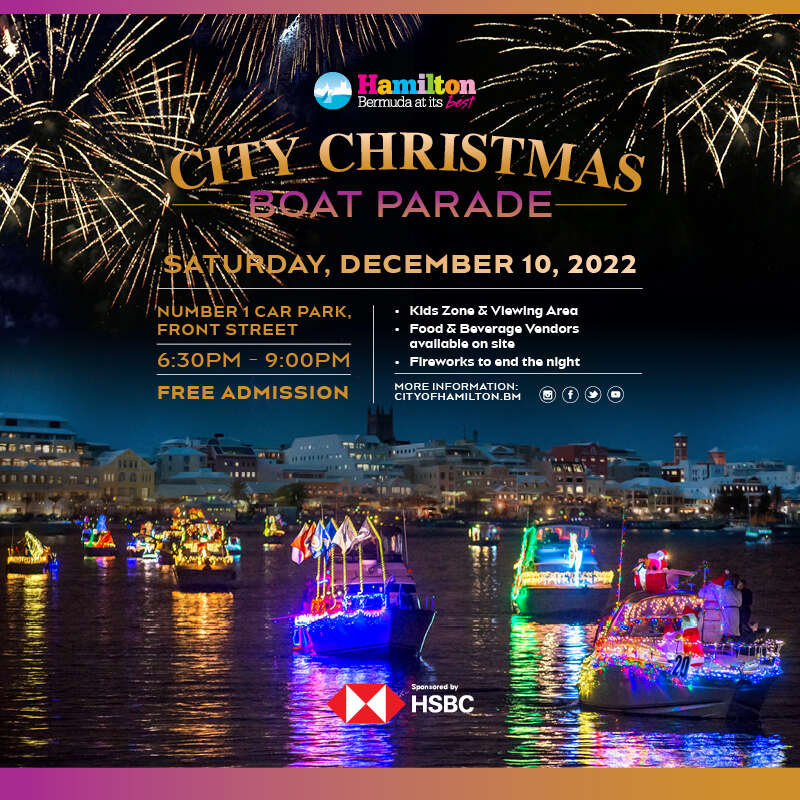 Family festivities will accompany the annual Christmas Boat Parade this year which is due to take place on Saturday evening.
The City of Hamilton is hosting a free event at Number 1 Car Park on Front Street that includes food vendors, music, a kids' zone and fireworks.
This year has attracted more than 30 entrants which will make their way around Hamilton harbour from 6.30pm to 9pm.
The event will be hosted by "Power Girl" Patrina O'Connor-Paynter.
Both Number 1 Car Park and Number 5 Car Park will be closed to parking on the evening. Members of the public are advised to park in City Hall Car Park or Par-la-Ville Car Park.
A spokeswoman for the City of Hamilton said: "Number 1 Car Park will be clear to allow the public to have full access for viewing along with being lined with the most delicious vendors including Dandy Donuts, Ashley's Lemonade, Funnelicious, Smucks, Alkaline Triangle, Bermuda Cupcake Company, Jazzy Treats and Novel Tea.
"In addition to these vendors there will also be a number of free activities for the children including GlowZone Lazer Tag, giant slides, fun castles, a climbing wall, roller skating, henna and face painting.
"The City wishes to remind the public that with the return of fireworks, pet-owners must be mindful to ensure that their furry friends are secure, both physically and emotionally. Fireworks are a time of panic for animals and with ears more sensitive than the human ear, the sound of the explosions can lead to deep-rooted fear and possible serious injury.
"Those licensed drone operators wishing to capture the event from the air are ordered to maintain at least an 800-foot radius clearance from White's Island between 8pm and 10pm for the fireworks.
"Parade participants and those enjoying the parade from the water are reminded to use the provided waste receptacles located at Albuoy's Point."
There will be a one-lane road closure on Harbour Road on the night, details of which will be available on the Government's website.
A boating notice will also be published for those who wish to watch the parade from the water to secure the parade route and the safety zone for the fireworks.
Tanya Bule, head of wealth and personal banking for HSBC, the title sponsor of the event, said of the parade: "It is such a fantastic event and we cannot wait to see all the boats on the foreshore.
"The corporation has put on some fantastic events this year and it is great to see the atmosphere that they bring to our city."