Vital mangrove forests could be revitalised by ambitious Rotary plans
Updated: Aug 24, 2022 09:49 AM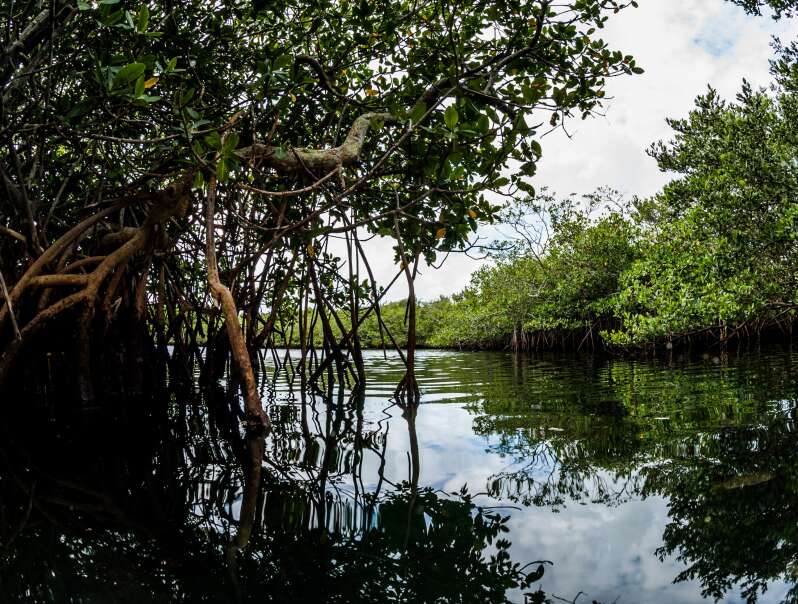 The island is poised to host a landmark project to revive its vital but fragile mangrove forests with major backing from overseas.
Bermuda Rotary Club members said they were confident of securing grant money from Rotary International, which committed last year to join the global fight to restore the coastal woodlands.
Mangroves protect shorelines, provide essential habitats for fish and other wildlife, and absorb the greenhouse gas carbon dioxide – but are under threat worldwide.
An American conservationist and rotarian took particular interest in the move to save the dwindling mangroves at Hungry Bay in Paget, where the island's largest mangrove forest is retreating because of climate change, with heavier seas breaking through from coastal erosion.
A proposed seawall recently secured Department of Planning approval to protect the trees.
Christopher Puttock, who said he worked with mangrove restoration projects across "at least 20 countries", told a meeting yesterday of the island's Rotarians: "I don't see any reason why this project would not be awarded – it's a matter of getting our proposal together.
"Probably within ten weeks, we can have this programme awarded and under way."
Dr Puttock estimated the project could qualify for "$30,000 to $50,000 or greater" from Rotary International's environmental funds.
Lagoon Park on Ireland Island in Sandys is expected to be the first site to launch efforts to grow more mangroves.
Mangroves - and why they matter
Mangroves trees, which thrive in salty, muddy conditions, form forests in sheltered places along Bermuda's coast that provide an essential refuge for young fish to grow before heading out to sea.
The forests, distinguished by their curving roots to stand in shallow water, build up dense layers of mud and peat that trap carbon.
They also provide habitats for a host of wildlife, from shellfish to birds, and form a buffer between coastlines and the sea, protecting the land from storms.
Bermuda hosts two varieties: the red mangrove, Rhizophora mangle, and the black mangrove, Avicennia germinans.
The island's mangrove communities have shrunk with settlement of Bermuda, under the impact of humans and the effects of climate change.
Rick Richardson, president of Hamilton Rotary Club, told The Royal Gazette: "One of the win-wins for this is the enormous focus Rotary International can bring to this – and the celebrity of Dr Puttock can add to that."
He added that the island would host more than 200 visiting Rotarians on September 3 when the Norwegian Joy docks at Heritage Wharf in the West End.
In a partnership with the charity Keep Bermuda Beautiful, the visitors will take part in a clean-up of the coastline as well as checking on the mangroves at Lagoon Park, Ireland Island South.
Traci Burgess, executive director of KBB, said the group was "honoured to be involved with Rotary's programme that promotes marine conservation, preservation and revitalisation".
Dr Puttock told a gathering of Bermuda Rotarians that if the island secured the environmental award, it would be the international group's "first global grant issued for a major project in the New World".
He plans to join the group visiting Bermuda in September to survey the island's mangroves and help get the grant application ready to submit to the Rotary Foundation.
"The problem we have with mangroves around the world is they're being lost at an extremely fast rate," Dr Puttock said. "They're right on the coast, and costs are challenged by population expansion."
But he highlighted sea level rise as Bermuda's top dilemma.
"With a foot or 30cm anticipated in the next 50 years, that's going to damage the front end of your mangroves."
Dr Puttock said vital species such as grouper and parrotfish depended on mangroves as nurseries for their young.
Mangroves play a prominent role in absorbing and trapping carbon dioxide, one of the gases released into the atmosphere by human activity that most scientists now believe has been driving climate change and global warming.
"The carbon stored in mangrove mud is ten times greater than any other forest or grassland in the world," he said.
Dr Puttock, who works extensively with the Government in Hawaii on environmental programmes, said he hoped to begin working at "several" mangrove sites in Bermuda and build the programme into something larger.
"Your most compelling reason would be to save the biodiversity associated with the mangrove systems that you have, and that will assist the local fisheries," he said.
That in turn would encourage tourism, Dr Puttock added.
Andrew Roberts, assistant governor of the Bermuda Rotary, said Dr Puttock would visit the Bermuda Zoological Society's habitat restoration at Trunk Island in Harrington Sound, where young mangrove trees are being planted by volunteers.
Mr Roberts said the Bermuda Institute of Ocean Sciences, which has also worked in mangrove restoration, could lend its expertise to the project.
Mr Richardson said he was optimistic that Bermuda's mangrove restoration project could flourish.
"This is just the beginning," he added. "It all depends on how big we want to go with it."