Cahow starts to hatch on camera
Updated: Mar 10, 2023 07:37 AM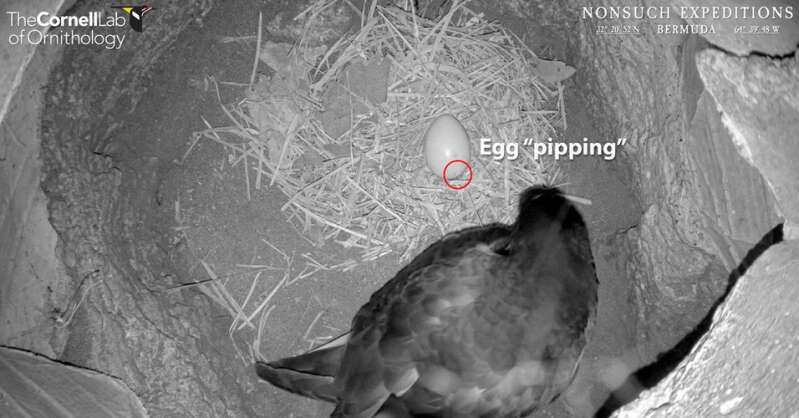 An endangered cahow has started to hatch on the live-streamed CahowCam.
The Nonsuch Expeditions blog announced that just before 9am yesterday, viewers of the CahowCam 2 livestream noticed a "pip" – a small hole – on the egg, which indicates the chick had begun to hatch.
The blog said: "'Pipping' is the process through which the chick chips away at the inside of the egg, at first creating 'dimples' or outward facing dents or ripples in the shell and then eventually a small hole which is the start of the hatching process.
"This process can take as little as a few hours or up to several days before, if all goes well, it fully emerges."
Cahows – also known as Bermuda petrel – were believed to have been wiped out by the 1620s, but the species was rediscovered in 1951.
While the population at that time was limited to only 18 breeding pairs, which produced seven or eight chicks a year, efforts to revive the species have resulted in the population bouncing back with nesting colonies established on Nonsuch Island.
The 2022 season resulted in a record-breaking 156 breeding pairs and 77 chicks fledged, but early signs have suggested that the 2023 season could surpass that.
To view CahowCam 2, visit www.nonsuchisland.com/live-cahow-cam/#LIVE-CahowCam2.