Engine manufacturer not surprised Belco is having problems
Updated: Apr 11, 2023 07:58 AM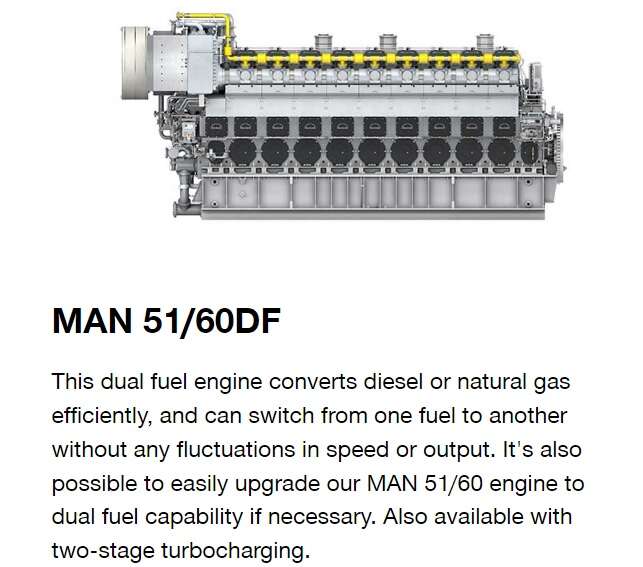 The manufacturer of Belco's dual fuel engines has said it is not surprised that Bermuda is facing challenges with ongoing emissions, given its equipment is being run on heavy fuel oil.
A spokesman for MAN Energy Solutions, which was part of a consortium with Danish firm and lead contractor for the North Power Station Burmeister & Wain Scandinavian Contractor, told The Royal Gazette: "We are deeply saddened that the people in Bermuda may not yet experience the reliable operation. We remain convinced the plant will deliver. MAN ES is 100 per cent committed to working towards this objective as part of the BWSC consortium."
Asked about the excessive pollution from the plant, the spokesman added: "MAN ES confirms that it is not surprising to have such challenges with the combination of 51/60DF [dual fuel] gas version running with HFO.
"Dual fuel engines are usually optimised to run on either gas or diesel fuel as main fuel. The 51/60DF engines designed for Belco NPS were optimised for gas application, as gas infrastructure was initially planned."
Belco has blamed the excessive pollution at the NPS, including soot fallout and sulphur dioxide emissions, on its decision to optimise the station to run on liquefied natural gas prior to the fuel being approved and then running it on HFO when the Regulatory Authority's 2019 Integrated Resource Plan rejected LNG.
The Royal Gazette asked MAN additional questions including who instructed the consortium to optimise the station for LNG, why it was optimised for LNG in the absence of any LNG infrastructure in Bermuda, and whether it was aware that LNG had been ruled out while the plant was under construction.
The spokesman advised to "check with BWSC" for the remaining questions.
BWSC has refused to answer any questions regarding the NPS, saying: "As a principle, we will not answer questions about specific customer relationships/projects."
We also asked BWSC for information about the NPS that appeared to have been removed from its website, but the information was refused.
Leading British consultancy firm Ricardo Energy & Environment said in a 2021 report released to this newspaper under the Public Access to Information Act that the "most effective" way to mitigate soot emissions from the plant was to stop burning HFO.
Belco's own report dated January 29, 2021 listed a permanent switch to burning lesser-polluting diesel instead of HFO as a primary abatement method that would be "assured of a better fuel combustibility and thus reduced risk of soot formation".
However, after an investigation by the MAN/BWSC consortium, Belco opted instead to install equipment — con-rod shims and piston crowns — designed to improve combustion pressures blamed on the challenges.
That installation, which also included work to address odours at the fuel tanks on St John's Road, was completed to the tune of $2.7 million in January 2022, but emissions continued including a major soot fallout last July and numerous events since.
Last month, Wayne Caines, president of Belco and its parent company, Liberty, said that the company is continuing to work with the manufacturers and builders of the NPS, and that they are now working on installing further equipment — dryer skids — designed to remove moisture from the combustion process.
Belco continues to use HFO as its main fuel source, switching to the RA-approved and lesser-polluting light fuel oil only during certain identified problematic conditions.
MAN ES said it was confident the equipment it supplied to Bermuda was in perfect working order.
The spokesman added: "Yes, definitely. The tested engine successfully passed the FAT [Factory Acceptance Test]. In addition, two FATs were carried out in November 2018 — in diesel mode and gas mode."
No mention was made of tests carried out in HFO mode.
MAN ES says of the dual fuel engines on its website: "Dual fuel engines switch seamlessly between gas and liquid fuels without impacting performance — for maximum reliability you can count on."
Thorsten Dradrach, Head of Sales for Power Plants in the Americas at MAN ES, wrote on the manufacturer's website in June 2020: "The operator Belco can rest assured that our engines generate the required electrical energy with high efficiency and maximum reliability regardless of the fuel employed, and that the new station will provide cleaner, quieter and more efficient energy."
Asked if the company stood by Mr Dradrach's comments, the spokesman said: "Yes, MAN ES confirms this statement."
RA silent on Belco moving to cleaner fuel oil
Belco and the Regulatory Authority have claimed that the extra cost of burning a cleaner fuel at the plant is prohibitive and would fall to the customer. This is based on a cost analysis done two years ago.
There was no mention in a document on the cost analysis about potential relief on a cleaner fuel from the Government, which the Ministry of Finance has said Belco can apply for.
The Royal Gazette asked the RA, which sets retail tariffs, if it deems the actions of Belco in optimising the North Power Station for LNG before approval to have been erroneous or negligent in any way. We are awaiting a response.
We have also asked Belco how much it has spent in total on mitigating and managing the pollution associated with the NPS and its assets.
We asked that the amount include remedial efforts such as ongoing costs associated with the consortium, roof painting, property restoration work, fuel tank filters to manage odours on St John's Road, water filters for affected residences, shims and piston crowns to improve combustion, and the labour to install them, training, air monitoring and water monitoring, the cost of the implementation of all additional conditions written into Belco's operating licence as a result of the challenges, including the use of lesser polluting fuel during certain problematic conditions, and the estimated cost of ongoing measures including the installation of dryer skids as has been announced as the next stage of efforts by Belco.
We have asked if a new cost analysis has been done, or is being considered, that compares these costs with the cost of switching to a cleaner fuel until renewable energy sources can take over the majority of electricity supply. It was predicted in the Integrated Resource Plan that by 2035, 85 per cent of electricity supply will be from renewable sources. We are awaiting a response.