Lobster season opens with new catch limits to regrow numbers
Updated: Sep 02, 2023 08:00 AM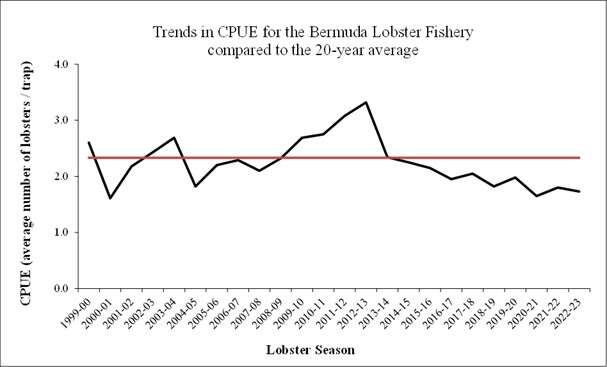 Lobster season, which starts today and runs to the end of March, has come with tighter catch limits this year in response to a plunge in numbers.
Walter Roban, the home affairs minister, said the island's 22 licensed fishermen would get a reduced allotment of eight traps per licence. Fishermen usually get allocated 12 traps per licence.
Mr Roban added that catch limits per fisherman would be set at 600 lobsters for the season.
Traps are only permitted to be set in Bermuda's offshore areas from today until November 30.
Mr Roban said the move was made "to ease pressure on the inshore areas".
He added that he understood that in Bermuda's culture "lobster dinners are a highly prized meal and an eagerly anticipated addition to restaurant menus".
But he said immediate action was needed after years of below-average catch rates.
The Department of Environment and Natural Resources has sounded the alarm that populations of the spiny lobster, Panulirus argus, have showed a "concerning" decline when viewed against more than 20 years of fisheries data.
"There has been overall agreement that attention needed to be given to the state of the lobster fishery," he said.
He highlighted "a notable reduction in the average number of lobsters caught per trap" since 2016.
DENR has seen a drop in the number of young, undersized lobsters, known as "shorts", that enter the traps but are later released.
Mr Roban said complex factors underpinned the drop in numbers.
The lobster's life cycle depends on changing environmental factors, with the crustaceans vulnerable to predators at different stages of development.
"A mismatch among any of these factors can reduce the supply of young lobsters to replenish Bermuda's adult population," he said.
"Other factors affecting the local spiny lobster population include parasites, diseases, and commercial and recreational fishing."
Restoring seagrass beds and putting shelters in the water might boost numbers, he said.
"Regardless of what is causing the reduction in the size of the population, it is clear that there is a limited number of lobsters to go around."
Mr Roban said recommendations for the 2023-24 season took into account data from commercial and recreational fisheries.
Feedback from the lobster advisory committee, the Marine Resources Board, the Commercial Fisheries Council and lobster fishermen was also considered.
The number of recreational lobster diver licences available each season has been reduced from a cap of 500 in 2017 to 340 last year.
This season, the number of lobster diver licences has been capped at 175.
Mr Roban said: "These actions are similar to those taken during the 2001-02 season when catch rates plummeted during the previous season. Catch rates improved in the subsequent years."
He noted that commercial fishermen relied on the catch as "an important income supplement".
"But despite our best efforts to address the needs of all, I appreciate that we cannot please everybody and some will be disappointed in these decisions.
"However, failing to act now would be irresponsible, as any further reduction in the lobster population could make future recovery efforts even more difficult."
Mr Roban added that the island imported lobsters to supplement local catches — with 21,595kg brought in last year.
"Given our appetite for the delicacy, the fishers cannot catch enough lobsters to supply the needs of the restaurants and the public," he said.
"To avoid witnessing a further increase in the need to import lobsters, we must put in place a programme for replenishing the lobster fishery."